Tributes have been pouring in, following news of the death of Ross Burden, the New Zealand-born chef who found fame in the UK.
Ross, who had been back in his home country for the past four years, died of infection, following treatment for leukaemia. He was 45.
One of the first of the most recent generation of TV cookery stars, Ross grew up in Taradale, New Zealand, but became a household name in the UK after appearing on MasterChef back in 1993, where his good looks ensured instant fan mail.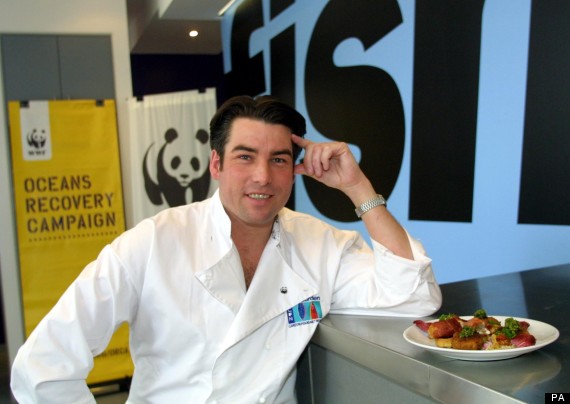 Ross Burden became an instant hit in the UK when he appeared on 'MasterChef'
He followed this up with regular appearances on MasterChef and Ready Steady Cook, and a series of best-selling books he co-wrote with fellow presenter Ainsley Harriott.
He returned home to New Zealand in 2010, where he hosted his home nation's own MasterChef, until he was diagnosed with leukaemia last year. He died on 17 July in Aukland from an infection following a recent bone marrow transplant.
Ross is survived by his mother and his sister, and his death has triggered blogs and tweets from around the world, lamenting his loss, and marking his shining TV presence, but also his sense of adventure and enthusiasm that stretched far beyond the kitchen.
Notable People We've Lost In 2014
Joe Cocker, 70, the raspy-voiced soul singer who became a sensation after performing at Woodstock, died on Dec. 22, 2014.

Ernie Terrell, whose brief reign as heavyweight champion ended with a punishing loss to Muhammad Ali in a 1967 grudge match, died on Dec. 16, 2014 He was 75.

Canadiens legend and Hockey Hall of Famer Jean Beliveau, who scored 507 goals, won 10 Stanley Cups and was captain for 10 seasons before his retirement in 1971, died on Dec. 2, 2014. He was 83.

Pulitzer-Prize winning poet laureate Mark Strand died on Nov. 29, 2014. He was 80.

Roberto Gomez Bolanos, the iconic Mexican comedian known as Chespirito who wrote and played the boy television character "El Chavo del Ocho" that defined a generation for millions of Latin American children, died on Nov. 28, 2014 at age 85.

British mystery novelist P.D. James, who was best known as the creator of sensitive Scotland Yard sleuth Adam Dalgliesh, died on Nov. 27, 2014. She was 94.

Marion Barry, the controversial former four-term mayor of Washington DC who will long be remembered for his crack cocaine arrest, died on Nov. 23, 2014. He was 78.

Cayetana Fitz-James Stuart, the 18th Duchess of Alba and one of Spain's wealthiest and most colorful aristocrats, died on Nov. 20, 2014. She was 88.

Mike Nichols, Oscar-winning director of "The Graduate" and husband of ABC News' Diane Sawyer, died on Nov. 18, 2014 night at the age of 83.

John Downey, a Connecticut judge and former CIA agent who spent 20 years as a prisoner in China during the Cold War has died on Nov. 17, 2014. He was 84.

Flamenco guitarist Manitas de Plata, who sold nearly 100 million records worldwide and broke boundaries for Gypsy musicians, died on Nov. 5, 2014. He was 93.

Tom Magliozzi, left, the iconic co-host of NPR's "Car Talk" for nearly 35 years, died on Nov. 3 at the age of 77.

Brittany Maynard, the Oregon woman who had become an outspoken advocate for patient's rights following her terminal cancer diagnosis, died on Nov. 1, 2014. She was 29

Pulitzer Prize-winning poet Galway Kinnell died on Oct. 28, 2014. He was 87.

Joan Quigley, 87, who served as First Lady Nancy Reagan's personal astrologer, died on Oct. 21, 2014.

Frank Mankiewicz, Sen. Robert F. Kennedy's press secretary and the former president of NPR, died on Oct. 23, 2014. He was 90.

Ben Bradlee, the raspy-voiced, hard-charging editor who invigorated The Washington Post and became famous for his role in toppling President Richard Nixon for the Watergate scandal, died on Oct. 21, 2014. He was 93.

Texas oil baron Nelson Bunker Hunt, 88, who was once considered the world's richest man before his fortunes were undone by Muammar Gaddafi and his own epic overreaching in the silver market, died on Oct. 21, 2014.

Legendary fashion designer Oscar de la Renta died on Oct. 20, 2014 at the age of 82.

Tim Hauser, the founder and singer of the Grammy-winning vocal troupe The Manhattan Transfer, died on Oct. 16, 2014. He was 72.

Elizabeth Pena, the versatile actress who shifted between dramatic roles in such films as "Lone Star" and comedic parts in TV shows like "Modern Family," died on Oct. 14, 2014. She was 55.

Jean-Claude Duvalier, who presided over what was widely acknowledged as a corrupt and brutal regime as the self-proclaimed "president for life" of Haiti until a popular uprising sent him into a 25-year exile, died on Oct. 4, 2014. He was 63.

Paul Revere (center), the organist and leader of the Raiders rock band, died on Oct. 4, 2014. He was 76.

Comedienne Joan Rivers, who reveled in skewering celebs with cutting remarks and a caustic wit, died on Sept. 4, 2014 at 81.

Acclaimed actor and Oscar-winning director Sir Richard Attenborough, whose film career on both sides of the camera spanned 60 years, died on Aug. 24, 2014. He was 90.

NASA astronaut Steven R. Nagel, who flew four space shuttle missions, died on Aug. 21, 2014. He was 67.

James Jeffords, the former U.S. senator from Vermont who in 2001 tipped control of the Senate when he quit the Republican Party to become an independent, died on Aug. 18, 2014. He was 80.

Hollywood icon Lauren Bacall, star of films such as "To Have and Have Not" and "Key Largo," died on Aug. 12, 2014. She was 89.

Oscar-winning actor and comedian Robin Williams died on Aug. 11, 2014. He was 63.

James Brady, former White House Press Secretary who was permanently wounded after being shot in a 1981 assassination attempt against President Ronald Reagan, died August 4. He was 73.

Margot Adler, one of the signature voices on NPR's airwaves for more than three decades as well as a Wiccan priestess and the author of the seminal book "Drawing Down the Moon," died on July 28, 2014. She was 68.

Actor James Garner, whose whimsical style in the 1950s TV Western "Maverick" led to a stellar career in TV and films such as "The Rockford Files" and his Oscar-nominated "Murphy's Romance," died on July 20, 2014. He was 86.

Joep Lange, a pioneer in the field of AIDS research and the former president of the International AIDS Society, was killed in a plane crash on July 17, 2014.

Broadway icon and TV actress Elaine Stritch died on July 17, 2014. She was 89.

Texas blues icon Johnny Winter, who rose to fame in the late 1960s and '70s for his energetic performances and musical collaborations including with childhood hero Muddy Waters, died on July 16, 2014. He was 70.

Track and field star Alice Coachman, who in 1948 became the first black woman to win a gold medal in the Olympic games, died on July 14, 2014 at the age of 90.

Nadine Gordimer, who won the Nobel Prize for literature in 1991 for novels that explored the complex relationships and human cost of racial conflict in apartheid-era South Africa, died on July 13, 2014. She was 90.

Tommy Ramone, 65, a co-founder of the seminal punk band the Ramones and the last surviving member of the original group, died on July 12, 2014.

Modeling agency founder Eileen Ford, who shaped a generation's standards of beauty, died on July 9, 2014. She was 92.

Argentina soccer star Alfredo Di Stefano died on July 7, 2014. He was 88.

Eduard Shevardnadze, a groundbreaking Soviet foreign minister and later the president of an independent Georgia, died on July 7, 2014. He was 86.

Louis Zamperini, a war hero, Olympian and the subject of a celebrated book and upcoming movie on his harrowing story of survival against all odds, died on July 2. He was 97.

Actor Eli Wallach, who worked for decades in TV, movies and on stage and made a lasting impression as the scuzzy bandit Tuco in "The Good, the Bad and the Ugly," died on June 24, 2014 at the age of 98.

Lyricist Gerry Goffin, 75, who penned such hits as "Will You Love Me Tomorrow," ''(You Make Me Feel Like) A Natural Woman," ''Up on the Roof" and "The Loco-Motion," died on June 19, 2014.

Horace Silver, a pianist, composer and band leader with a tireless inventiveness who influenced generations of jazzmen with his distinctive hard bop sound, died on June 18, 2014. He was 85.

Legendary broadcaster Casey Kasem, who was best known for his work on the "American Top 40" radio show, which he hosted from 1970 to 1988, and again from 1998 until 2004, died on June 15, 2014. He was 82.

Actress and civil rights activist Ruby Dee died on June 11, 2014. She was 91.

Bob Welch, the 1990 AL Cy Young Award winner of the Oakland Athletics and the last major leaguer to win at least 25 games in a season, died on June 9. He was 57.

Comic actress Ann B. Davis, who played the devoted housekeeper Alice on the television sitcom "The Brady Bunch" and won two Emmy awards as the forever-single secretary Schultzy on "The Bob Cummings Show," died on June 1, 2014 at age 88.

Poet Maya Angelou, a modern Renaissance woman who survived the harshest of childhoods to become a force on stage, screen, the printed page and the inaugural dais, died on May 28, 2014. She was 86.

Gordon Willis, the cinematographer responsible for stirring camera work in such film classics as the "Godfather" trilogy and "Manhattan," died on May 18, 2014.

Jerry Vale, the beloved crooner known for his high-tenor voice and romantic songs in the 1950s and early 1960s, died on May 18, 2014. He was 83.

Don Meyer (left), one of the winningest coaches in college basketball who came back from a near-fatal car accident and liver cancer before closing out his career, died on May 18, 2014. He was 69.

Swiss artist H.R. Giger, right, who designed the creature in Ridley Scott's sci-fi horror classic "Alien," died on May 12, 2004. He was 74.

Elena Baltacha, a former top-50 professional tennis player who had been fighting liver cancer since retiring from the game, died May 4, 2014. She was 30.

English actor Bob Hoskins, who is best known for his roles in "Who Framed Roger Rabbit" and "Hook," died on April 29, 2014. He was 71.

Rubin "Hurricane" Carter, the middleweight title contender whose murder convictions became an international symbol of racial injustice and inspired a Bob Dylan song and a Hollywood film, died on April 20, 2014. He was 76.

Kevin Sharp, a country music singer who recorded multiple chart-topping songs and survived a well-publicized battle with cancer, died on April 19, 2014 at the age of 43.

Gabriel Garcia Marquez, the Nobel laureate whose novels and short stories exposed tens of millions of readers to Latin America's passion, superstition, violence and inequality, died on April 17, 2014. He was 87.

Puerto Rican salsa star José "Cheo" Feliciano died on April 17, 2014 in a car accident. He was 78. CORRECTION: An earlier photo featured the wrong José Feliciano.

The Ultimate Warrior, a 54-year-old professional wrestler who was recently inducted into the WWE Hall of Fame, died on April 8, 2014.

Phyllis Frelich, a Tony Award-winning deaf actress who starred in the Broadway version of "Children of a Lesser God," died on April 10, 2014. She was 70.

Mickey Rooney, an award-winning actor and Hollywood legend who appeared in more than 300 films and TV programs, died on April 6 at the age of 93.

John Pinette, renowned stand-up comedian who appeared in the final episode of the hit TV show "Seinfeld," died on April 6. He was 50.

In this Nov. 22, 1989 file photo, financier Charles H. Keating arrives to testify before the House Banking Committee. Keating cited his Fifth Amendment protection against self incrimination did not answer questions from the panel. The disgraced financier behind in the costliest savings and loan failure of the 1980s died on March 31. He was 90.

Actress Kate O'Mara, who was best known for her role as Caress Morell, the scheming sister of Alexis Colby in the 1980s primetime soap opera "Dynasty," died on March 30 at the age of 74.

Surf and sailing pioneer Hobart 'Hobie' Alter, creator of the Hobie Cat catamarans, and founder of the Hobie company, died on March 29. He was 80.

David Brockie, who as "Oderus Urungus" fronted the heavy metal band GWAR, died on March 23, 2014. He was 50.

Patrice Wymore Flynn, Hollywood actress and widow of swashbuckling screen legend Errol Flynn, died on March 22. She was 87.

In this file photo, actor James Rebhorn attends 'The Box' premiere at the AMC Lincoln Square on Nov. 4, 2009 in New York City. Rebhorn died on March 21, 2014. He was 65. (Photo by Stephen Lovekin/Getty Images)

L'Wren Scott, a noted fashion designer and model, died on March 17. She was 49.

Comedian David Brenner, who became one of the most frequent visitors to Johnny Carson's "Tonight" in the 1970s and '80s, died on March 15. He was 78.

Legendary voice-over artist Hal Douglas died on March 7 at the age of 89, due to complications from pancreatic cancer.

In this file photo, Harold Ramis attends a SCTV panel discussion in celebration of the 50th Anniversary of Second City at 1616 N. Wells Avenue on December 12, 2009 in Chicago. Ramis died on Feb. 24. He was 69.

Maria von Trapp, the last surviving member and second-eldest daughter of the musical family whose escape from Nazi-occupied Austria was the basis for "The Sound of Music," died on Feb. 18, 2014. She was 99.

In this 1978 photo taken by Janet Macoska and released by Devo, Inc., the band Devo, from left, Mark Mothersbaugh, Bob Mothersbaugh, kneeling, Jerry Casale, Bob Casale and Alan Myers pose for a photo. Bob Casale died on Feb. 17, 2014 at the age of 61.

Ralph Waite attends at 'The Waltons' 40th Anniversary Reunion The Wilshire Ebell Theatre on September 29, 2012 in Los Angeles. Waite died on Feb. 13. He was 85.

In this file photo, actor Sid Caesar arrives at the Arclight Cinema for the 40th Anniversary screening of the movie 'It's a Mad Mad Mad Mad World' on October 16, 2003 in Hollywood. Caesar died on Feb. 12, 2014. He was 91.

Actress Shirley Temple Black accepts the Life Achievement Award onstage during the 12th Annual Screen Actors Guild Awards held at the Shrine Auditorium on January 29, 2006 in Los Angeles. She died on Feb. 10 at the age of 85. (Photo by Kevin Winter/Getty Images)

In a Jan. 19, 2014 photo Philip Seymour Hoffman poses for a portrait at The Collective and Gibson Lounge Powered by CEG, during the Sundance Film Festival in Park City, Utah. Hoffman died on Feb. 2. He was 46. (Photo by Victoria Will/Invision/AP)

This May 5, 2006, file photo shows Pete Seeger in Beacon, N.Y. The American troubadour, folk singer and activist Seeger died Jan. 27, 2014, at age 94. (AP Photo/Frank Franklin II, File)

This April 2, 1956, file photo shows George Yardley (12) Fort Wayne outreaching Tom Gola (15) of the Philadelphia Warriors, under his own basket to save the ball for the Pistons in Fort Wayne. Gola, the Hall of Fame basketball player who led La Salle to the 1954 NCAA title and helped the Philadelphia Warriors win the 1956 NBA championship, died Jan. 26, 2014. He was 81. (AP Photo/File)

FILE - This Oct. 2, 1978 file photo shows Russell Johnson, as the professor, posing during filming of a two-hour reunion show, "The Return from Gilligan's Island," in Los Angeles. Johnson died Jan. 16, 2014, at his home in Washington State. He was 89. (AP Photo/Wally Fong, File)

This 1970 photo released by courtesy of Sony Pictures Television shows, back row, from left, cast members, Shirley Jones, Dave Madden, David Cassidy, Susan Dey, and front row, from left, Brian Forster, Danny Bonaduce and Suzanne Crough of the television series, "The Partridge Family." Madden, who played the child-hating agent on the hit 1970s sitcom, died on Jan. 16, 2014, at age 82. (AP Photo/Copyright CPT Holdings Inc, Courtesy Sony Pictures Television)

This Oct. 2, 2002 file photo shows Amiri Baraka, New Jersey's poet laureate during a ceremony at the Newark Public Library in Newark, N.J. Baraka, a Beat poet, black nationalist and Marxist revolutionary known for his blues-based, fist-shaking manifestos, died on Jan. 9, 2014. He was 79. (AP Photo/Mike Derer, File)

FILE - In this Nov. 1, 1975 file photo Secretary of State Henry A. Kissinger, left, shakes hands with Rep. Otis G. Pike (D-N.Y.), chairman of the House Intelligence Committee. Pike died on Jan 20, 2014, at age 92. (AP Photo, File)

(FILES) This picture taken on November 23, 2005 shows Israeli Prime Minister Ariel Sharon attending a Parliament session in Jerusalem. Sharon died on Jan. 11, 2014. (GALI TIBBON/AFP/Getty Images)

In this 2010 file photo, actress Juanita Moore attends the TCM Classic Film Festival screening of a 'A Star Is Born' at Grauman's Chinese Theater. She died on Jan. 1, 2014. (Photo by Frederick M. Brown/Getty Images)

Dr. Frank Jobe, known for the development of the historic elbow procedure known as "Tommy John Surgery," died on March 6, 2014 at the age of 88.