Another week, another crisis in one of the world's most troubled, beautiful, ancient lands. Hopes of truce raised and dashed with every news hour. 2,000 rockets fired into Israel this month, sirens sounded, its citizens running for shelter. More than 1035 Palestinians dead, parents mourning and burying their sons.

Unusually, this wasn't a faraway headline for me. A fortnight ago today, I was in Jerusalem, returning from a visit to the grave of Yitzhak Rabin, the Prime Minister feted as Israel's last, great peacemaker, assassinated in 1995 by one of his own for his efforts in overcoming the century-old stalemate.

A distinctive voice came on my taxi's radio, that of Tony Blair, also in the city on much more pressing business of urging a ceasefire to this latest round of conflict. It seems like a long time ago now, but Tuesday was a good day, with hope that Egyptian intervention had cleared the way for peace. Tony Blair told the world of his hopes that "such a ceasefire can halt the tragic loss of life, stop the rockets on Israel - and open up the possibility of a genuine change in Gaza". This ceasefire lasted mere hours, before Hamas reacted to what they considered a "scam" and more rockets were flung.

My driver laughed. "No one can bring peace," he said. "The problem is too old, too big, there is no one person who can sort it out.

"Your Tony Blair is a big man, but he will not do it."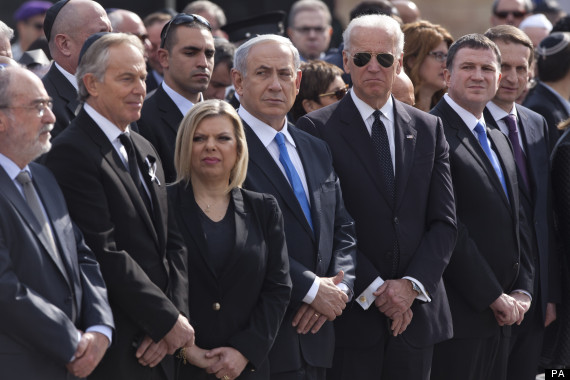 Tony Blair has made the Middle East his main mission since 2007, but is criticised by some for his close relationship with Israeli Prime Minister Benjamin Netanyahu
If my taxi-man is proved sadly correct, and 'my' Tony Blair isn't the man to bring peace to the Middle East, it won't be for want of trying. "He is always here," adds my driver. "He speaks to everyone."
"Political superstar"

Sure enough, Blair's office puts the official figure on his trips to this troubled region at 119 separate visits, and tells me that, for all his much-reported lucrative engagements elsewhere, this is what he spends most of his time on, since his appointment to his role of Middle East envoy for the Quartet (US, EU, Russia, UN) in 2009.

Initial reception to Blair's arrival was overwhelmingly positive, with his reputation for performing at the highest international levels going before him. For every one of those questioning how Blair could succeed where every emissary including powerful US secretaries of state before him had failed, there was someone curious to see how Blair's international currency could be spent in this region.

"It was considered a very good appointment," remembers Moav Vardi, diplomatic correspondent for Israel's Channel 10 network. "He had just finished being the UK's prime minister, with his reputation for bringing peace to Northern Ireland.

"In this region, there is a sense that we are seen as parochial, that the centre of the world is Europe and the US, with us looking up, so if a former president, or a German chancellor or a British minister is sent here, it's a big thing. And Tony Blair was a political superstar."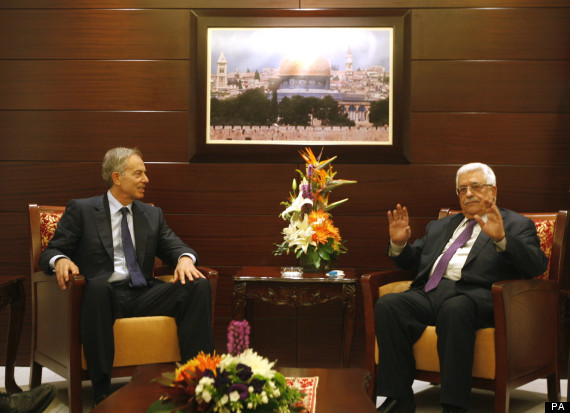 Tony Blair has made it clear he will sit with all parties - here with Palestinian President Mahmoud Abbas in 2012, although his close ties to Israel have made this connection more strained

When he was first appointed, Blair made it clear he would be engaging with all parties, and none of the political observers I spoke with voice any doubt for the size of his effort, that his presence in the room is more than just a comfort, it is the source of good advice and wisdom.

Seven years after his arrival, Barak Ravid, the diplomatic correspondent for Israel's Haaretz newspaper, praises Blair's tirelessness, considering the uphill work he took on.
Strongest assets

"In 2012, he got leaders from both sides to sit down in Amman, for three or four rounds of talks," remembers Mr Ravid, when pressed for an example. "He has supported economic projects for Palestinians. Now he's working towards a ceasefire. Both sides are willing to talk to Tony Blair, in a way they wouldn't necessarily with John Kerry. He's still here, still working, when another man would have got up and gone."

For Mr Vardi, Blair has come into his own when it's time to draw a crowd, to get the international press to open their weary eyes once more to a deja-vu situation.

"When he visits Ramallah and President Mahmoud Abbas, when he meets with (Israeli Prime Minister) Benjamin Netanyahu or travels to Cairo, or he tries to broker a deal, or he pushes for a ceasefire, he makes headlines," says Vardi. "He may not be capable of forcing a ceasefire, but he is moving. He answers the phone, he gets on a plane, he appears.

"He has the energy, and he's still willing to use his reputation and political capital to do something. This, and his time and effort, are his strongest assets."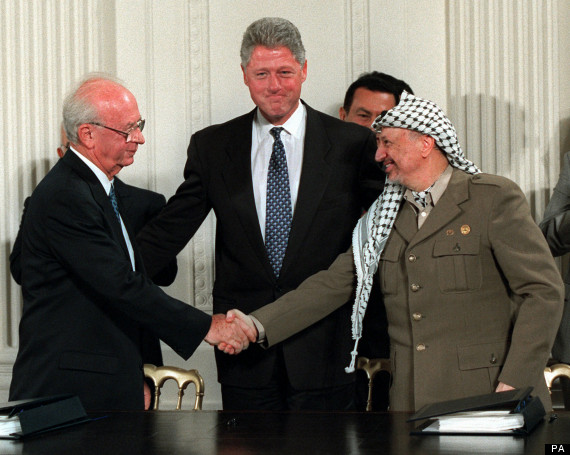 The international community's influence on the Middle East peaked in 1995 with President Clinton presiding over the historic handshake between Mr Rabin and Yasser Arafat in the White House Garden

For Uri Dromi, former Director of the Prime Minister's Press Office and Yitzhak Rabin's last spokesman, Blair's most surprising and impressive efforts came with his "systematic process of building from the bottom up".
"His hands are not in the dirt"

Mr Dromi lists Blair's methodical approach of "creating jobs for the Palestinians, removing checkpoints by the Israelis, convincing them they're not necessary".

"He's been trying to bring in all kinds of economic cooperations, not on the national or international level, but rather through fieldwork," he explains.

"This is a systematic attempt to really alleviate the conditions of life for the Palestinians. The logic is that the happier they are, the less problems they will cause with terrorism.

"The peace process should be left to the leaders, but the leaders can always gain confidence from developments on the ground. I thought this was a very sound logic."

Despite this, there is a distinct fear that Blair's legacy will not match his long hours, through circumstances both within and beyond his control. All observers appear to agree with my taxi driver that the gig is a poisoned chalice, that chances of success are fleeting and not universally supported.

Barak Ravid calls it "a highly sensitive, political issue, that has rightly caught the attention of the world".

He adds, "It's a conflict that is 100 years old, with more spoilers still than people who want to promote peace. The chances of success are not high to begin with. Today, it's almost impossible to have any effect in the duties Tony Blair was appointed to discharge."

Despite this, there is still criticism of Blair by other political observers, who note his reluctance to force decisions on those men he was sent to influence – in the words of one, that "his hands are not in the dirt, he is not covered with blood or sweat, and it stops him being a player of importance".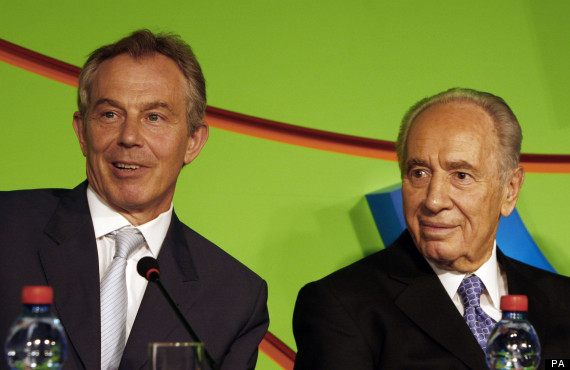 There is discomfort in the region at Blair's close relationship with the Israeli leaders, here with Shimon Peres

Further, while he has yet to suffer the ignominy of being called anybody's 'poodle' during this chapter in his career, Blair's "cuddles with Bibi" – Netanyahu's nickname - have not gone unnoticed.

"His original tactic was to befriend Netanyahu, to try to rein him in, and they developed a good relationship," remembers Ravid. "But this has become a strategy, which means there is now not a lot of trust in his relationship with the Palestinians, where he is no longer seen as an even-handed mediator or open broker of any kind.

"Over the years, he has been unwilling to confront either party, especially the Israelis, and has run away from confrontation to maintain his relationship with Bibi."
Ties with the Gulf

It is this insistence on playing good cop at any cost, that Ravid considers Blair's biggest mistake, because of where it puts him in the pecking order.

"Round here, on both sides, people only move under pressure," ponders Ravid. "And they have internal pressures all the time. So the external pressure needs to be hard enough to make a difference. If there is no confrontation, no price tag for doing bad stuff, politicians on both sides will always choose the needs of internal politics over external players. There is no incentive for either side to play ball."

And Uri Dromi is of no doubt that the erosion of goodwill for Tony Blair over his dealings in the Gulf is not confined to the UK.

"The more we know about the Iraq thing, the less we admire his conduct," he explains. "You look at Iraq today, the story's not even finished yet, not to mention the spillover to Syria and the Islamic state. All this came from ignorance about the Middle East."

Worse, says Dromi, is Blair's continuing business relationships in the Gulf.

"Personally, I think everything bad in this region comes from the Gulf, so his association in those things really undermines his position as a honest or credible agent of some positive influence here," he says simply, but damningly.
Ticking clock

Equally damning, though, is Dromi's reminder where Blair's credibility, or lack thereof, sits in the rankings of significance.

"Most Israelis didn't bother so much, they look up more to America," he explains. "They are more impressed when Kerry and Obama are here, as they were with Clinton and Bush. Not everybody is counting the times that Tony Blair is coming here."

As the UK's former PM will know all too well from his parliamentary days, the political clock that gets wound up on the day of taking a new chair is, after seven years, ticking loudly and impatiently, as highly-prized political capital inevitably drains away, however many planes are caught, talks held, and speeches made - always including phrases like "permanent solution", "sustaining" and "resolute". One pithy pundit tells me "sometimes you have to stop talking like a Guardian columnist and start behaving like a major politician".

On the other hand, ever since he responded to the Princess of Wales' death with his nation-capturing 'Princess of Hearts' speech 1997, Tony Blair has always found the right way of behaving in a crisis, and so it has proved once again this past fortnight, with his efforts to gain a ceasefire garnering him a fresh wave of respect in the region.

"He is obviously at his best, when he is seen trying to contain a crisis," notes Ravid. "But that makes him a good fire fighter, not a peacekeeper."

Ravid, however, remains philosophical about the extent of the mission Blair has set himself, particularly noting those "spoilers on every side" determined to stall his work.

"The bottom line is that he has worked very hard, tried to do a lot of things, but his scorecard would read 'Lot of effort, no result'. Which doesn't necessarily say anything about Tony Blair. There have been many before him, and there will be at least a few after, I'm sure."
The stick and the carrot

"The expectations should have been really scaled down," adds Uri Dromi. "If you really scale them down, then his work on the ground for the Palestinians can't be discounted."

He sighs. "Either he lost interest or he just didn't have the time. I don't blame him. John Kerry, who seemed indefatigable, really said 'enough is enough' when he came recently. Why would Tony Blair continue forever? It's not his main issue in life."

When Blair arrived, he claimed that a solution to Middle East problems was possible, but that it required "huge intensity and work". 85 months later, it is tragically evident that superstars cannot singlehandedly bring about ceasefires. Opinions differ on where Blair, and the international community around him, go from here…

Moav Vardi thinks the "international community has been walking the same path for too long, with no results".

"It's time to think outside the box," he says.

"Change the map of the diplomatic situation in the region, to force and shape new coalitions, with the likes of Egypt and Saudi Arabia, give Israel something new that she needs. Do something bold, and use both the stick and the carrot."

Barak Ravid goes further: "From now forward, the best thing he could do is to close up shop. While he is here, he is just another babysitter, allowing the parties to continue their bad behaviour.

"What is needed is disengagement from the international community, so that these leaders can start to take responsibility for their own actions."
A candid answer to the question

Uri Dromi is more optimistic for Blair's role, but also far more demanding of the man himself.

"He has to make up his mind what he wants to be. Is he a man of the world who travels all around and charges for lectures and makes money from the Gulf, and also popping here once in a while trying to do good? If so, I don't think that will work. So he has to make up his mind.

"I see the situation now not just as a problem, but also an opportunity. Tony Blair could come here, and say he will try to bring money to people of Gaza from people of the Gulf. And he could say, 'I will now step in to help rebuild Gaza.' It would be a coup of enormous proportions, and one has to question whether his standing today is enough to assume such a role.

"Make up your mind – are you serious about this, or has it become one of your hobbies? If it's a hobby, don't think about doing it, but if you're serious and want to rehabilitate your stature, then pledge to bring $2bn to Gaza, in infrastructure, education, not tunnels.

"Or are you trying to perpetuate and varnish your tarnished glory? Tony Blair's future in the Middle East all depends on his candid answer to this question."

If Tony Blair starts to feel beleaguered with these kind of opposing and complicated options on offer, he can perhaps take comfort at least from the opinion of another taxi driver I encountered the day after I heard him on the radio.

This time I was in Bethlehem, which meant – by just one of those twists of fate offered by this incomparably complex region – I was being driven by a Palestinian.

Naif hadn't worked for a month and was anxious for his future, both immediate and long-term, and that of his children. He was also impressively well-versed in the history of his troubled land, fluent in English, Hebrew, Arabic and keen to talk. I eventually asked him what he thought of Tony Blair.

"He is a good man," he told me.

"You don't like him any more. I know this, but I don't look at him through British eyes. I look at him through my eyes and I see a peaceful man – a man who just wants peace."
SUBSCRIBE TO & FOLLOW UK POLITICS