Cheryl Cole has reportedly had a change of heart about taking on her new husband Jean-Bernard Fernandez-Versini's surname, just weeks after the couple walked down the aisle.
It had been previously thought that when 'The X Factor' hit screens again later this year, that returning judge Cheryl would be ditching her old married name and going by the slightly more fancy Cheryl Fernandez-Versini, with series announcer Peter Dickson even claiming he'd been practising how to introduce the star with her new name.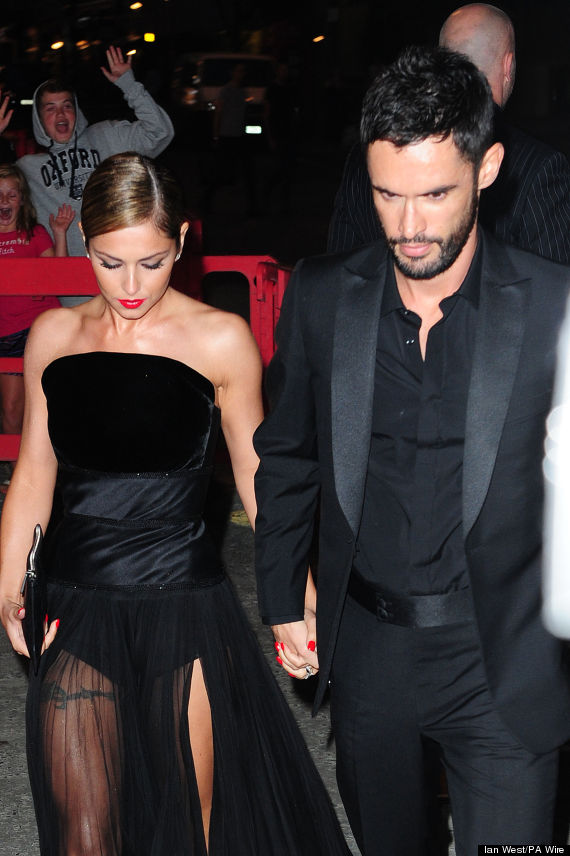 Cheryl and Jean-Bernard at the London bash to celebrate their nuptials last month
However, it seems that a lot of people are struggling to wrap their heads around how to pronounce Fernandez-Versini, so the 'Crazy Stupid Love' chart-topper has decided to drop surnames altogether and be known simply as Cheryl.
A source told the Mirror: "It's just Cheryl because everyone seems to be having a hard time saying it."
This isn't the first time Jean-Bernard's surname has caused problems, as it was reported last month that the restaurateur's seemingly never-ending middle names, as well as his double barrel last name, had caused a headache for officials trying to process the happy couple's marriage license.
Cheryl was born Cheryl Tweedy, but took on the surname Cole following her first wedding to footballer Ashley Cole.
Now that she's tied the knot with her new French beau - in a secret ceremony on the island of Mustique with just for guests reportedly in attendance - Cheryl seems determined to put her previous marriage behind her previous marriage behind her, and is even believed to be having the 'Mrs. C' tattoo on the back of her neck removed
Whirlwind Celebrity Romances
Katie and Kieran announced their engagement just 11 weeks after the former glamour model revealed she'd split from Leandro Penna. The pair have one child together - and another on the way - however, things aren't exactly going swimmingly going at the moment. Earlier this year, Katie took to Twitter to reveal that Kieran had been having an affair with her long-term pal Jane Poutney.

Katy and Russell got engaged in India after just three months of dating in 2009. The couple then waited almost a year to return to the same place and marry, though - as fans of 'Katy Perry: Piece Of Me' will know - after just four months the couple called time on their relationship.

Khloe and Lamar tied the knot exactly a month after meeting in 2009. Unfortunately, the pair couldn't make things work and after plenty of speculation, Khloe announced her plans to file for divorce in December 2013.

Mariah and Nick started dating in March 2008 and by May they were married. The couple are still together - woo! - and in 2001 Mariah gave birth to twins.

David and Kelly may have only known each other for the last seven months, but in that time they've gone from dating to breaking up and back to dating, before becoming engaged. The couple are currently spending time in the US and planning their wedding.

Weeks after splitting from Chris Klein, Katie found love with Tom Cruise and the pair married got engaged in June 2005, after just a few months of dating. Katie and Tom then waited a while longer before getting hitched, marrying in November 2006, seven months after Katie gave birth to Suri. In 2012, it was announced that Katie had filed for divorce.

Angelina and Billy first met in 1999, though they didn't start dating until 2000. After just two months of dating, the couple tied the knot. Their divorce was finalised in 2003.

Kate Hudson fell pregnant just a few months into her relationship with Muse frontman Matt Bellamy. The couple are still together and live in London with their son Bingham Hawn.

Renee and Kenny were married for just three months before announcing their plans for an annulment.

Kerry and Mark got engaged after six weeks and the Atomic Kitten singer later admitted she may have rushed things.

To be honest, Pamela and Tommy make Khloe Kardashian look like a meticulous planner. The couple married after knowing each other for a grand total of four days in 1995. The couple split a year later though they have since reunited - and broke up again - on multiple occasions.

Britney Spears may have known Jason since her childhood, however the duo weren't even in a relationship when they decided to get hitched at the Little White Wedding Chapel in Las Vegas in 2004. The marriage was anulled just 55 hours later.

Jennifer split from Ben Affleck in January in 2004 and by June she was married to Marc. J.Lo gave birth to twins in 2008, but three years later Marc and Jen announced their split.

Everyone knows Kim and Kris were married for just 72 days, but everyone seems to have forgotten that the pair were together for just seven months before the wedding. Let's hope Kim's marriage to Kanye West goes the distance...

You would be forgiven for thinking Britney might have learned her lesson after the Vegas wedding, and to be fair, she did wait three months before getting hitched to Kevin Federline. The pair had two children together before the singer filed for divorce in November 2006.