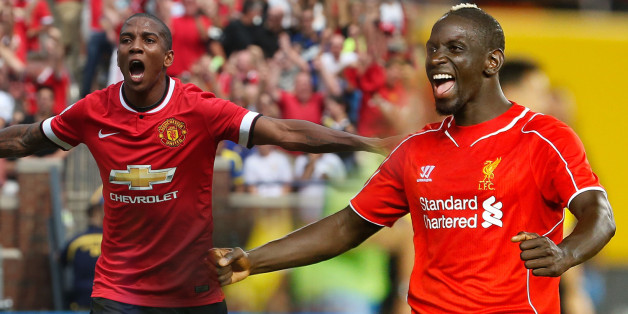 Manchester United and Liverpool bring down the curtain on their tour of the United States in the International Champions Cup final on Monday night. The Miami match will Kick-off from 1am BST on Tuesday morning, and you can get live minute-by-minute coverage from Samuel Luckhurst from 0.30am.
05/08/2014 02:54 BST
Full-time: Manchester United 3-1 Liverpool
Five games, five wins and one (unimportant) trophy for Louis van Gaal in the United States.
05/08/2014 02:53 BST
92 min
Sterling, who's faded, hits a cross over everybody as the players wait for the final shrill. It's been a good workout for both sets of players.
05/08/2014 02:52 BST
90 min
Young, impressive again, wins a throw inside Liverpool's third. Unsurprisingly, he looks shattered, but it'll be worth it. For the time being, his United career should be safe.
05/08/2014 02:50 BST
3-1
Wonderful football form United down the right. Cleverley clipped it into Young, he flicked it on for Nani back to Cleverley, who played it over the top for Young. He crossed, Kagawa couldn't control the ball but Lingard ran onto it and smashed it past Mignolet anyway.
05/08/2014 02:49 BST
GOAL
Lingard makes it 3-1 United. Game over.
05/08/2014 02:47 BST
Yellow card for Wayne Rooney
It was a deliberate trip on Sterling inside the centre circle and the striker accepts his punishment without a murmur.
05/08/2014 02:46 BST
85 min
Van Gaal might have a word with De Gea, whose distribution has been uncharacteristically poor this half, after he balloons another kick out. It's bound to happen occasionally under Van Gaal's tutelage but De Gea's radar is usually much more accurate.
05/08/2014 02:45 BST
83 min
Brilliant, gamely running from Henderson down the right as he somehow manages to get a cross in only no one is anywhere near the six-yard box to capitalise. The ball travels across to Sterling, who cannot maintain the move's momentum and United are away again.
05/08/2014 02:42 BST
80 min
Odd one from Rooney, who regains the ball near the halfway line yet chooses to try and play the ball all the way back to De Gea. He succeeds in only gifting Liverpool a corner, Henderson's cross should be cleared by Nani but isn't, Toure plays the ball into the six-yard box and Smalling is there to clear the danger.
05/08/2014 02:41 BST
79 min
Lovely link-up play between Shaw, Rooney and Kagawa as the Japanese is released on the left. He pings the ball low into the box and someone, maybe Rooney, makes the faintest of contact as the chance goes begging.
SUBSCRIBE TO & FOLLOW UK DAILY BRIEF