Doctor Who Companion Jenna-Louise Coleman 'To Quit Show, Leave Peter Capaldi's Side At Christmas'
Doctor Who's latest companion Jenna Coleman will quit the show at Christmas, it has been reported.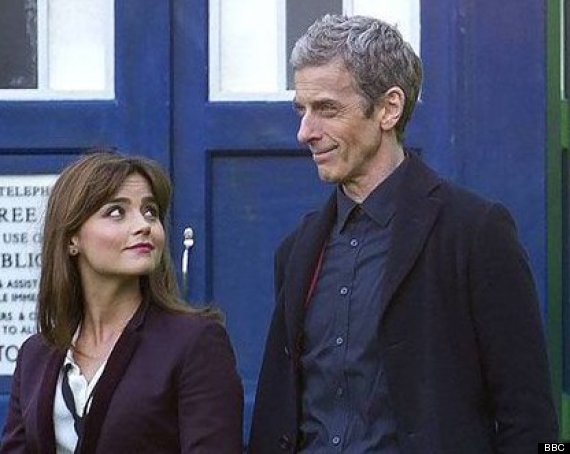 Jenna Coleman with Peter Capaldi
The Mirror reports that it by "mutual agreement" that the actress (who's recently dropped her middle name 'Louise') will leave the series after 18 months in the role, during which she has seen the Doctor's baton pass from Matt Smith to the new incumbent Peter Capaldi.
Jenna Coleman's character Clara is the latest in a long line - nearly 60 - of companions who have helped the otherworldly Doctor form a connection between his world and ours.
British actress Carole Ann Ford (centre, right) makes a horn sign at a Dalek from the BBC television science fiction series 'Doctor Who', at the Daily Mail Schoolboys' and Girls' Exhibition at Olympia, London, 28th December 1964. In the series, Ford plays Susan Foreman, the companion of the first Doctor, played by William Hartnell. (Photo credit: Victor Drees/Evening Standard/Hulton Archive/Getty Images)

Dr Who encounters the ancient Aztecs in an episode of the famous TV series in 1964. From left to right, the actors are John Ringham, William Russell, Jacqueline Hill, William Hartnell (1908 - 1975) and Keith Pyott. (Photo credit: Moore/Fox Photos/Getty Images)

British actors Tom Baker and Elisabeth Sladen pose in 1974, who star in the new BBCTV series 'Dr Who'. (Photo by Victor Blackman/Express/Getty Images)

Tom Baker as the new Dr Who in 1974. He is shown here with a Cyberman and his assistant Sarah Jane Smith, played by Elisabeth Sladen, at the BBC television centre. (Photo credit: Frank Barratt/Keystone/Getty Images)

Dr Who (actor Peter Davison) and female companions of the Doctor's past and present pose in 1983. (l-r) Louise Jameson, Carole Ann Ford, Caroline John, Sarah Sutton, Elisabeth Sladen and Janet Fielding. (Photo credit: PA)

Paul McGann (as The Doctor) and Daphne Ashbrook (as Dr. Grace Holloway) in Doctor Who, shown in 1996. (Photo credit: WENN.com)

Actress Catherine Tate arrives at the press launch of 'Dr Who' series 4 at the Apollo West End in 2008 in London. (Photo credit: Dave Hogan/Getty Images)

Doctor Who, played by Sylvester Mccoy, poses with his companion Melanie, played by Bonnie Langford, in 1987. (Photo credit: Photoshot/Getty Images)

Doctor Who, played by Colin Baker, with companion Peri, played By Nicola Bryant in 1986. (Photo credit: Photoshot/Getty Images)

20th November 1980: Tom Baker, who plays Dr Who in the childrens TV series, is to marry Lalla Ward, who plays his assistant Romana in the series. (Photo by Keystone/Getty Images)

1980: Actress Lalla Ward, Dr Who's assistant in the BBC television series, riding K9, the doctor's robotic 'dog', in a park (Photo by Hulton Archive/Getty Images)

Actor Jon Pertwee, a former Dr Who, and actress Elisabeth Sladen, who played his companion in the series, at Heathrow Airport where they departed to Miami to attend a Dr Who convention (PA)

Tom Baker, as Doctor Who, and Mary Tamm as his companion, Romana, on the set of the BBC television science fiction series 'Doctor Who', at BBC TV Centre, London, 25th April 1978. (Photo by Fred Mott/Evening Standard/Hulton Archive/Getty Images)

English actors Jon Pertwee (1919 - 1996) and Elisabeth Sladen (1946 - 2011) outside BBC TV Centre, London, 26th June 1973. Pertwee and Sladen play Doctor Who and his companion Sarah Jane Smith in the British television series 'Doctor Who'. (Photo by William H. Alden/Evening Standard/Hulton Archive/Getty Images)

Peter Purves

DR Who: Billie Piper, Christopher Eccleston

Bernard Cribbins (and David Tennant collect the award for best Drama received for Dr Who during the National Television Awards 2010.

Dr Who

The eleventh Doctor Who, actor Matt Smith, and his companion Amy Pond, actress Karen Gillian, arrive at the screening of an episode of the new Doctor Who series at Cineworld, Cardiff (Ben Birchall/PA Wire)

James Corden and Matt Smith take a break from filming the BBC sci-fi series Doctor Who Penarth, Wales. Photo: WENN.com

K-9
While her relationship with Matt Smith's Doctor had a spark of romantic chemistry to it, with the Doctor acknowledging her power over him, the new Doctor's reign will see a much straighter bond, according to show creator Steven Moffat. "No flirting" is the order of the day.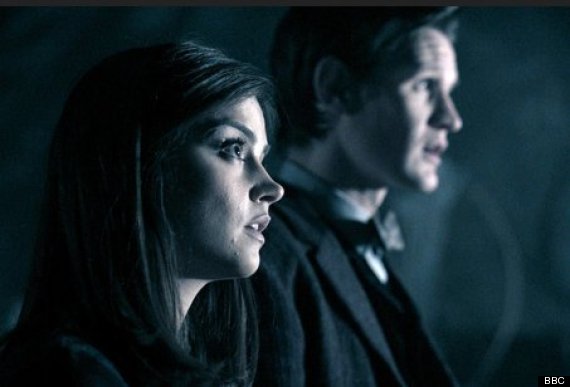 Jenna Coleman with previous Doctor, Matt Smith
According to Steven, the new Doctor is much less worried about what Clara or anyone else thinks of him, because he has work to do. "Consequences for this kind of life" is how Steven Moffat has put it.
MORE: Peter Capaldi - 9 Facts in 90 Seconds
The new series of Doctor Who starring Peter Capaldi starts next Saturday evening.