'Celebrity Big Brother' housemate Gary Busey is being constantly monitored by worried show bosses as his behaviour in the house becomes more and more erratic, according to reports.
MORE: The world according to Gary Busey
The 70-year-old actor made an awkward entrance into the 'CBB' house during the show's launch on Monday when he had to be guided into the house by presenter, Emma Willis.
Since being in the house Gary has claimed to have 13 different personalities, has been seen talking to himself and has rowed with 'Strictly Come Dancing' star James Jordan after he suggested the dancer was gay.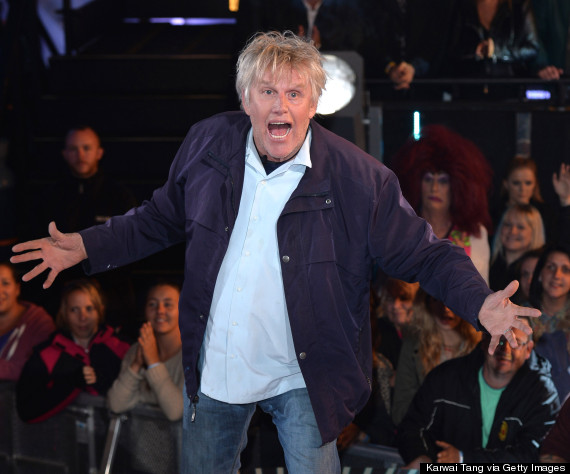 Gary Busey
A source at the show told The Sun: "If it's felt Gary could be a danger to himself or others he will be pulled out.
"There is a duty of care and a very robust process. There is a welfare team for the housemates before, during and after the show."
But the Mirror claim that Gary was not seen by a show psychiatrist before entering the house, only that he was 'independently evaluated'.
A Celebrity Big Brother spokesman told the newspaper: "In accordance with standard procedure for CBB, the housemates are all independently evaluated before they enter the house and are closely monitored at all times."
Many fans of the show have taken to Twitter to express their concern for the 'Point Break' star.
One wrote: "I am worried about Gary. I don't think he should be there not good for him."
Another tweeted: "What is wrong with Gary Busey. That is not normal behaviour even if he is 70 years old."
'Celebrity Big Brother': Where Are They Now?
After showing her boobs in the 'CBB' jacuzzi, Denise revisited her love of acting and toured the UK in a production of 'Steel Magnolias'. She has since quit 'Loose Women', stopped drinking and married her new love, Licoln Townley.

Owner of the most famous teeth in Britain, Rylan used his 'CBB' stint to his advantage and is now seen fronting the spin-off series 'Big Brother's Bit On The Side'. We can also look forward to hearing his debut music release in the near future, which we're sure will be totally listenable and not a load of AutoTuned nonsense. Nope. Not at all.

Racing pundit and super-hunk John McCririck revisited reality TV when he joined the 'Ultimate Big Brother' house, and still occasionally offers his opinions on 'Bit On The Side'.

Proving you can't keep a good thing down for long, Dane is having his 300th crack at a music career at the moment, as a member of 'Big Reunion' supergroup (and boy are they "super"), 5th Story.

Les has enjoyed stints in several touring theatre productions since his slightly alarming time in the 'Celebrity Big Brother' house, and recently landed a part in 'Corrie' - he's now the lucky man getting to snog Gail Platt on the regular. We couldn't be more jealous.

Forgot Sue had been on 'Celebrity Big Brother', had you? Of course, she's now best known for co-presenting 'The Great British Bake Off', cramming in as many 'soggy bottom' innuendos into an hour-long show as is humanly possible.

Alex married - and then divorced - Katie Price soon after leaving the 'Big Brother' house. He's still a big name in the go-go world of cage fighting, but has also tried his luck as an actor, starring in the Oscar-worthy 'Killer Bitch' as well as playing a stripper in 'Wildboyz', alongside 'BB' housemate Dale Howard and former 'Corrie' hunk, Danny Young.

The undisputed King of the Innuendo, Julian toured the UK on his 'Position Vacant - Apply Within' tour shortly after bagging the title of 'CBB' winner, dishing the dirt about his housemates in the show, which also saw him on the hunt for a husband.

He probably wouldn't like you to mention it, but Mark won the second ever series of 'Celebrity Big Brother', beating Melinda Messenger to the title. He had a short-lived crack at a solo career (we maintain that his single '4 Minute Warning' was a 10/10 pop gem no matter what anyone else says) after his eviction, and is now back with Take That.

Squeezing as much as she can out of the 15 minutes of fame she's been allocated since her eviction, Luisa has launched a line of bikinis, written a cook-book and is honing her presenting skills on the 'BBBOTS' panel at the moment. All we need now is a single release. FINGERS CROSSED.

Proving there's nothing that Britain loves more than a woman in her 20s wetting the bed, Charlotte landed her own TLC reality series after winning 'CBB', and is still a cast member on 'Geordie Shore'.

He and fellow 'CBB' star Chantelle had a short-lived time as the nation's sweethearts, before ultimately splitting. But not before embarrassing himself on national TV when he stormed off the 'Never Mind The Buzzcocks' panel, after Simon Amstell poked fun at Chantelle. Awks. Bizarrely, a song written by Preston - 'Dressed To Kill' - recently cropped up on Cher's latest album. Yes, Cher. Actual. Cher.

With the ever-growing list of names on his bum getting longer than our typical Nando's order - and that's saying something - Frankie tried to launch his music career after leaving 'CBB', but his debut single 'She's Got A Motorocycle' (which we can only guess told the story of someone - presumably a woman - who had a motorcycle in their possession) peaked at no. 89. Which incidentally is the same number of names he now has inked on his derriere...

One of the most memorable - for all the wrong reasons - moments in 'CBB' history came from Vanessa Feltz, who took part in the last series of 'Strictly Come Dancing', becoming the second celeb to dance away from the competition.

Since leaving 'CBB', Mutya rang up her old mates - the original Sugababes, Keisha and Siobhan - and decided to give the old pop career another try, forming the imaginatively titled pop group, Mutya Keisha Siobhan. We've heard nothing from them since their debut single last year, but we're not giving up hope that they can still deliver a great pop album. At some point. In the next decade.

Things may have gone quiet on the Steps front, but Claire can occasionally be found giving her views on the 'Loose Women' panel these days.

Oh dear. After poor old Lee was booted out of the 'CBB' house back in January things haven't being going too well for him in his personal life - with his ex Jasmine Waltz branding him "a damaged soul with no money or career" - but at least he'll be hitting the road with Blue as part of 'The Big Reunion' boybands tour later this year.

Her treatment of Shilpa Shetty didn't exactly make her popular with the public, but it's been suggested a S Club 7 reunion could be on the cards for Jo.

'Celebrity Big Brother' catapulted Jasmine from the Z-list to... well... slightly higher up the Z-list. She is best known for her notable Twitter feuds, including with fellow 'CBB' contestant, Luisa Zissman.

Keith took part in the first ever 'CBB', and has since reformed Boyzone and enjoyed a long-running part on 'Coronation Street'. Most recently, he got us all hot under the collar (or maybe that was just us?) on 'Splash'.

We're still waiting for her reality series with Lauren Harries, but at least we still have photos like this, where she's wearing a bikini made of lettuce and serving tofu hot-dogs, to tide us over.

After capturing the nation's attention on 'CBB', Speidi became the subject of a one-off documentary, 'Scandal, Secrets & Surgery!'. Late last year, Spencer also graduated with a degree in political science from the University of Southern California. We wonder if Rylan helped him revise.

After the obligatory re-release of 'You Spin Me Round (Like A Record)', following his eviction, Pete has since made a number of TV appearances, including last year, when he starred in 'The Body Shocking Show' to discuss cosmetic surgery. We didn't even realise he'd had any, to be honest.

We had thought 'CBB' might be a springboard for Michael to relaunch his once-glittering TV career, but aside from a role in a production of 'Scrooge', things have remained quiet for him on the career front. He recently appeared in a celebrity special of 'The Jeremy Kyle Show' to discuss his turbulent personal life.

Whatever she's doing, we're sure she's still looking fabulous. "Yeah, Yackie". Iconic.