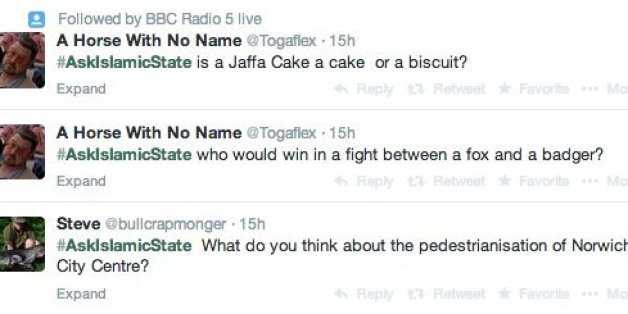 The hashtag #AskIslamicState has been trending on Twitter Saturday, with social media users poking fun at the terrorist organisation.
The actions of the militant group, who have shown a proficiency for using social media to promote their campaign of terror, are far from a laughing matter. But Twitter users showed that, from behind the safety of their computer screens, they were willing to taunt the terrorist group, who this week brutally executed the American Journalist James Foley.
From emotional appeals to nonsensical ponderings, here is what the internet asked the Islamic State:
#askislamicstate Do you think if you replaced religion with humour you might be able to live in peace?
#askislamicstate is it always advisable to top up your state pension with private additional voluntary contributions
#askislamicstate my Pikachu just evolved into Raichu, should I teach it Thunderbolt?
#askislamicstate What's your opinion on the pedestrianisation of Norwich City centre?
#AskIslamicState Do you think roller blinds are more effective than venetian blinds for blocking out lights ?
SUBSCRIBE TO & FOLLOW UK DAILY BRIEF