Actor and director Richard Attenborough has died aged 90, the BBC reported tonight.
Famed for his appearances in 'The Great Escape' and 'Jurassic Park' as well as directing the Academy Award-winning 'Gandhi', Lord Attenborough died around lunchtime on Sunday, his son said.
The cinema legend had been in a nursing home, along with his wife, for some time, and had been in a wheelchair since an accident six years ago, the BBC reported. Richard Attenborough and his wife, actress Sheila Sim, at the BAFTA awards
Prime Minister David Cameron paid tribute to Lord Attenborough in a statement which read: "His acting in 'Brighton Rock' was brilliant, his directing of 'Gandhi' was stunning - Richard Attenborough was one of the greats of cinema."
The elder brother of naturalist and broadcast Sir David Attenborough, Attenborough was born in Cambridge and served in the Royal Air Force during the Second World War. He trained as an actor at RADA, where he remained a patron until his death.
During an illustrious career he won eight Oscars for 'Gandhi' in 1983, as well as four BAFTAs and four Golden Globes. His most famous roles were as sages, scientists and Santa Claus, in films like the noir that made his name 'Brighton Rock', war thriller 'The Great Escape', and Christmas family film 'Miracle on 34th Street'.
We Salute Lord Richard Attenborough With 9 Of His Finest Films
As an actor he was respected enough for top directors Satyajit Ray and Steven Spielberg to lure him out of self-imposed retirement to appear respectively in 'The Chess Players' and 'Jurassic Park'.
He married the actress Sheila Sim when he was 21. His son Michael was born in 1949, followed by two daughters, Jane and Charlotte. Tragedy struck on Boxing Day 2004 when his elder daughter Jane Holland, and her daughter, Lucy, and her mother-in-law, also named Jane, were killed in the south-Asian tsunami.
Michael is a theatre director and former artistic director of the Almeida Theatre in Islington, north London, and Charlotte is an actress.
Lord Attenborough struck up a friendship with Diana, Princess of Wales, after the Prince of Wales asked him to help her write speeches. He championed the British film business through its triumphs and trials for more than 50 years as actor, Oscar-winning director and prolific movie-maker.
He had a grand vision and a deep desire to educate, decrying injustice and extolling heroes such as Gandhi and Steve Biko, a South African victim of Apartheid.
Story continues below slideshow
British director Richard Attenborough, right, and British actor Chris O'Donnell, right, smile during the press conference at the 47th International Film Festival in Berlin, Friday, February 14, 1997. Attenborough presents his film "In Love and War" where O'Donnel plays the leading part. (AP Photo/Hans Edinger)

British movie producer Sir Richard Attenborough accompanied by Lady Attenborough in Paris, on January 1986, when he was awarded the Order of the Commander of French Arts and Letters. (AP Photo)

British actor, director, producer, filmmaker and entrepreneur Richard Attenborough, right, is seen with Geri Halliwell of the Spice Girls, following the Galaxy British Book Awards, in London, Wednesday, April 9, 2008. (AP Photo/Lefteris Pitarakis)

Lord Richard Attenborough opens the door of the Unicorn Theatre, Britain's first theatre purpose-built for children, for the first time in south London, Thursday Dec. 1, 2005. The copper-clad building on London's South Bank incorporates a 340-seat main auditorium, a 120-seat studio, and will play to more than 100,000 children each year. (AP Photo/Jane Mingay)

British actor, director, producer, filmmaker and entrepreneur Richard Attenborough arrives at the Galaxy British Book Awards, in London Wednesday, April 9, 2008.(AP Photo/Lefteris Pitarakis)

British actor and director Lord Richard Attenborough during the press conference to announce U.S. actor Kevin Spacey's appointment as director of the Old Vic Theatre Company at the theatre in London Wednesday, Feb. 5, 2003. (AP Photo/Max Nash)

** FILE ** British actor John Mills, left, with British actors Richard Attenborough, centre, and Bryan Forbes, in Malta, in a scene from the film "Son of a Gun", Nov.21, 1955. Sailors behind are extras from H.M.S. Gillingham. Actor Sir John Mills, who played the quintessential British officer in scores of films, died Saturday after an Oscar-winning career spanning more than 50 years. He was 97. Mills died at his home in Denham, west of London, after a short illness, a statement from his trustees said. Details of the illness were not given. (AP Photo).

Sir Richard Attenborough (L) kisses an unknown woman before Chelsea's premiership match against Aston Villa at home to Chelsea at Stamford Bridge football stadium on October 05, 2008. AFP PHOTO/Carl de Souza. Mobile and website use of domestic English football pictures are subject to obtaining a Photographic End User Licence from Football DataCo Ltd Tel : +44 (0) 207 864 9121 or e-mail accreditations@football-dataco.com - applies to Premier and Football League matches. (Photo credit should read CARL DE SOUZA/AFP/Getty Images)

LONDON - JUNE 17: (EMBARGOED FOR PUBLICATION IN UK TABLOID NEWSPAPERS UNTIL 48 HOURS AFTER CREATE DATE AND TIME) Richard Attenborough and wife Sheila Sim attend The Great British Movie Event in aid of the National Film and Television School, at the Old Billingsgate on June 17, 2008 in London, England. (Photo by Dave M. Benett/Getty Images)

File photo dated 27/05/97 of Richard Attenborough with the Princess of Wales as Lord Attenborough has died aged 90, the BBC reported tonight.

Lord Richard Attenborough (left) and James McAvoy get ready to be honoured by the Royal Scottish Academy of Music and Drama at the RSAMD in Glasgow.

Lord Richard Attenborough before signing copies of his autobiography, 'Entirely Up To You, Darling' at Waterstone's bookshop in London's Piccadilly.

J.K. Rowling poses with her Outstanding Achievement Award with Lord Richard Attenborough at The South Bank Show Awards held at The Dorchester Hotel in central London.
It was 'Gandhi', arguably one of the least obvious successes in the history of the cinema, that marked the highlight of his remarkable career, clinching eight Oscars, including best film and best director. His breadth of canvas and eye for detail were at their most impressive here, with Attenborough displaying a knack to control some 400,000 extras at the re-creation of Gandhi's funeral.
His highly emotional and effusive character was one of the most lampooned in the art world, where he was known as the "original luvvy" who was easily moved to tears. But, above all, his deep passion and unflagging energy as actor, director, producer, fund-raiser and chairman of numerous charities were genuine, and his good-nature was renowned in a notoriously tough world of clashing giant egos which he inhabited.
A dedicated socialist, he was introduced to rebellious politics by his mother, who joined protest marches in the 1930s against Spain's General Franco and took in Basque refugees from the Spanish Civil War. His parents also helped to co-ordinate the evacuation of Jewish children from Europe.
On stage, Attenborough and his wife were in the original cast of Agatha Christie's thriller 'The Mousetrap', appearing in the first 700 performances. Attenborough was now a household name with a huge fan club.
But he became increasingly disillusioned at the parts he was offered and went into partnership with Bryan Forbes to make films which they "believed would express certain aspirations and certain horrors".
Forbes directed and Attenborough produced and starred in gritty, realistic films such as 'The Angry Silence' about trade unionism and The L-Shaped Room set in bleak bedsitter London.
The role he found the most personally disturbing was that of murderer John Christie in '10 Rillington Place'.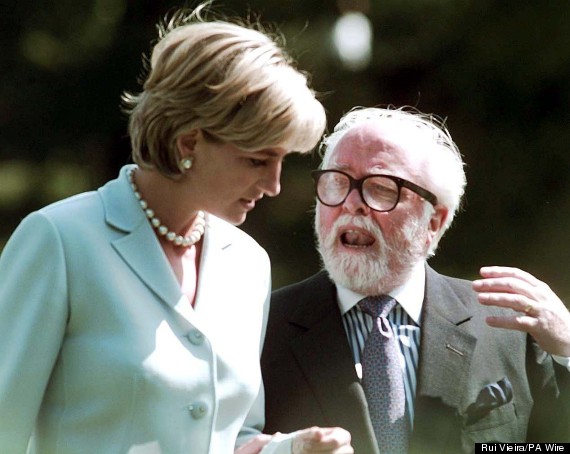 Richard Attenborough with the Princess of Wales as Lord Attenborough has died aged 90
When he moved into production he had no thought of being a director except that he wanted to make one film - on the life of Gandhi.
Yet it was 20 years before he found the necessary funding. Meanwhile, he established himself with a series of mainstream pieces such as 'Oh! What a Lovely War', 'Young Winston' on the early years of Winston Churchill and 'A Bridge Too Far' about the ill-fated attack on Arnhem.
But Gandhi remained the big dream and when filming began Attenborough thought nothing of lugging camera equipment up hills in a bid to inspire his crew. His faith was rewarded with the eight Oscars and a profit of well over £100 million.
His epics were, however, not universally applauded. 'Cry Freedom', about the relationship between murdered black activist Steve Biko and white journalist Donald Woods was attacked for failing to address fully the issues of Apartheid. And 'Chaplin' also failed to win critical approval.
Attenborough admitted he was no avant-garde film-maker. "I tell stories with a beginning, a middle and an end," he said.
Away from films he held a vast number of positions, most notably as chairman of Channel 4, from 1987 to 1993. He personally stood firmly behind the company's decision not to name a source used in a documentary on Northern Ireland and appeared at the High Court even though at one point it looked as though his principles would land him in jail for contempt of court.
Attenborough received a life peerage in 1993.
9 Classics From Richard Attenborough
Richard Attennborough is the embodiment of squeaky-clean evil as gangster Pinkie in this black and white version of Graham Greene's classic novel.

Attenborough starred as Albert Blossom opposite Rex Harrison in this fairytale of a vet who can, quite literally, talk to the animals.

John Christie is an unassuming, middle aged man who, along with his wife Ethel, manages the apartment building at 10 Rillington Place. His unassuming demeanour masks his hidden predilections.

Richard Attenborough's finest, largest hour, when he went behind the camera to bring to the screen the story of India's revolutionary pacifist. Attenborough won an Oscar, as did lead Ben Kingsley.

Another directing tour de force, this time telling the story of journalist Donald Woods (Kevin Kline), forced to flee South Africa after the murder of activist Steve Biko (Denzel Washington).

Attenborough was arguably the first director to bring Robert Downey Jr's true talents to the fore, with his engrossing depiction of the comedian's early days in Victorian England.

Another true-life story brought to the screen - this one, the romantic but tragic tale of writer C.S. Lewis and his disarming American wife. Not a dry eye in the house for this one.

The same year saw Attenborough back in front of the camera, in the capable hands of Steven Spielberg, for his dinosaur blockbuster. Attenborough made millions more fans as the obsessed scientist John Hammond.

A Christmas feel-gooder for all the family. Attenborough played Kris Kingle... or Santa Claus, if you believe in fairy tales. Perfect casting.