Nicola McLean is the latest celebrity to take the ALS Ice Bucket Challenge, using the opportunity to embarrass her estranged husband, Tom Williams by nominating the woman that she's accused him of cheating with.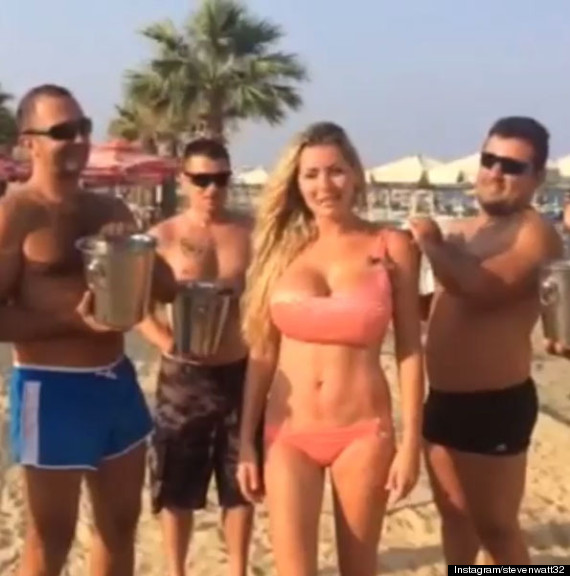 Nicola McLean prepares to take the Ice Bucket Challenge
However, Nicola clearly isn't letting the split get her down, and appears in her Ice Bucket Challenge video wearing a peach bikini while soaking up some sunshine on the beach.
In the video, the former 'Celebrity Big Brother' housemate reveals she's been nominated by her niece and the "very hot" Mario Falcone - we're with you on that one, Nic - before reeling off a list of her friends.
Her nominations list ends on a cliff-hanger, however, when she's heard saying "and of course…" before the video cuts out.
Luckily, we weren't left on the edge of our seats for too long, as a second video uploaded shortly afterwards sees her publicly nominating the woman who was recorded cavorting with her husband - who she'd previously accused on Twitter of "sh*gging my husband for months" - before being doused in ice water by a load of men.
Tom and Nicola tied the knot in 2009, and have two young sons together, Rocky and Striker, who are currently enjoying some time in the sunshine with their mum, while their dad remains in Las Vegas.
Messiest Celebrity Divorces
SUBSCRIBE TO & FOLLOW UK ENTERTAINMENT