Nicola McLean is the latest celebrity to take the ALS Ice Bucket Challenge, using the opportunity to embarrass her estranged husband, Tom Williams by nominating the woman that she's accused him of cheating with.
Following weeks of speculation, Nicola confirmed earlier this month that she and Tom had ended their four-year marriage, after a video surfaced online allegedly showing her husband with another woman, which she later confirmed to OK! was "100 per cent" him.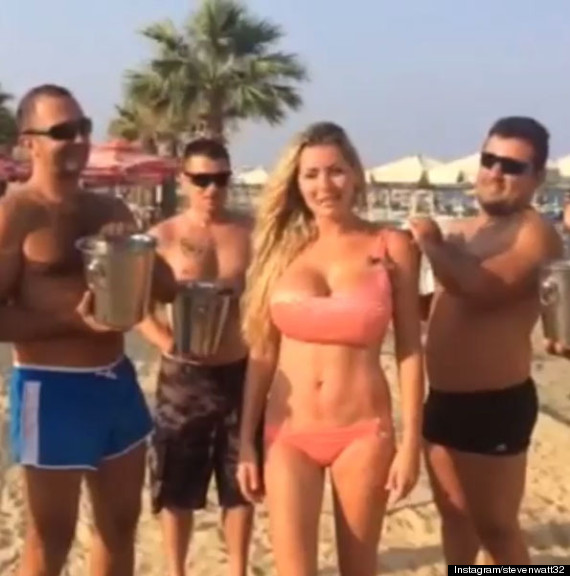 Nicola McLean prepares to take the Ice Bucket Challenge
However, Nicola clearly isn't letting the split get her down, and appears in her Ice Bucket Challenge video wearing a peach bikini while soaking up some sunshine on the beach.
In the video, the former 'Celebrity Big Brother' housemate reveals she's been nominated by her niece and the "very hot" Mario Falcone - we're with you on that one, Nic - before reeling off a list of her friends.
Her nominations list ends on a cliff-hanger, however, when she's heard saying "and of course…" before the video cuts out.
Luckily, we weren't left on the edge of our seats for too long, as a second video uploaded shortly afterwards sees her publicly nominating the woman who was recorded cavorting with her husband - who she'd previously accused on Twitter of "sh*gging my husband for months" - before being doused in ice water by a load of men.
Meanwhile, Tom has so far remained tight-lipped about the break-up, refusing to talk about it when quizzed by Reveal magazine, who he charmingly told: "Go f*** yourself. I'm not interested. And you can quote me on that."
Tom and Nicola tied the knot in 2009, and have two young sons together, Rocky and Striker, who are currently enjoying some time in the sunshine with their mum, while their dad remains in Las Vegas.
Messiest Celebrity Divorces
Nicknamed the 'Poison Penns' during their four-year marriage, things didn't get off to a good start for Madonna and Sean when he was seen shooting at paparazzi on their wedding day. It was pretty much all downhill from that point onwards.

Five years after calling it quits on their marriage, Katie says she still has no idea why Peter chose to end it and claims she will "never speak to him again".

Nigella and Charles divorced in 2013, shortly after photos in which he appeared to have his hands around the TV chef's throat as they ate in a restaurant emerged. After that we're not sure what happened because she was hardly ever in the papers...

Following a lavish wedding ceremony which was filmed for 'Keeping Up With The Kardashians', Kim filed for divorce from her second husband Kris Humphries after just 72 days. She's now engaged to rapper Kanye West.

After it was revealed that Harvey had been unfaithful with 'Popstars' reject Javine Hylton, Alesha went as far as putting her wedding dress on eBay.

Reports claimed after film director Guy Ritchie divorced Madonna that he was now only referring to her as "It", a reference to Stephen King's terrifying clown character, Pennywise. When the story broke, Madonna's representative told Page Six: "'It' hasn't been in a bad mood since the divorce was finalised."

After filing for divorce from Kevin Federline, Britney checked herself into rehab and later became embroiled in a bitter custody battle for their sons Sean Preston and Jayden James.

Katy and Russell got engaged after just three months of dating, so it was probably written in the stars that their marriage would be just as quick. Since then Katy has sung about their breakup in songs like 'Wide Awake' and 'By The Grace of God', while Russell has alluded to their marriage several times in his standup routine.

Undoubtedly one of the most highly-publicised divorces ever, with Heather eventually walking away with £24.3 million.

They might have seemed like love's young dream (well, love's dream at least...) but things turned sour for Liza and David when divorce proceedings began, each hurling all kinds of accusations at the other.

Things might have ended badly for Charlie and Denise, but they're thankfully on good terms now, she's even been granted temporary custody of his children to his third wife, Brooke Mueller after they were taken away from the couple by social services over concerns of drug use.

Nothing screams "early 2000s" quite like photos of Brad and Jennifer at their peak, right? The pair broke the world's collective hearts when they split up in 2005, and he later started dating his 'Mr and Mrs Smith' co-star Angelina Jolie, who he's still with to this day.

Donald and Ivana's divorce led her to utter the immortal and iconic words: "Don't get mad. Get everything."

Demi and Ashton - who have a 15 year age gap - split in 2011, but their divorce wasn't actually finalised until 2013. He's now engaged to actress Mila Kunis.

Liz and Dick were one of the few celebrity couples who obviously enjoyed divorce proceedings so much, they thought it would be a good idea to get married again when it was all over. He was her fifth (and sixth) husband, though could Katie Price be about to overtake her as the celebrity with the most marriages to her name?

Actually not that messy a divorce, Elin simply stood by as more and more revelations about her husband's extramarital activities rolled out, never let the paparazzi see her sweat and walked off with $100 million at the end of it all to buy a lovely mansion for herself and her children. Elin, we salute you.

We're sure at some point this seemed like a good idea... to someone.

"Somewhere deep inside You must know I miss you But what can I say? Rules must be obeyed" Oh, Abba.