Looks like the 'Great British Bake Off' #bingate hot potato is showing no signs of melting, with Diana Beard's daughter venting that her mother was "exploited by the BBC".
Viewers watched on Wednesday evening as Diana was filmed removing rival contestant Iain Watters' Baked Alaska dessert from the freezer before it had set - and then oohed and ahhed as a furious Iain threw his offering in the bin, and was thus eliminated from the show by judges Paul Hollywood and Mary Berry.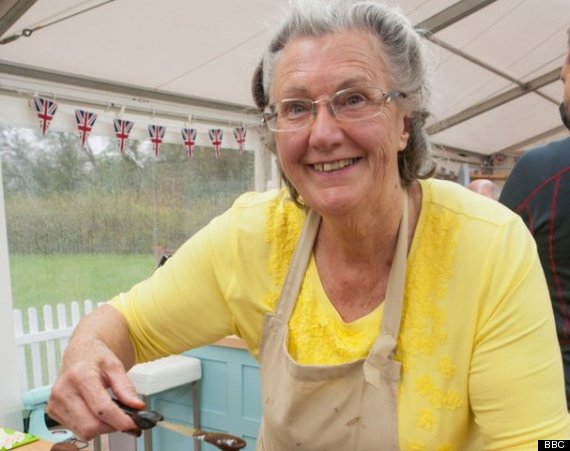 Diana's daughter has spoken out to defend her mother after the 'Great British Bake Off' furore
Now, Diana's furious daughter Sarah has spoken out, complaining that her mother had been "done up like a Christmas turkey" by the show's producers, complaining that they edited the show, to omit the fact that Diana returned Iain's ice cream to the freezer only 40 seconds later.
She tells the Mirror, "She has been sacrificed on the altar of ratings. To exploit an old lady is shameful."
After Twitter users reacted so strongly to Iain's exit last week, Paul Hollywood and Sue Perkins both spoke out in defence of Diana's actions, and Iain even appeared on 'Newsnight', reiterating there were no hard feelings between him and Diana.
Who do YOU think will win this year's competition? Here are all the bakers below...
The Great British Bake Off 2014
Kate, 41, From Sussex Kate lives in Brighton with her five-year-old daughter. Last year, she baked 15 Christmas cakes and prides herself on rarely using recipes or weighing ingredients.

Iain, 31, From London Iain, originally from Belfast, is inspired by his passion for travel.

Enwezor, 39 From Hampshire Enwezor taught himself to bake in the last 3 years. Born in North London, he now lives in Portsmouth with his wife and four children.

Martha, 17, From Berkshire Martha is the Bake Off's youngest ever contestant. She's currently studying for A-Levels and hopes to become a Food Scientist.

Norman, 66, From Scotland Norman joined the Merchant Navy at the age of 19, bit his father and brother were bakers. He's hoping to bring back traditional Scottish recipes.

Richard, 38 From London Richard made his own wedding cake - in the shape of the Millenium Falcon from 'Star Wars'.

Luis, 42, From Cheshire Luis describes himself as an "inventive baker" and uses honey from his own bees in his creations.

Nancy, 60, From North Lancashire She grow vegetables, rears guinea fowl and "grows her own turkeys for Christmas" in her garden.

Jordan, 32, From Nottingham IT manager Jordan calls himself a "nerdy baker". He has been baking for the last three years.

Chetna, 35, From Kent Chetna was born in India and moved to the UK with her husband in 2003. She combines her mother's traditional recipes and flavours with British baking styles.

Diana, 69, From Shropshire Diana joined the WI at the age of 12 and became a WI judge when she was 20 years old. Watch Out, Mary!

Claire, 31, From Cheshire Claire has been baking she was 11 and her mother and grandmother are both wedding cake decorators.