'X Factor' viewers were treated to the unconventional vocal stylings of married couple Ashley Slater and Scarlett Quinn, otherwise known as Kitten and the Hip, who might have looked more than a little familiar to some viewers.
The pair may have looked like love's young dream - or, as Louis Walsh so tactlessly pointed out, like father and daughter - but they were keen to show the judging panel how seriously they were taking the competition.
Because really, what says "serious" better than a hairstyle inspired by a McDonald's strawberry shake?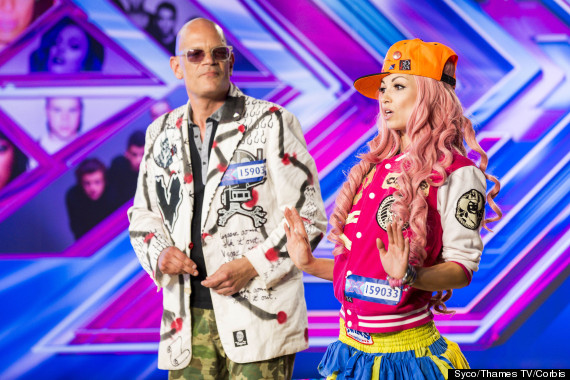 Kitten and the Hip
Unfortunately for fans of love conquering all, Simon Cowell and the gang told the couple they'd be willing to put 'Kitten' through to the next stage of the show, but only if she ditched 'The Hip'.
It turns out, after deliberating for about half a second, that she was perfectly OK with that, and through to the next stage she went, without her 53-year-old husband. Ouch.
SEE MORE: Five Best (And Worst!) Acts From Sunday Night's 'X Factor'
However, don't feel too sorry for The Hip, because - after a bit of poking around online - it turns out he's already had a fair stab at a career in the music industry, and used to be a member of the acid jazz band Freak Power.
The group - which also featured Norman Cook, better known as Fatboy Slim - reached the UK top three in 1995 after their track 'Turn On, Tune In, Cop Out' was used in an advert for Levi's jeans, so it's slightly more understandable now why he was so blasé about letting his wife carry on in the competition.
It turns out Ashley - aka. The Hip - isn't the only one of this year's contestants with a musical past, though, as Chloe Jasmine previously auditioned for 'X Factor' in 2006, while Linzi Martin had already been a member of Girl Thing before she showed up to the auditions this year.
20 Best 'X Factor' Auditions
Her performances later in the contest might have made her a polarising figure, but after Cher Lloyd's first audition she proved she had something special, and bagged herself a legion of fans.

Simon Cowell said it himself, Danyl's performance of 'With A Little Help From My Friends' was the "best first audition" he'd ever seen. Too bad it was performed in a pair of cargo shorts really, isn't it?

One of the most controversial moments in 'X Factor' history came when Cheryl Cole decided not to put Gamu through to the live shows, in favour of Katie 'Parasol-Twirling' Waissel and Cher 'Lost My Voice But Put Me Through Anyway' Lloyd, but let's remember happier Gamu-related times, shall we?

Proving he had potential even then. And we're not just talking about his hip-shaking.

"I think that I'm a bit too old for it all now", says Sam, before meeting the judges for her first audition. If only she knew, eh?

It wasn't just the promise of free biscuits that wowed the judges when Craig took to the stage (though we're sure that didn't hurt either).

Ella Henderson won over the whole public when she performed her own original song at her first 'X Factor' audition. She may not have won the competition, but her debut release was one of the most hotly-anticipated 'X Factor' singles ever, and about a hundred years after leaving the series, she finally topped the UK charts with 'Ghost'.

When One Direction were barely even a twinkle in Simon Cowell's eye, Liam Payne gave the judges - including, bizarrely, Natalie Imbruglia - this 'Bublé Lite' rendition of 'Cry Me A River'.

Misha more than made up for her sob story - seriously, 'X Factor producers, enough! - with this audition piece that got the judges up on their feet. How do you make Aretha Franklin's 'Respect' even more sassy? With a rap, of course!

Before he became an explosion of glitter, feathers and sequins, Johnny won over the panel with this charming rendition of 'At Last'.

JLS did a great job of showing exactly what they were about right from the word 'go', and they went on to become one of the biggest success stories in 'X Factor' history.

Diana became one of the early favourites to win series five of 'The X Factor' thanks to this rendition of Damien Rice's 'The Blower's Daughter'.

When you've even got Simon Cowell singing along in his seat, you know you've done something right. That scarf, though...

Alexandra's emotional audition gave her a great start to her 'X Factor' journey, eventually scooping the title of winner, thanks in no small part to a duet a with a certain Mrs. Carter during the live finale.

D'awwww. "Winning battle of the bands really showed me that's what I wanted to do. I got such a thrill when I was in front of people singing." Just wait, Harry...

We're not usually a fan of acts who perform original songs at their auditions, but Lucy Spraggan's ode to "beer fear" is a definite exception.

Yes, yes we know. But it was alright at the time. Right?

Mary brought something a bit different to 'The X Factor' with this old school-style performance of 'I Who Have Nothing'.

This performance of 'Over The Rainbow' has gone on to become the quintessential 'X Factor' audition, with Leona going on to have one of the most successful post-series careers of any of the show's acts.

Voices of angels.