This year's 'Strictly Come Dancing' contestants have finally had their spray tans and costume fittings and we can now unveil all 15 of them in their sequinned, hair-sprayed glory ahead of the launch of the new series.
Among the ladies bringing some glamour to this year's 'Strictly' dancefloor are Frankie Bridge of The Saturdays, pop starlet Pixie Lott, TV presenter Caroline Flack, 'This Morning' host Alison Hammond and tennis coach (and mum of Andy) Judy Murray.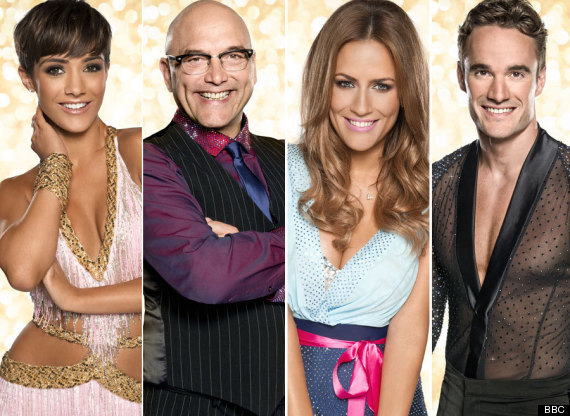 And battling it out for the boys will be rugby star and model Thom Evans, former 'TOWIE' star Mark Wright, Blue singer Simon Webbe, Radio 1 DJ Scott Mills and 'EastEnders' actor Jake Wood.
The new series kicks off on BBC One this Saturday (6 Septemeber) when we'll find out which professional dancers each celeb will be paired off with.
Find out everything you need to know about each of this year's celebrity contestants hoping to lift the glitterball trophy in our gallery below...
'Strictly Come Dancing' Line-Up 2014
How are you feeling as the launch approaches? I feel like it's coming on really quick. It's exciting to meet everyone for the first time. I'm looking forward to next week and seeing who my partner's going to be. What are you looking for in a dance partner? Someone who's fun and easy-going and works hard, but doesn't take it too seriously. How would you rate your own dancing skills? I don't know. I went to a performing arts school so we danced there, but music was my passion and took over. It will be fun to get back into dancing and learning a new type of dance. How far you want to get in the competition? I haven't thought about that at all. As an experience, I just want to get into it and enjoy it. What are your thoughts on the judges? They make me nervous! I think they're all great in their own way. My favourite is Darcey. She's the only ballerina I'd heard of as a young girl. Ballet's such a discipline – she got to the top of her game, which is amazing. Has anyone given you any hints or tips for your time on Strictly? No tips, but I've heard everyone who's been on the show really enjoyed it.

Why have you signed up? I've watched the show for the last couple of years and everyone involved, from the celebrities, to the dancers and the judges always look like they're having such an amazing amount of fun and I always said to myself that if the opportunity presented itself, I would always take it. Have you got any dance experience? Absolutely no dancing whatsoever. Except that I've watched countless videos on Youtube – Youtube is great for that these days – and practised a couple of times in the mirror to get some of the certain styles and gestures! Have you done any special preparation? I'm really active so I do try to keep fit. I've been doing fewer weights as I don't want to get too stiff, because it's not the best thing going into this so I've just been doing a lot of body weight stuff. Basically stuff to free me up so I've just been quite conscious of that. Have you got any particular dances you're really looking forward to doing? I think, and I say this reservedly, the salsa will suit me more because my dancing basically consists of hip movement. I've never been taught but from watching those sorts of dancing, I think it might suit me more. And the jive – because it's quick, like side-stepping in rugby. Austin Healey was great at the jive. What would you be looking for in an ideal dance partner? Someone who's definitely going to push me. I'm going to need a lot of work! But someone who will acknowledge when I've done something right and give me some sort of encouragement. Someone who's driven and wanting to push the boundaries. I'm a pretty driven person as it is so I don't really need to be kicked up the backside so I'd want someone on the same level. Have you done much dancing before? Just out with friends. If I'm out with my rugby friends, I can stand up alcohol free and have a dance. That doesn't bother me. I'll give it a good go. What do you think about the judges? The judges are great. They just add to the show. They all bring their different personalities and I will obviously be looking for their approval but I've played professional sport so I am used to taking criticism and taking it on board and working hard to improve on things and that's what I'll be doing with every bit of feedback. Have you got anyone in particular who'll be coming along to support you? Hopefully my brother, who still plays rugby. Matt's really enthusiastic about dancing. When we were younger we used to learn boy band moves. I should perhaps try to make out that we were slightly busier with our lives back then but we weren't! Learning moves to impress the girls.

How are you feeling? I am going through mixed emotions! I am getting myself geared up by watching old performances and that is making me really excited. But then when I have to go along and actually do things for the show I get really nervous, so I think that is a good mix. I feel balanced! What made you sign up to Strictly? I have always wanted to do the show and this year the time was right. Ever since I was a presenter on CBBC and used to see the Strictly judges walking around Television Centre I have wanted to be on the show. Have you done any special preparation? Me and my boyfriend have done a bit of practice in the kitchen but that really is about it. The only problem is that my boyfriend is the worst dancer I have ever seen in my entire life! Although to be fair he really does try hard though even if he does move like a mosquito, haha! Are you competitive? I don't know. I'm not sure. I did Dancing on Wheels but that was more of a documentary style programme but that was a completely different experience from Strictly Come Dancing. I'd probably say that I am not very competitive to be honest, maybe it's because I have a twin sister. What are your thoughts on embracing the sequins/fake tan? Being 'Strictlyfied' is the opposite to who I am normally, but on this show you definitely have to go with the flow. If you weren't wearing sequins you would look weird, so I am looking forward to embracing them! Has anyone given you any tips or hints which you think might come in useful this series? I don't know anyone well enough to ask them so I definitely need to make friends with the ex-contestants and get some pointers from them! Do you have any favourite moments from previous series? I loved Sophie Ellis Bextor's Charleston from last year so that was a highlight for me. Sophie was brilliant because she remained true to herself. And Vanessa Feltz's Waltz made me cry. Who will be supporting you this series? Family? Other celebs? I'm not inviting my family and friends to the first show, I'll be far too nervous! They can come to the second show!

How are you feeling about doing Strictly this year? Nervous, apprehensive, but so excited. Why did you decide to do it? I just think it's something you can't turn down. It's an incredible show, the best show on telly. I've never danced before, learned anything like this in my life – it's a huge challenge and if I can conquer it then I'll be very happy. Do you have any favourite moments from other series? I liked it when Louis Smith did a backflip. I thought that was very daring. But then again he's a natural gymnast. I can do a caterpillar at best! What are your thoughts on the Strictly judges? I like them. I'm not expecting to have great comments so I won't be too disheartened when I get bad comments. I'm not really a natural dancer and I know I'll get negatives, so the minute I get a good comment I'll be very happy. Are you a competitive person? I am competitive in certain things, like boxing and football, but I won't be competitive in this. I want to do well for myself and each week that goes on I'll learn a new dance and I've never learned a dance.... Maybe if I got to the end and I was in the final I'd be competitive. But at this point I don't feel too competitive. How far do you want to get? Genuinely if I don't go out in the first three I'll be ecstatic!

How are you feeling as we get closer to the launch? So excited but I'm actually starting to get a bit nervous now. Now you start meeting everyone, it seems so much fun that I don't want to go out – I want to stay in as long as possible. Why did you sign up for Strictly Come Dancing? I just love it. I watch it with my mum – all my family love it. For me, dancing is the best bit of what I do. I just love dancing. To learn something I've never learned before and get to do it every weekend – it's just fun. Have you done special preparation for the show? No. I should though. Are you a competitive person? Not really. I'm not going trip people up and push them over! What are you looking for in dance partner? I want someone who won't make it too hard but I do want to be pushed. I like to be pushed but I want someone who's able to have a laugh. I laugh at myself a lot. How do you rate your dancing skills? I'm confident that I'll be able to pick it up but to pull it off – that's completely different. How far you want to go in the competition? I think it'll be a shame if I don't get to do Blackpool How do you feel about embracing fake tan and sequins? Sequins in normal life – no – I'm not really a sequin person. But I can handle it on stage. And the tan? It depends on how brown they want me to go. Are there any dances you would particularly look forward to learning? I like the look of the tango. The ballroom stuff worries me more because it's more serious. I'd like to do the Charleston though because it looks fun. Who'll be supporting you? My mum will be there with bells on! And my Grandad – who says things like 'you know the rumba, Frank!'

Why did you sign up to Strictly Come Dancing? Well, Strictly is THE show to watch so I'm so happy to be a part of it. My daughter is a dancer and I really want to make her proud. I'm sure she'll have a few tips to offer me! I'm also really looking forward to the challenge and I think the whole experience will really push me out of my comfort zone. Have you done any preparation for Strictly? Boxing training has really helped me to improve on my reaction timings and also to make me quick on my toes. I've been making a real effort to get in shape, which I hope will help me on the dance floor. Dancing is a different sort of athleticism, though. I've not put my body through anything like this before but I certainly hope I'll shine on the dance floor. How do you rate your dancing skills? Well, I'm a pretty good mover but the Strictly professional dancers are in a league of their own! In the past I have had to learn routines for my work with Blue but it takes me some time before I pick it up. That said, once I've got it, I've got it – unless my mind goes blank with nerves, of course, which is a possibility on Strictly! What do you think of the Strictly judges? Well, they are the dancing gurus so I'm keen to hear what they have to say. I'll certainly take their constructive criticism on board. I hope they're not too mean, though. What are you looking for in a dance partner? I want someone I can connect with, really. They're all fantastic and they all bring something different but I hope whoever it is will be able to whip me into shape...quickly. Who will be supporting you throughout the series? The Blue boys are behind me 100%. The family will of course be with me on this amazing journey and I'm hopeful to have my mum and little girl come along to watch as well.

How are you feeling as the launch draws ever closer? I am very excited. I'm not nervous yet but I think the nerves will kick in on the night that we do anything live. I've loved meeting all the other contestants and everyone else who works behind the scenes. It is fun for me already and it is so different to anything I have ever done before. My life has been saturated with tennis so to experience life behind the scenes on my favourite show is not something I ever thought I'd have the opportunity to do so I think I am going to love every moment. What made you sign up? Like millions of others I am a huge fan and I've been following the show for five or six years now and I never miss it. I might not always be at home when the show is on but I always make sure I catch up. When I come home and have been away for three weeks I will always come home and watch it in sequence, I never jump because I've always enjoyed watching it from the start. I love watching how unbelievably good everyone becomes by the end of the series. I've never danced, so the challenge of learning a new skill and being part of something I love watching is a real thrill. Have you done any special preparation? I think from my coaching background I understand how people learn. I am coming into this as a complete novice. I will be careful with what I eat, try to go to the gym a bit more and I may even wear high heels around the house to get used to that but whoever the poor soul is that has to dance with me, it is all going to be down to him to teach me what to do! What are you looking for in a dance partner? When I watched the show in the past my favourite professional dancers were Ian Waite and Artem Chigvintsev. Neither of them are on the show this year but I really don't mind at all who I dance with as they are all such unbelievable dancers. I guess the important thing is the height but more so I need someone who has a good sense of humour and who will be patient with me because I am such a rookie! What feedback would you like to have from the judges? I don't think I will mind at all what they say. I have watched the show for such a long time that I know how each of them is going to tackle the way they give their feedback. They are all completely different from each other. But I am aware that they are experts in their field and I am not! You have to take on what they are saying, but I think you have to giggle and laugh it all off if it is bad. Who will be supporting you this series? Family? Other celebs? When I am watching Strictly I identify with the people who are slightly older, or those who are starting from scratch. I loved watching Deborah Meaden and Fiona Fullerton in the last series. I also enjoyed watching Abbey going from a rookie start to being absolutely amazing. I hope the 50 something ladies out there will be able to identify with me and will be looking out for me.

Why did you sign up for Strictly Come Dancing? I love the show, it's a huge show there is nothing bigger and actually I love to dance! Are you competitive? Yes I am afraid to say that I am. How do you rate your dancing skills? I now realise after a bit of practice that there are no similarities between dancing and proper dancing. It's as different as paddling and swimming in the channel! What are your thoughts on sequins and fake tan? I don't mind a bit of fake tan, that doesn't bother me at all. At my age I'll take everything I can get! Are you nervous about facing the judges? The judges scare me because you are working really hard and they are the experts and they are there to scrutinize everything you do. It is in their professional interest to critique you properly and that is scary. If they don't pick up on something you do wrong then they lose credibility. On MasterChef I let people get away with things as long as they cover it in Chantilly cream! Who will be supporting you throughout the series? My beautiful girlfriend Anna, my mum, my kids and I think my girlfriend's Italian parents will be too.

Why did you sign up to Strictly? Well, first of all, fitness. I want to get my fitness really good. Secondly, I think it's a beautiful show. It's a massive institution that I've always wanted to do. To be honest with you, I've asked maybe the last six years to do Strictly and then this year I didn't ask and they're all over me. So the lesson in life is don't ask – you'll get it! I'm looking forward to the challenge of it, really. I hope I'm able to do it first of all and I'm a big girl, it's going to be tough on my body but I'm really excited to embrace the whole thing. Have you done much dancing before? I love dancing! I dance at home in the living room but I can only dance for like, one minute. I just need to up that to two minutes for this, don't I?! I love dancing, I love music but I don't know how to dance properly, how these guys dance, like the foxtrot and the salsa and samba and all that. Technically, I'm not a good dancer, no. I just throw some shapes on the dance floor and see how it goes. Have you got any signature moves? The running man. Although I'm not sure how that would fit into ballroom dancing?! What are you looking for in a dance partner? I'm looking for someone really hot. No, seriously, I'm looking for someone who's going to teach me with fun because I can't learn with anybody strict. I hope I get someone I can have fun with, who'll push me, who's a bit funky and who's happy to try out some new shapes on the dance floor. Do you have a target in mind for how far in the competition you'd like to get? No, not really. But I know that once I start dancing I won't want to leave. I'm already loving it. Actually, to be honest, it would be nice to get to Blackpool. That would be nice. I need a holiday. Maybe I wouldn't get much sun or a rest in Blackpool but if I do get that far, I'll treat myself to some Blackpool rock. I'll have earned it! What do you think about the costumes? Are you prepared for the sparkle? I love the costumes! To be honest, I'd be up for even more sparkle. I'd love even more gem stones. I'll happily be covered in them.

Why Strictly Come Dancing? There are two million and one reasons why I'm doing Strictly. Two million people watch me do what I do on Bargain Hunt on daytime TV every day and this gives me a chance to show them another side, that I am not just Tim the antiques expert. And the two-million-and-first reason is that my wife has never had the opportunity to dance ballroom with me because I don't know how to do it. But this year is our 30th wedding anniversary and I would love to learn a few moves and unlock my inner dancer. Have you got any prior dancing experience? No, I've never danced formally. I was never taught to dance. Some of one's peer group were taught to dance at school and may have somewhat gripped the waltz or the cha-cha-cha or the quickstep, for some reason I never did and I haven't really had any opportunity to seriously settle down and learn. It's partly laziness on my part. How do you feel about the costumes? I've never had any spray tan applied to my body before so that will be a first. I've also never worn a garment that's tightly fitted and covered in sequins, if I get one, that is. So far, from the outfits that have been produced for me to try on before starting the show, I'm very comfortable. They're very nice quality clothes and I'm perfectly happy in them but when we get to the wilder and more extravagant outfits, let's take a rain check then, shall we?! Any dances you're particularly looking forward to doing? I shall be, from my low starting point, very grateful to learn anything that comes my way. I just hope I get the simplest and least complicated arrangements to start off with, just to get into the swing of it. You get to an age where, even though the spirit is willing, the body can be a bit fractured. I intend on taking it fairly gently to start with. What are you looking for in a dance partner? One characteristic only and that's patience. My children say that I'm an incredibly fast learner. Production crews are often amazed at the speed at which I can learn a script and deliver it faultlessly but that skill base is going to get me nowhere with dancing! I am serious about this! My dance partner has to be patient because I'm going to need to do this hundreds and hundreds of times to get it. And she needs to be tough because I'm making Bargain Hunt throughout this autumn so she's going to have to travel to me on location all over Britain.

Why did you sign up for Strictly Come Dancing? It's something that's completely out of my comfort zone and I like a challenge. It's such a great Saturday night show and my family always sits down and watches it together so I'm really happy to be involved and I think my kids will really enjoy watching me take part. Have you done much dancing before? None professionally, no. I tend not to even dance at a party but I do sometimes dance at home when I'm mucking about with the kids. What are your thoughts on sequins and fake tan? Bring it on! No, seriously I'm up for it all. I've signed up now and it's part and parcel of the show, isn't it? Yeah, bring it on! Are you nervous about facing the judges? No, I'm not nervous at all. They're always positive and any criticism is usually constructive and it's all for our benefit. I'll take any criticism on board and work with it.

Why did you sign up for Strictly Come Dancing? Because they asked me! What are you expecting from the Strictly experience? To have a lot of fun and hopefully to learn to dance. Are you a competitive person? You'd have to ask my family that question – I don't think I can answer it honestly. I have been known to upend the odd Trivial Pursuit board in my time, but my family would probably be the better judge about that than me. What are you looking for in a dance partner? A couple of people have asked me about this and I think all the dancers are amazing. Absolutely amazing. I don't mind who I get. Have you done any advance preparation? No, doing lessons ahead of time would spoil the experience for me and I'd only pick up bad habits if I did. Who would be your perfect partner? It would be someone who embraces fun and who understands the fact that I am a beginner. And I think the two of those things will balance each other out. What are your thoughts on sequins and fake tan? Yes, we had it every Tuesday on Mrs Brown's Boys, we called it tanning Tuesday, I am used to it, I am going to embrace it.

What made you sign up top Strictly this year? I signed up because I like to do something every year that makes me scared. As much as I say I don't like being scared, I obviously do. Which makes me an adrenaline junkie! Four or five years ago I wouldn't have considered it but I feel braver now. I did street dancing with Olly Murs on TV and the Sport Relief desert trek where we trekked across the desert in Kenya – I never thought I'd be able to do that. So here we are! That's why I said yes. I don't know whether I'll live to regret it... Are you a competitive person? Not massively. Or I don't think I am. But I've not really been in a situation where I've been up against people before. I want to make it good. I don't want to be 'the bad one' so that makes me a bit competitive already...I'm going to do as much as I can, try my best and hopefully do alright. What do you think about the Strictly judges? I met Craig yesterday for the first time. He was on my show and we soaked him with water. So that's probably not going to do me any favours particularly! He was very encouraging and nice and told me I have to just do my best. I know on the show he can be quite mean but I guess that's his job- and yesterday I found him surprisingly pleasant! I haven't met any of the others, ever. How do you rate your dancing skills? Awful. Zero. Non-existent because I've never done it. But let's find out, I might be brilliant! And what are your views on the sequins and fake tans? Fake tans yes, sequins – I'll get used to it.

Why did you say yes to Strictly? I didn't! I was a complete no. I'd said no and it was a really easy no because I can't do things like this, not at my age! Then people kept saying 'have another think, reconsider'. My agent said the same and it was still a no. Then I said to my son Noah, that they asked me to do Strictly Come Dancing and he said excitedly 'Are you going to do it?' Still it was no because I said 'you won't see me at the weekends – that's our special time. Do you really want me to do this?' He said yes, it would be so good, that he'd love to see me dancing on a Saturday night. I was like, 'Really?' Then I rang my Mum who's mad about dancing and she said 'You've got to do it' then my sister said 'You want to do this secretly'. Everybody seemed to think I wanted to do it secretly. It was complete bullying! How do you rate your dancing? Now that I've seen who I'm dancing with, a lot less than I thought! I like a boogie, I can keep up with the Macarena, I've always liked a bit of comedy dancing at a wedding. I think I'm a cheesy dancer if anything. I don't rate myself as terrible – I have rhythm, but looking at the others, I'm going to be in the dance off a lot! What do you think of the judges? I suppose it's like any learning exercise – you get told off when you're not doing well and you get patted on the back when you do. I suppose I'm just going to have to not give them too much reason for them to be too tough. I think Darcey is amazing. I like the look of Bruno and Len, but Craig is a bit scary. Any useful tips? Yes. I've learned to bevel – that was my top tip! Are you competitive? I'm not. And I'm not going to pretend I am! I've got where I have in my life by being non-competitive. I fell into the industry and never wanted to be an actress. I decided to do something that fatefully made me an actor, but had I been competitive I would never have gotten where I am now. But I do better when I'm not competitive.

Are there any dances that you're particularly looking forward to learning? The Tango and the Paso Doble. I've spent a lot of time in Latin America and I've seen those dances done well and there is something utterly sensual and magnificent about them and I've always wanted to give them a try. It's not something you can do in half measures; you've got to throw yourself into it 100% and I just absolutely love the idea of being able to do one of those dances well. How do you feel about the prospect of sparkle and fake tan? My wardrobe consists of army surplus gear and old PE kit and that's how I live my life. I own one suit and a couple of shirts and that's it. I spent my summer on an expedition in the Arctic and I didn't even change my clothes for over a month – that's where my wardrobe tends to lie. And here I am, sparkling and shining. Every time I walk past a mirror or catch a glimpse of myself, I have to stop and do a double-take and think 'what on earth are you wearing?!' What characteristics are you looking for in a dance partner? I'd like to have someone who I can have a laugh with. We're going to spend so much time in each other's company we're going to have to become pals. I'd like it to be someone small so we could do lots of lifts and the high energy stuff.The dancing side of things, I have no idea if I'm going to be any good at it! But the lifts – I'm quite strong, I have a martial arts background and I would hope to do that stuff pretty well so that might well be a string that I have to my bow.