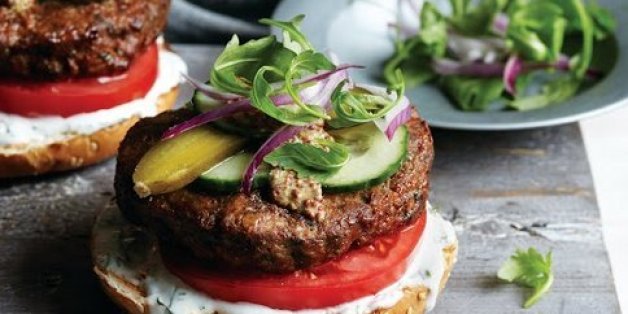 Superfoods are the future. Well, that's what we think anyway. So, it might come as no surprise that Gurpareet Bains' foodie bible is up there in our list of culinary priorities.
Ladies and gents, let us introduce you to The Superfood Diet.
From a smokin' tuna salad starter to a mouthwatering saffron pears recipe, we strongly urge you to try these at home.
Oh, and you can because the recipes are right below. Bon Appétit.
Smokin' Super-Bean, Egg and Tuna Salad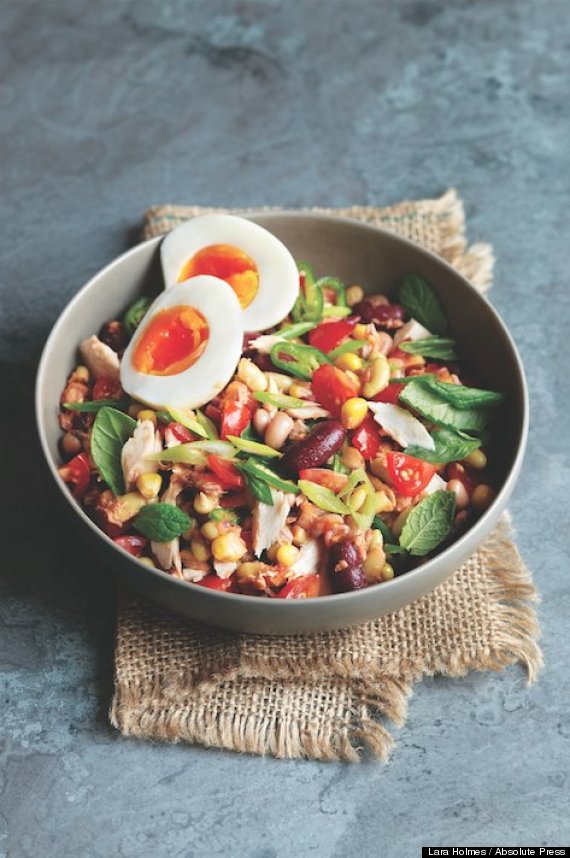 440 kcal/16g fat | Serves 4
Packed with fibre and protein-rich foods, this lunchbox meal will fill you up without filling you out. Be more generous with the herbs, if you like, to lift the taste further.
Ingredients:
400g can flageolet beans, rinsed and drained
400g can black-eyed beans, rinsed and drained
400g can red kidney beans, rinsed and drained
200g can tuna in brine, drained
200g can sweetcorn, drained
1 medium red onion, diced
1 tomato, diced
1 tablespoon lemon juice
2 tablespoons olive oil
2 tablespoons chopped fresh mint
2 tablespoons chopped fresh basil
1 clove garlic, crushed
1 green chilli (optional), deseeded and finely sliced
1 teaspoon smoked paprika
1 teaspoon sugar
freshly ground black pepper and sea salt, to taste
4 hard-boiled eggs, quartered
2 spring onions, thinly sliced
Method:
Combine all the ingredients, except the eggs and spring onions, in a large mixing bowl. Refrigerate for at least 30 minutes. To serve, top with the hardboiled eggs and spring onions.
Black pepper = fat metabolism, metabolism booster
Half-Pounder Beef Burgers on Toasted Sesame Bagels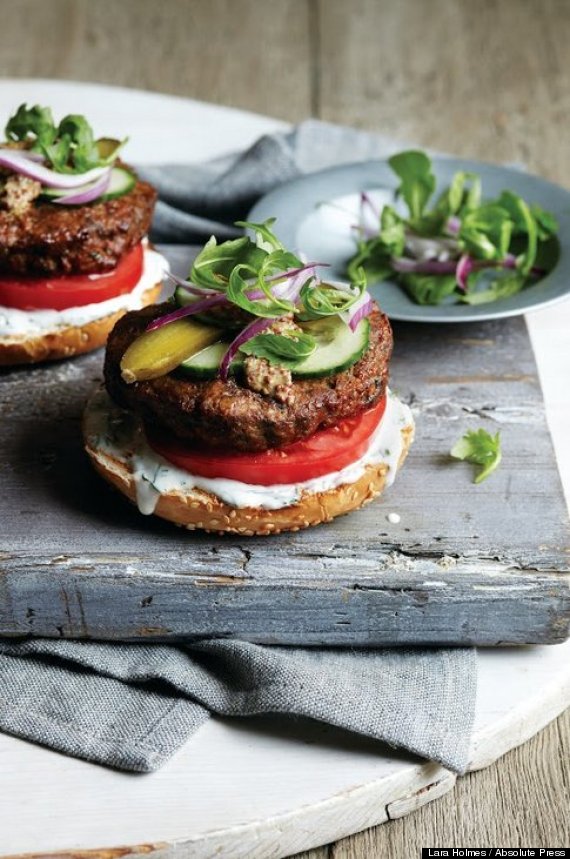 360 kcal/10g fat | Serves 4
Try getting your mitts on grass-fed beef steak mince which contains long-chain omega-3 fatty acids, similar to those found in oily fish. According to scientists from the University of Navarra, 'a diet rich in long-chain omega-3 fatty acids modulated satiety in overweight and obese volunteers during weight loss'. Patting a cow in a paddock does not count.
Ingredients:
For the burgers:
500g extra lean beef steak mince
1 egg
1 medium onion, finely chopped
2 tablespoons chopped flat-leaf parsley
1 tablespoon grated fresh root ginger
2 cloves garlic, finely chopped
1 red chilli (optional), deseeded and chopped
1 tablespoon soy sauce
1 teaspoon sugar
2 teaspoons cumin seeds
1 teaspoon smoked paprika
1⁄2 teaspoon freshly ground black pepper
For everything else:
2 tablespoons low-fat Greek yogurt
2 teaspoons full-fat mayonnaise
1 tablespoon chopped fresh dill
2 sesame bagels, cut in half
1 tomato, sliced
1⁄4 cucumber, sliced
4 slices pickled cucumber (optional)
wholegrain mustard
1 small red onion, sliced
50g rocket leaves
Method:
First make the burgers. Preheat the oven to 240°C/fan 220°C/Gas Mark 9 and line a baking tray with greaseproof paper. Place all the burger ingredients in a food processor and blitz until the meat is very finely chopped and all is thoroughly combined.
Shape 4 burgers and place them on the baking tray. Cook in the centre of the oven for 20 minutes, turning halfway through the cooking time.
In a small bowl, mix the yogurt with the mayonnaise and dill. Toast the bagel halves.
Place each of the toasted bagel halves on a plate and spread with the yogurt sauce.
Place slices of tomato on each bagel and top with a cooked burger. Arrange the slices of cucumber and pickled cucumber on top of the burger. Add a dollop of the wholegrain mustard and sprinkle over the sliced red onion and rocket leaves.
Parsley = diuretic, fat metabolism
Ginger = diuretic, fat metabolism
Chilli = fat metabolism, metabolism booster
Black pepper = fat metabolism, metabolism booster
Dill = diuretic, fat metabolism, metabolism booster
Mustard = fat metabolism
Saffron Pears with Blueberries and Pistachios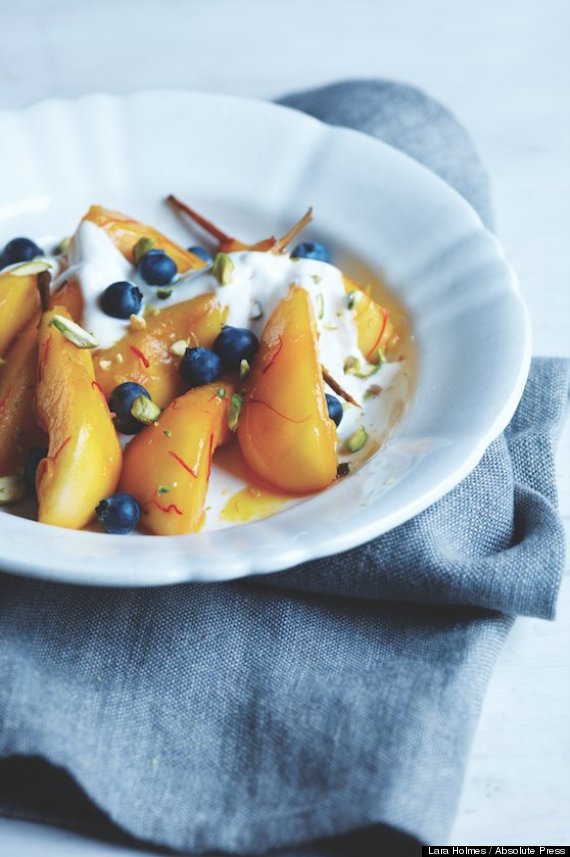 170 kcal/2.5g fat | Serves 4
Only natural ingredients here. Not a smidgen of anything processed. Still, this is one heck of an indulgent-tasting pudding.
Ingredients:
8 firm pears, peeled, cored and quartered 1 teaspoon finely grated lemon rind
4 green cardamom pods, lightly crushed
a pinch of saffron
200g low-fat Greek yogurt
200g blueberries
1 tablespoon coarsely chopped pistachio nuts
Method:
Place the pear quarters, lemon rind, cardamoms and saffron with 1 tablespoon water in a saucepan. Cover and cook over a low heat, stirring from time to time, for approximately 10 minutes or until the pears are soft. Remove from the heat and allow to cool, then discard the cardamoms. Turn the pears into a bowl and refrigerate until chilled.
Spoon the pears into 4 serving bowls. Top each bowl with yogurt, blueberries and pistachios.
From The Superfood Diet by Gurpareet Bains.
SUBSCRIBE TO & FOLLOW UK LIFESTYLE