'Celebrity Big Brother': Are Katie Hopkins, Chloe Jasmine And Patsy Kensit About To Become Housemates? (PICS)
The stakes are higher than ever for Channel 5, as the new series of 'Celebrity Big Brother' looms. 2014 was a great year for the reality show, with not one but two explosive series proving that there's still some life in the 14-year-old format yet.
Last January, Lee Ryan's love triangle provided much of the entertainment, as he struggled to choose between Z-list extraordinaires Jasmine Waltz and Casey Batchelor, who were both fighting for his attention. As if that wasn't enough, we had Luisa Zissman and Dappy's sexual tension, Lionel Blair strutting his stuff in PVC shorts and laugh-a-minute Liz Jones moping around in the bath.
MORE 'CELEBRITY BIG BROTHER':
We'd barely had time to recover when it all kicked off again in the summer, with Ricci Guarnaccio failing to get the message that Lauren Goodger didn't fancy him in the slightest, Leslie Jordan having his underwear cut up by Angelique 'Frenchy' Morgan and Gary Busey struggling to understand exactly what was going on around him.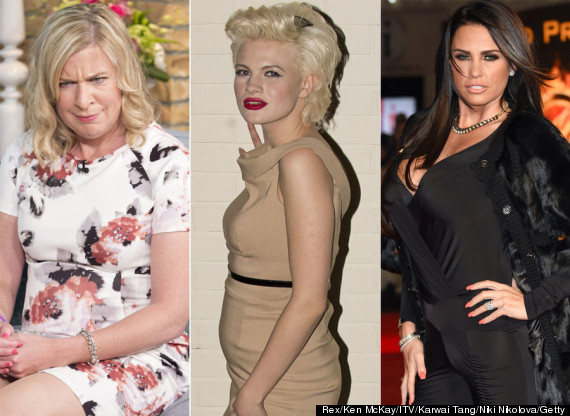 Three of this year's rumoured contestants
Both series proved that all it really takes for an amazing series of 'Celebrity Big Brother' is an entertaining - and not even necessarily likeable - cast. That's why it's actually pretty understandable why they might want to get Katie Hopkins on board, with reports claiming she's been offered a record amount of money to participate in 'CBB' this January.
Here are some of the other celebrities rumoured to be taking part...
Celebrity Big Brother 2015: Rumoured Contestants...
Katie had reportedly been signed up to take part in this summer's series, but had to pull out due to being pregnant with her fifth child, Bunny. Now that she's had the baby, she's 'CBB'-ready, and the exposure would give her the chance to show off her newly smaller boobs.

And, if she's not available, she could always send her husband in to represent the Price/Hayler family - who was also heavily linked to a spot in the 'CBB' house in the summer. However, the former glamour model claimed he had to turn them down flat so he could be there for the birth of their daughter.

The former footballer admitted in October he'd been approached to star in both 'I'm A Celebrity' and 'CBB'. While he revealed he turned down the jungle after a meeting with producers, there's still no word on what he told Channel 5 bosses. Interesting...

Owner of the 'UK's most controversial boobs' (her words, not ours), fame-hungry Cunningham controversially announced that she would have an abortion to go into the 'CBB' house, but is now insisting that she'll 'sell DVDs of the babies birth' to get famous instead. Will 2015 be the year she finally makes her reality telly debut, after previously being rumoured for both 'CBB' and 'I'm A Celeb'?

Chloe is no stranger to reality telly, having been one of the most talked-about contestants on 'The Face' before finding fame on 'The X Factor'. However, sadly, Chloe says she's already turned down 'CBB'.

Fans of 'RuPaul's Drag Race' will be familiar with his right-hand woman, the sassy, straight-talking Michelle Visage. Despite living on the other side of the pond, Michelle is a self-confessed 'CBB' addict, and has been widely tipped to be taking part in the show this January.

At least if the rumours that she's been offered a record amount of money to be in 'Celebrity Big Brother' are true, she'll be out of our Twitter feeds for a few weeks (or, at least, a few days, until she was inevitably booted out first).

Alan - better known as Dr. Karl in 'Neighbours - was heavily tipped for last January's series, but was ultimately missing from the line-up. Perhaps this will be his year, particularly as he'll be in the UK until the very start of January, when the Dunstable pantomime he's starring in (opposite 'X Factor' singer Andy 'The Bin Man' Abrahams and 90s singer Lolly) comes to an end.

Former 'Emmerdale' actress Patsy Kensit was one of the first celebrities reported for 'Celebrity Big Brother', and she certainly hasn't gone out of her way to deny the rumours, has she?

'Celebrity Love Island'? Check. 'I'm A Celebrity'? Check. 'Come Dine With Me'? Check. 'Celebrity Bainisteoir' [sidenote: what?!?]? Check. 'Celebrity Big Brother'? Pending...

OK, so truthfully we have no idea who he is either, but Austin has reportedly had meetings with Channel 5 about appearing in 'CBB' this January, which he later tweeted about.

'Real Housewife' Lisa Vanderpump reportedly turned down a whopping amount of money to star in 'CBB'... because she couldn't stand being away from her dogs.

His erratic behaviour earlier this year meant he was back in the news, and while it was rumoured he'd turned down 'CBB', it's since been reported that he has been offered money. Could he be about to take Channel 5 up on their offer?

Despite being given a three-month suspended sentence for indecent assault in September, in an "intentional and unpleasant sexual assault" which took place in 1995, he's still wound up on the list of rumoured housemates. A newspaper report in October claimed that he'd been offered a whopping £300,000... though this was believed to have been before he was sentenced. A source told The Sun: "It now appears he could end up serving time. In that case we would have to think seriously about whether he's the right kind of person for the show." Gee, you think?!

To lighten the mood slightly, Keith Chegwin has reportedly been offered £20,000 by Channel 5 bosses to bring a bit of 'fun' to the house.

The Sun have reported that Simon Cowell's ex, and plastic surgery cheerleader, Alicia Douvall is also among the line-up.