Four of the most well-known cartoonists in France are said to have been killed in the mass shooting attack on satirical magazine Charlie Hebdo in central Paris, according to France's leading news agency AFP.
At least 12 people are dead after shots were fired at the headquarters of the magazine, with multiple attackers escaping. Two police officers are believed to be among the dead, with 10 journalists killed.
One of the dead is said to be editor Stephane Charbonnier, known as Charb, was the magazine's top cartoonist and was placed on the "Al Qaeda kill list", published last year in its magazine Inspire. One of the dead policemen is believed to have been Charb's assigned protection officer.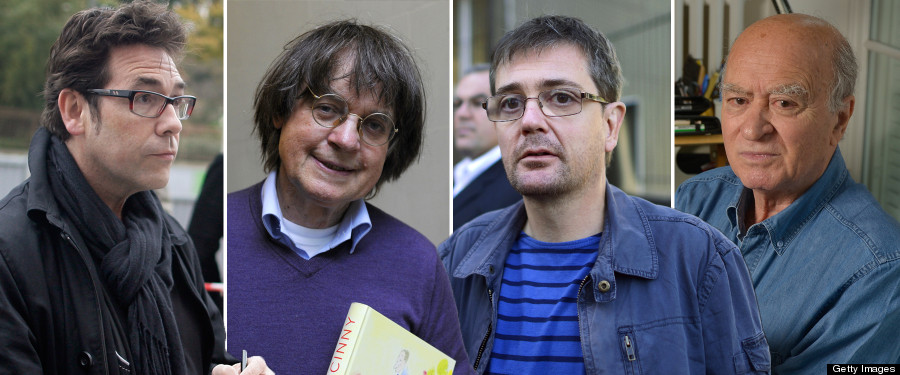 The four cartoonists, Charb, Cabu, Tignous and Wolinski, killed in the attacks
One witness told Sky News' reporter on the scene that gunmen had been asking for specific journalists by name. The attack is believed to have been timed to correspond with the magazine's morning news conference, when most journalists would have been in the building.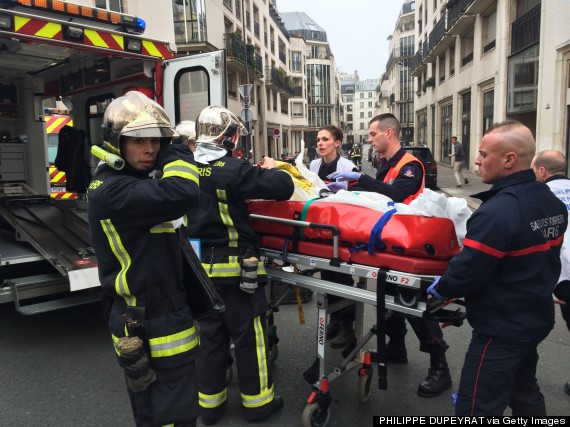 Firefighters carry an injured man on a stretcher in front of the offices of the French satirical newspaper Charlie Hebdo
Three other cartoonists from the magazine are also dead. One of them is Jean Cabut, known as Cabu who drew the cover of the Charlie Hebdo magazine that riffed on the Danish Mohammed cartoons, as well as Verlhac Bernard, better known by the pseudonym Tignous, and Georges Wolinski, whose work had also appeared in Libération and Paris Match.
Another cartoonist, Corinne Rey, aka Coco, said she was forced to let the gunmen in as she arrived at the building with her young daughter.
SEE ALSO:
At least 11 more people are injured, four critically, French prosecutor Francois Molins said
"I don't understand how people can attack a newspaper with heavy weapons. A newspaper is not a weapon of war," Charlie Hebdo's editor-in-chief Gerard Biard has told France Inter.
The below video is a compilation by Le Huffington Post of amateur footage of the attack:
Charlie Hebdo : les images de l'attaque, filmée... by LeHuffPost
Charlie Hebdo Attack Footage Captures Suspects Executing Police Officer As They Flee
Luc Poignant, an official of the SBP police union, said the attackers escaped in vehicles heading for the Parisian suburbs, and the Paris mayor's office said the gunmen are still at large.
Police later confirmed they were searching for three gunmen. An abandoned vehicle was later found by police, with another car hijacked by the gunmen.
There are growing fears that the men who executed the attack on the Charlie Hebdo offices are professionally trained killers - with reporters noting their calm demeanor and their use of "double tap" firing that conserves ammunition.
A video circulated online, which Huffington Post has chosen not to publish, saw the men shooting a man "execution-style" as he lay on the ground. The men are heard to shout "Allahu Akbar".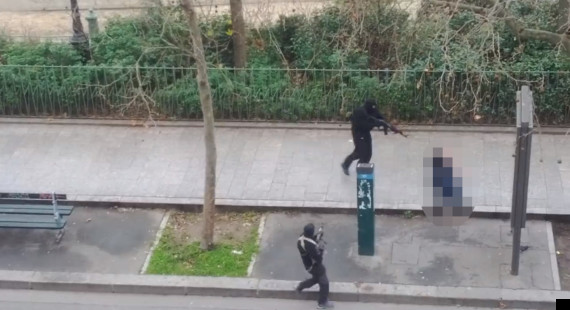 Despite the officer raising his hand in apparent surrender, he is shot at point blank range
Le Figaro reported that the gunmen used automatic weapons, believed to be AK-47s and were dressed in black, quoting a police source. There were also multiple, but unconfirmed reports of a rocket launcher seen on the scene.
The offices of the magazine were fire-bombed in 2011 after it published a call-out for the Prophet Mohammed to guest-edit the magazine.
The publication, which lampoons all of the world's religions, was under fire in 2007 for re-printing the Danish cartoons of the prophet Mohammad that sparked worldwide protests.
The last tweet from the magazine's Twitter account was a cartoon of Islamic State leader Abu Bakr al-Baghdadi, wishing him "best wishes, by the way."
Meilleurs vœux, au fait. pic.twitter.com/a2JOhqJZJM

— Charlie Hebdo (@Charlie_Hebdo_) January 7, 2015
09/01/2015 18:03 GMT
Dammartin hostage was "hiding in cardboard box"
The hostage with the Kouachi brothers who were suspects the Paris magazine massacre was "hiding in a cardboard box" according to a French journalist - and the gunmen reportedly didn't even know he was there.
Dammartin hostage was reportedly hiding in cardboard box, informing security forces. Kouachi brothers didn't know he was there #CharlieHebdo

— aurore cloé dupuis (@aurorecloe) January 9, 2015
09/01/2015 17:54 GMT
Second unknown male gunman in Kosher supermarket siege may have escaped
The second gunmen from the siege at a Kosher supermarket in Paris may have escaped, according to local sources.
Suspected gunman Amedy Coulibaly is reported to have been killled, but police believe from CCTV that there was a second hostage-taker in the shop who is not yet accounted for.
Update - French media report second gunman in kosher grocery in eastern #Paris was unknown male and has escaped as hostage situation ends

— Sky News Newsdesk (@SkyNewsBreak) January 9, 2015
Hayat Boumeddiene, the woman suspected of attacking and killing a police officer in Paris yesterday with Coulibaly, is not thought to have been to in the grocery.
09/01/2015 17:38 GMT
Cameron is joining European leaders at a Charlie Hebdo rally this weekend
I've accepted President Hollande's invitation to join the Unity Rally in Paris this Sunday - celebrating the values behind #CharlieHebdo.

— David Cameron (@David_Cameron) January 9, 2015
09/01/2015 17:30 GMT
Police confirm four casualties in grocery store
At least four people, including the attacker, have died at a kosher grocery store in Paris where a gunman took several hostages, police officials said.
Police officers were thought to be among those hurt, although their conditions were unclear.
The Elysee Palace said President Francois Hollande will address the nation before 7pm.
The BBC reported that a woman who was held hostage while shopping in the store had told a relative by phone that there were more than two people killed there - in fact she had said there were five people dead.
09/01/2015 17:12 GMT
Hayat Boumedienne, the second suspect in Paris hostage-taking, has escaped - police union official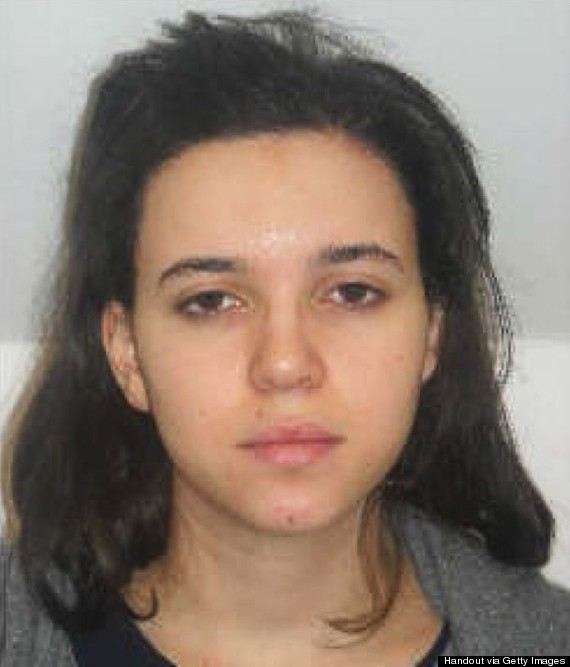 Hayat Boumedienne, the second suspect in the killing of the French policewoman on Thursday, has not been killed or apprehended, according to police sources and Reuters news agency.
There was no confirmation that she was at the scene at the kosher store where her partner, or ex-partner, Amédy Coulibaly, was killed as he held more than five hostages.
09/01/2015 17:04 GMT
The aftermath of the assault in Dammartin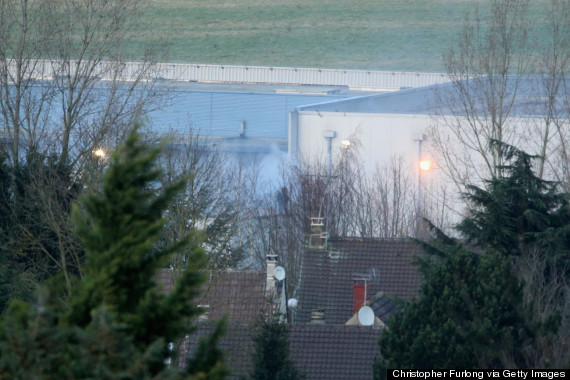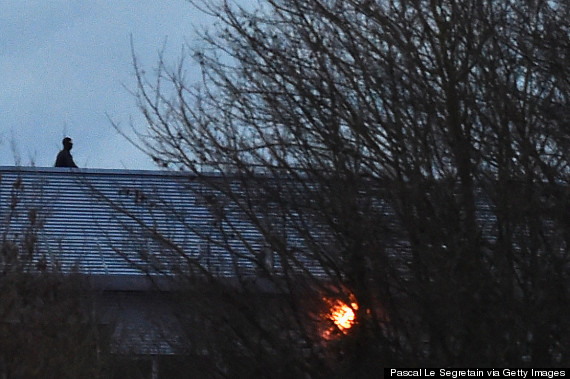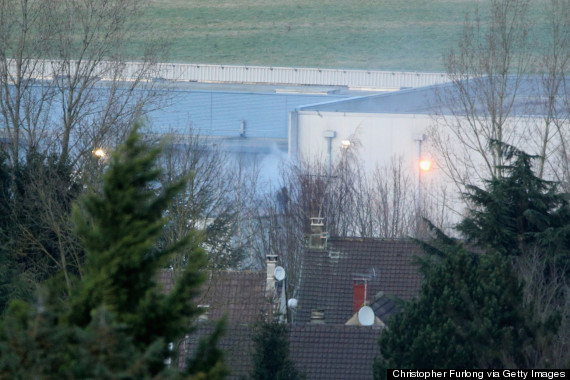 Smoke rises as a special forces soldiers enter the building on an industrial estate in Dammartin en Goele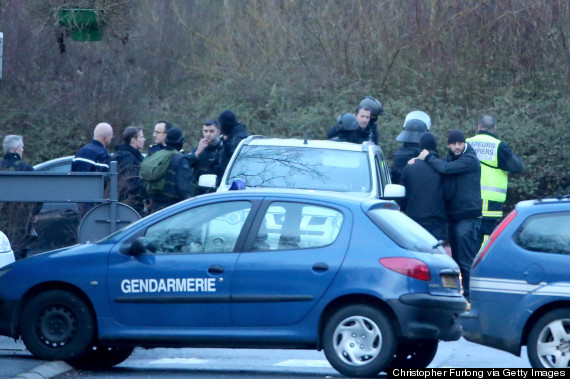 Special Forces soldiers and armed police gather after storming the print works
09/01/2015 17:00 GMT
Reuters - Four dead in kosher supermarket siege
Tragic news coming out of eastern Paris, at least four hostages are dead in the grocery store, according to police sources.
09/01/2015 16:52 GMT
Pictures of the hostages leaving the kosher supermarket
Members of the French police special forces attend to hostages and one of their colleagues lying on the ground after they launched the assault at a kosher grocery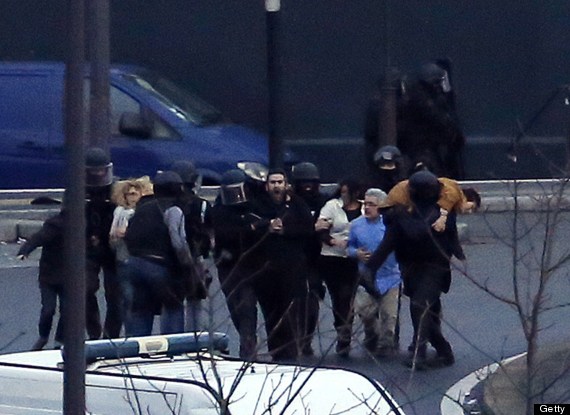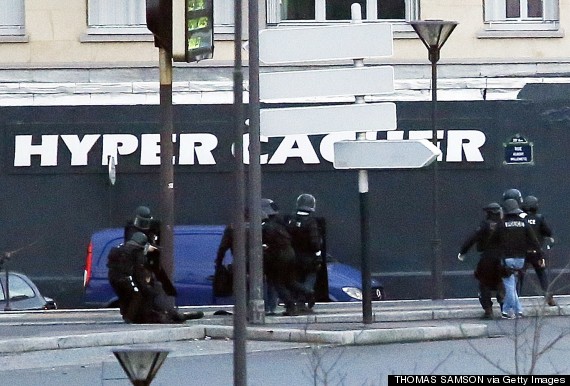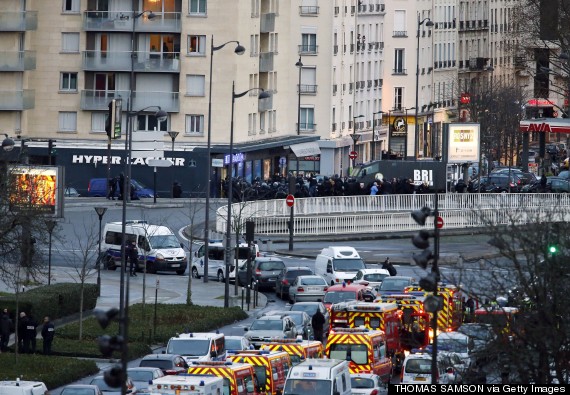 09/01/2015 16:44 GMT
The French special forces celebrate in the Frenchest way possible
Police in Dammartin-en-Goele "now relaxed," handing out rations of French cheese to journalists. #LabelleFrance

— Noga Tarnopolsky (@NTarnopolsky) January 9, 2015
SUBSCRIBE TO & FOLLOW UK DAILY BRIEF