If you're a lady with a booty to rival Kim K's, we have some good news for you.
Women with sizeable derrières have smarter children than flat-bottomed women, according to a new study.
Researchers from the University of Pittsburgh claim fat supplies found in a woman's buttocks and thighs help a baby's brain develop.
They say having extra fat in this area allows a woman to store additional nutrients that can be passed to the baby through breastfeeding.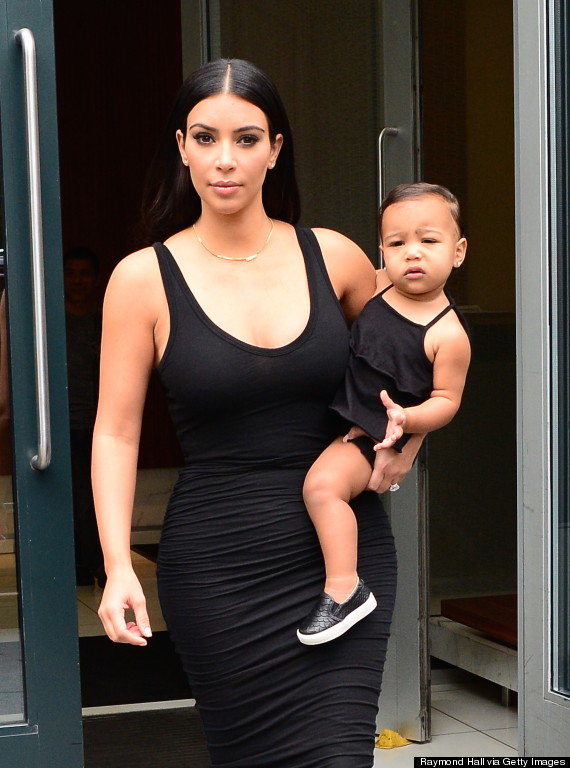 The findings are published in Dr Lassek's recent book Why Women Need Fat.
Speaking to The Sunday Times, Lassek said: "You need lots of fat to make a nervous system and the fats in these areas [buttocks and thigh] are also enriched in DHA [docosahexaenoic acid] which is a particularly important component in the human brain."
According to Lassek, fat around the bum and thigh is particularly hard to shift after giving birth as our bodies have evolved to accumulate these fats and hold on to them for as long as possible for the good of our children.
David Bainbridge, a reproductive biologist at Cambridge University, added: "The brain-building breast-milk lipids are largely derived from the fat stored in a mother's thighs and buttocks.
"Women with larger thighs have higher levels of these lipids. There is even evidence that they and their children are more intelligent as a result."
Previous studies have also suggested women with this body type tend to have lower levels of cholesterol and more likely to produce hormones to metabolise sugar.
As a result they are less likely to develop high cholesterol, heart disease and diabetes.
But it's not all doom and gloom if you have a flat bum.
If you're hoping your child will be a little Einstein but you've got a small behind, there are plenty of other factors that influence a child's intelligence.
Previous research suggests, fish oil, vitamin D and singing to your baby may all benefit a baby's brain development.
SEE ALSO:

Women With Big Bums Healthier Than Those With Smaller Derrières

Scientists Create Pill To Make Adults Smarter That Reverts Brain To A Child-Like State
12 Tips To Boost Brain Health
Fire up different brain areas for a healthier brain. For example, try Math Mondays, Tennis Tuesdays, Waltzing Wednesdays, Tchaikovsky Thursdays, Friends on Fridays, Sailing Saturdays and Sudoku Sundays. Use a part of the brain you don't use routinely. If you are a juggler, take up crossword puzzles. If you are a writer, you might benefit more from cross country skiing than from Sudoku.

A Mediterranean diet, high in fruit and vegetable content is a good heart diet, which means a good brain diet also. Aim for seven to eight servings daily of fatty fish, dark green, yellow and orange vegetables and fruits as well spices like ginger and curcumin.

Make sure to keep your levels of low density lipoproteins and triglycerides low

Optimal pressures are below 135/90 mmHg, but just a quarter of Americans adequately treats high blood pressure, and half of us are unaware that we even suffer from it. Controlling blood pressure keeps the heart healthy and prevents strokes.

Football and other sports that have a high propensity for head injury. Repeated head injury increases risk for Alzheimer's. Always wear a seat belt and use a helmet whenever possible.

Keeping diabetes and blood sugar under control provides both primary and secondary benefits on cognition.

Two common causes of falls as we age are vertigo (a sensation of movement when not moving), and weak hip girdle muscles. Positional vertigo is treated with a simple five minute Epley maneuver in your physician's office. Daily squats strengthen your pelvic muscles. Fold your arms and rise slowly from a dining chair while counting to three, then sit down slowly while counting to three, squeezing your buttock muscles the whole time. Repeat 10 times at breakfast and 10 times at dinner.

Physical activity, especially aerobic activity, floods the brain with nutrients and is correlated with better mental function as well as new nerve cell growth. Try aerobic exercise for 45 minutes three times a week.

Chronic depression interferes with cognition, although depression does not cause dementia. Learn to forgive and forget as anger raises cortisol levels, killing brain cells.

Through rich friendships and connections on a daily basis. Ongoing social engagement is positively correlated with cognitive health.

Work as long as you can, doing what you love to do. Work helps maintain routine and keeps you challenged in many of the little ways that matter.

Sleep for seven to eight hours a day, every day. Catch up sleep is not the same as daily sleep. Prioritize it. Sleep consolidates and improves memory for better daily functioning.