Forget expensive "miracle" creams, there's a new way to get youthful looking skin and it sounds almost too good to be true.
A new chocolate can slow down the formation of wrinkles and sagging skin, according to the scientists that created it at Cambridge University spin-off lab Lycotech.
At only 38 calories per bar, 'Esthechoc' combines two of the most powerful antioxidants – cocoa flavanols and marine carotenoid astaxanthin.
The scientists say it can make skin look up to 30 years younger.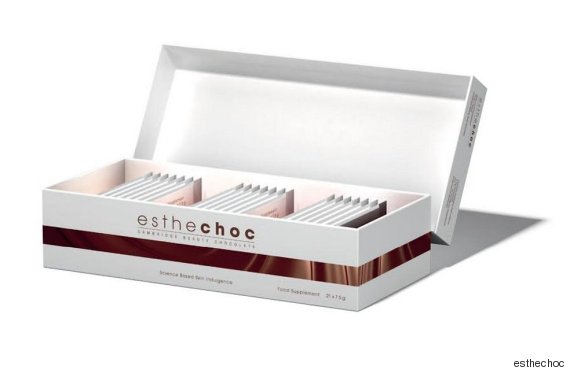 According to a brochure for the chocolate, one 7.5g piece delivers as much flavanol activity as 100g of dark chocolate.
It also contains as much of the antioxidant astaxanthin as 300g of wild Alaskan salmon.
The creators claim that after 3-4 weeks of daily Esthechoc intake, volunteers between the ages of 50 and 60 years old experienced increased blood supply to skin tissue.
"This consequently resulted in a significant boost of oxygen delivery to these tissues and restoration of their respiration - the essential physiological need in controlling and supporting skin health," they say.
Speaking to The Telegraph, one of the creators of the beauty chocolate Dr Ivan Petyaev added: "We used people in their 50s and 60s and in terms of skin biomarkers we found it had brought skin back to the levels of a 20 or 30 year old. So we've improved the skin's physiology."
But Nutrition expert at University College London Dr George Grimble told the paper more tests were need before these impressive health and beauty claims can be shown to be true.
Esthechoc will be presented next month at the Global Food Innovation Summit in London.
Until then, we'll stick to eating the foods in the slideshow below for healthy looking skin.
9 Foods For Healthy Looking Skin
Vitamin C is essential to keeping you looking younger. Dermatologist Nicholas Perricone, author of Forever Young, says that oranges also contain bioflavonoids, "which will protect skin from UV rays and help prevent cell death."

An excellent source of vitamin E, the high levels of unsaturated fat beta-carotene in an avocado will nourish skin and protect from signs of ageing, according to Body and Soul.

Whether it's strawberries, blueberries, goji's or cranberries, all types of berries are good for you - and not just for your appearance. David Grotto, author of The Best Things You Can Eat, told MSN "blueberries high flavonoid content has been found to help short and long-term memory loss."

Packed with beta-carotene, eating your carrots will help with skin-cell renewal and act as a powerful antioxidant too.

A glass of pomegranate juice a day could actually keep the wrinkles away, according to the Probelte Bio Labatory in Spain. Not only can it help lower cholesterol and blood pressure, but it's a great source of antioxidants too.

Omega-3 essential fatty acids will nourish skin and prevent dryness and premature ageing. Body and Soul warn that a lack of these healthy fats in your diet 'will make you prone to dry skin and wrinkles.'

Unless you've been living under a rock for the last year, kale is the superfood on everyone's lips. Emily Maguire, nutritionist and HuffPost UK blogger adds: "It is packed with potent antioxidants which help to stave off free radical damage in the body (linked to premature aging and disease)."

Ever wondered why those Mediterranean's look so healthy? Well, it could just be the copious amount of olive oil they use. The antioxidants will protect skin from pollutants.

Grape skins contain resveratrol, an anti-inflammatory that will help to keep your skin soft, supple and looking good. According to Men's Fitness, resveratrol can also help protect against UV rays to.
SEE ALSO:

Anti-Ageing Drugs That Banish Wrinkles Could Make You Live Longer Too, Say Scientists