The stakes are higher than ever for Channel 5, as the new series of 'Celebrity Big Brother' creeps around the corner. 2014 was a great year for the reality show, with not one but two explosive series proving that there's still some life in the 15-year-old format yet, while this January gave us what was arguably the most shocking year ever.
MORE 'CELEBRITY BIG BROTHER':
Within a matter of days, not one but two different celebrities had been thrown out the back door by Big Brother for their "unacceptable behaviour", while the high tension levels in the house eventually pushed soul singer Alexander O'Neal to walk. On top of all that, we had Katie Hopkins rowing with Nadia Sawalha, Perez Hilton rubbing himself against the mirrors and Patsy Kensit trying - and failing - to keep the peace, all in a beret and a onesie.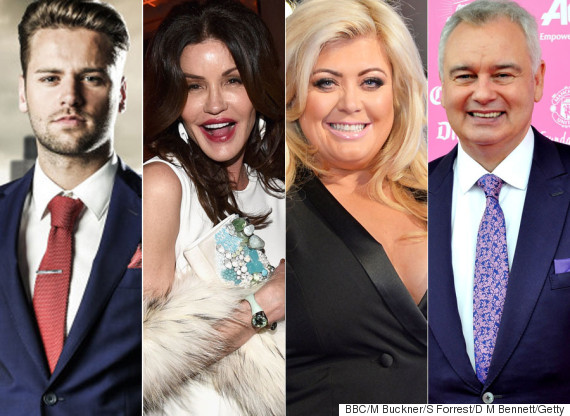 Some of this year's rumoured celebrity housemates
We have the exciting new series of 'Big Brother: Timebomb' to deal with first, but after that a whole load of celebs will be thrown into the house for a new series of 'CBB' - and the celebs tipped to be taking part look set to make it another eventful year.
Check out all of this summer's 'CBB' line-up rumours below...
Celebrity Big Brother 2015: Rumoured Contestants...
Janice was the first celebrity to be rumoured for the 2015 summer series of 'CBB', reportedly scooping a cool £300,000 to take part.

Eamonn has admitted that his wife, Ruth Langsford, has forbidden him from going on 'CBB', because she doesn't want the whole country to see him in his pants. Ruth... we owe you one.

The 'Mob Wives' star reportedly had to pull out of the upcoming series, after undergoing surgery for throat cancer.

The Daily Star have claimed that, after trying to get Keeley on board for the past few years, this will be the year she finally enters the 'CBB' house.

Oh, Gemma. Having not learned her lesson from 'I'm A Celebrity' - which she walked out of after just three days - Gemma reportedly wants to show people "the real her" on 'CBB'.

Fingers crossed he's brought those shorts...

Sadly, Dina was quick to deny rumours that she was in talks with Channel 5 to join the show.

'Teen Mom' turned adult film star, producers have reportedly roped in Farrah to "sex up" the 'CBB' house.

Metro have reported that David is among this year's "potential housemates" from the States, which is so unbelievably exciting we're not quite sure what to do.