You might not believe this, but the totally "fetch" hit film 'Mean Girls' is officially 11 years old.
We were rather hoping the cast might be dusting off their Burn Book, throwing on their pink shirts (only on Wednesdays, though, of course) and hosting some kind of reunion in honour of the reunion, but it sounds like a decent sequel to 'Mean Girls' (we're just pretending 'Mean Girls 2' didn't happen) is not something we should hold our breath for.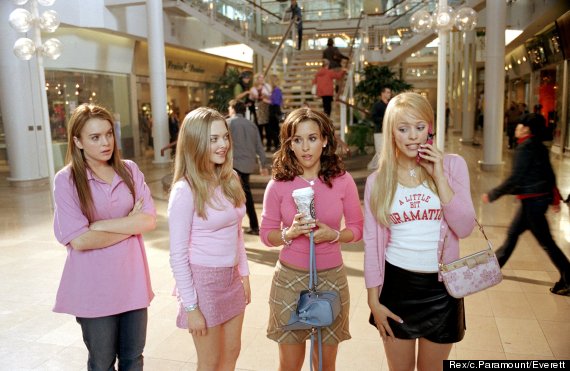 Mean Girls is officially 11 years old
Unfortunately, Tina Fey said last this year a reunion film won't be happening, despite actress Lindsay Lohan hinting that it could be in the works.
The news there won't be a reunion is disappointing to us as we had so many questions. Do Karen Smith's boobs still "know when it's raining"? Is Damian still "too gay to function"? Does Cady Heron still "smell like a baby prostitute"?
We might not know what the characters are up to ten years on from the film's original release, but here's what the actors who played them have been doing in the last decade...
Mean Girls 10 Years On - Where Are They Now?
If you haven't been living in a cave for the past decade, the chances are you might have even a passing knowledge of what happened to Lindsay Lohan post-'Mean Girls'. It looked like the star was destined for big things, with leading roles in 'Herbie: Fully Loaded' and 'Georgia Rule', but reports of unprofessional behaviour on set mixed with struggles with addiction and other problems in her personal life meant Lindsay ended up on a well-publicised downward spiral. However, things are looking up for Lindsay. She received positive reviews for her portrayal of Elizabeth Taylor in 'Liz & Dick' and Oprah has given the 27-year-old her own reality show on the OWN network. Will 2014 be her year?

Rachel McAdams was a virtual unknown when she was cast as Regina George, but being part of two of 2004's biggest films ('Mean Girls' and 'The Notebook') catapulted her to stardom. Since then Rachel has taken more serious roles in films like 'Red Eye' and 'Midnight In Paris' - but to us she'll always be the ruler of the Plastics...

"Nice wig, Janis. What's it made of?" "Your mom's chest hair." Lizzy played plucky outcast Janis Ian in 'Mean Girls', who sought revenge on Regina George for humiliating her earlier in her life. Who could forget her Immediately after 'Mean Girls' the actress had a few small roles, but since then has had a resurgence thanks to her appearances in '127 Hours' and the sitcom 'New Girl'. She received critical acclaim for her portrayal of Virginia Johnson in 'Masters of Sex', alongside Michael Sheen.

Her credits before 'Mean Girls' included ' 'Family Guy' (she was the original voice of Meg before Mila Kunis took over) and even a stint on Broadway as a child, but Lacey has never really managed to top her role as Gretchen Wieners. Perhaps that what she gets for trying to make "fetch" happen...

Her role as dumb girl Karen "She Asked Me How To Spell 'Orange'" Smith was actually a fairly minor one, despite her status as one of the Plastics. Who would have thought that it would be Amanda who would go on to claim the leading role in what would become the highest grossing film in UK history? Of course, this statistic becomes less impressive when you remember the film in question was 'Mamma Mia!'...

As well as starring as Maths teacher Ms. Norbury in 'Mean Girls', Tina Fey actually wrote the film herself. After the film was a hit, she went on to create and star in the sitcom '30 Rock', playing the character Liz Lemon who is now her most recognisable role. She also starred in 'Date Night' with Steve Carrell, and appears in the upcoming 'Muppets Most Wanted'.

Jonathan is one of the few stars to have more or less gone off the radar since 'Mean Girls'. We're not exactly sure why, he can act and he isn't exactly difficult to look at, either. He also wins the award for 'Best Twitter Bio': "I get it...my hair looks sexy pushed back." He's currently the host of the MTV show 'Copy Cat'.

Amy played Regina George's cringey mum in 'Mean Girls', when in fact she's only 7 years older than actress Rachel McAdams. A renowned comedic actress, Amy and fellow 'Saturday Night Live' and 'Mean Girls' star Tina Fey have hosted the Golden Globes together for the past two years. Amy also plays the lead role of Leslie Knope in the quirky American sitcom 'Parks and Recreation'.

Far from his role as Damian in 'Mean Girls', Daniel Franzese has gone on to star in gritty films such as 'Bristol Boys' and the beautifully named 'I Spit On Your Grave'. He's also now an art curator, having overseen art shows largely based around pop culture and fame. However, it is still not yet known whether Lindsay Lohan ever gave him his pink shirt back...

One of the longest-running cast members on 'Saturday Night Live', Tim Meadows has starred in 'Grown Ups', 'Walk Hard' and Tina Fey's sitcom '30 Rock'. He's also the only 'Mean Girls' star to appear in the ill-fated and critically panned sequel 'Mean Girls 2', where he reprised his role as the principal at Northshore High. The actor broke his wrist shortly before filming 'Mean Girls', which is why they incorporated into the story that he suffered from Carpal tunnel.