Since its launch in January, Sport England's groundbreaking This Girl Can campaign has inspired women around the country to up their fitness.
Don't believe us? Just check out the #ThisGirlCan hashtag.
The campaign captured the nation's hearts by showing that real women jiggle and sweat when they exercise, giving us all a much-needed boost of self-confidence.
Now, it's been awarded a Gold Lion for tackling gender inequality in a new award category at Cannes.
We can't think of a more worthy winner.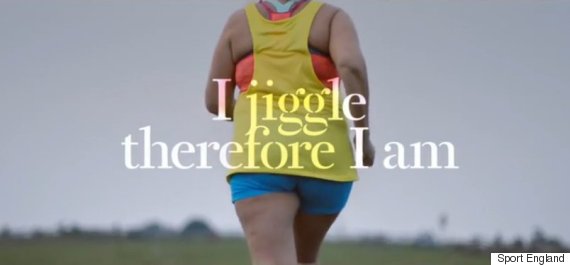 The 'Glass Lion: The Lion for Change' award has been introduced this year at Cannes in partnership with LeanIn.Org, the organisation founded by Sheryl Sandberg, and recognises work that addresses issues of gender inequality or prejudice.
This Girl Can features women of all shapes, sizes and sporting abilities and aims to tackle some of the barriers that stop women from participating in sport.
Jennie Price, Sport England's chief executive, has said she "could not be more delighted" to win the Glass Lion.
"There is a stubborn, longstanding gender gap in the number of people who play sport and exercise regularly in England - and in many other countries around the world - which we were determined to tackle," she added.

"I want every girl and woman who sees this campaign to feel she can do anything she feels like doing when it comes to sport and exercise, to be brilliant or just do it for fun, to wear what she wants, look how she wants, and to know no one is entitled to say this girl can't."
The campaign was selected by a panel of nine judges from more than 160 entries to win the Glass Lion.
SEE ALSO:

#ThisGirlCan Convinced Me to Have a Swimming Lesson, Aged 23 and a Half

Girls Pose In Fierce Frozen-Themed Sports Team Shot (And It's Amazing)
This Girl Can appears to be on somewhat of a winning streak - it also won two Gold Lions Health awards for best integrated campaign and best film, and scooped the prestigious United Nations Foundation Grand Prix for Good award just last week.
The This Girl Can advert, created by FCB Inferno, is back on TV in England and new posters can be seen across the country featuring 'girls that can' enjoying a range of summer activities.

"Tackling gender inequality requires game-changing work. This Girl Can breaks the rules," Sharon Jiggins, managing director, FCB Inferno, said.
"The campaign has changed the written and visual language around exercise, painting a uniquely realistic picture of active women, each with a highly aspirational 'don't give a damn' attitude.
"This has struck a chord with women the world over, inspiring them with the confidence to be more active."
8 Inspirational Women In Sport
Her position in the women's 800m heats may have been a distant last but it was a 'first' that prompted a standing ovation from the crowd. Atturst bravely challenged the social conventions of her country to become the first Saudi Arabian woman to compete in the Olympic track and field. So while Sarah Attar didn't win a medal, she did realise her dream - to represent the women of her country and inspire them to embrace sport. She said: "For women in Saudi Arabia, I think this can really spark something to get more involved in sports, to become more athletic," she said. "Maybe in the next Olympics, we can have a very strong team to come." Atturst, along with judo competitor, Wojdan Ali Seraj Abdulrahim Shahrkhani, were the first Saudi Arabian women to attend the Olympics. The decision was a last-minute one following pressure from the International Olympic Committee.

Former Paralympian medalist, Baroness Tanni Grey-Thompson, 43, is world-renowned for her tireless campaigning for disabled sport as well as women's sport. Born with spina bifida, the former athlete was enobled in 2010, after winning 11 gold medals across five consecutive Paralympics Games. Since retiring from sport, Grey-Thompson is busier than ever - she is a TV broadcaster, politician, sits on the board for London Transport and the London Marathon and is the patron for numerous charities. She is never afraid to speak out on what she believes in. Most recently, in May 2013, she told the House of Commons Education Committee that the Government did not take sport seriously and that many disabled children were still "sent to the library" during PE lessons because "teachers don't feel equipped or able, in many cases to integrate them properly into lessons." "We are trying to save money because of tough economic times. The obesity bill is just going to keep rising, welfare benefits will just keep rising and, actually, sport [and] physical activity can do an awful lot to challenge and help those things."

Clare Balding's incredible coverage of London 2012 Olympics and Paralympics cemented her status as a national treasure and earned her a BAFTA Special Award. It also helped to raise the profile of women in sport as well as women in the media. Balding, whose passion for sport is in her genes (her father is the Queen's former horse trainer), has a particular passion for women's sport and in her frequent interviews in the media, she never misses an opportunity to campaign for gender equality. Not surprisingly, Balding was given an OBE in June this year.

Unfortunately, Marion Bartoli's impressive victory in the 2013 Wimbledon final - in which she didn't drop a set against Germany's Sabine Lasicki - was somewhat overshadowed by *those* sexist remarks from John Inverdale and a few ignorant souls on Twitter. The fiasco has forced the world to open its eyes to the sexism that women still have to contend with. Meanwhile, Bartoli's dignified and magnanimous reaction has cast her as not only a sporting champion but an admirable role model.

Labelled the poster girl of 2012, Jessica Ennis' 'girl-next-door to Olympic gold-medalist' fairytale has given a nation of schoolgirls a reason to believe that dreams really can come true. Smashing her personal best, beating her competitors by hundreds of points and scooping the gold medal for the heptathlon, Ennis-Hill, has a great deal to be proud of. But it is her status as a role model that seems to give the athlete her greatest sense of achievement. Recognising the importance of such role models, she said after the Olympics: "You can have lots of regulations and lots of information booklets, to get females involved in sport. But if you want girls to play sport, you have to give them role models." However she is also aware of the obstacles: "The problem with the traditional non-sporting women in the media is that most of them are size zero. You can't be a fit, healthy sportswoman – out there beating your rivals – if you're size zero. "It's hard to change but it would happen if more sportswomen were in the media, and if more coaches were women, more influential sports figures were women."

Tibballs, a tireless campaigner for gender equality. As the Chair of the Women's Sport And Fitness Foundation, Tibballs aim is to create a nation of active women. Her latest campaign is to target the issue around women and fitness at grass-roots level by recruiting 25 schools for an in-depth analysis of how schools engage with girls to deliver physical education and to establish the perfect model. Tiball believes that body confidence is the biggest obstacle for women and sport. She told HuffPost Lifestyle: "The relationship women have with their bodies and the confidence surrounding that is the last step of women's liberation". She believe that "girls need to own their bodies and move their bodies" and have the confidence to get involved with sport. That involves removing the negative perceptions around exercise and fitness for girls. And she believes a crucial part of that is a greater exposure to sporting role models in the media.

Growing up in South-East London in the 1970s, in a world there was no place for women in football, Hope Powell stuck by her guns and challenged conventions, determined to realise her dreams. While studying to be a football coach, she knew she had a greater challenge ahead than the rest of her classmates but she wasn't deterred: "On the course I was the only female, the only black female and there I was with these guys from the professional world of football. I probably worked harder than everyone else; in that situation you've got more to prove." But prove herself she did. Though "disgusted" that she was unable to play football professionally in this country, she has forged an alternative career in football as the England Women's National Coach and the Team GB Olympic football team. She is currently leading the England team in the Women's Euro 2013. In 2003 Powell became the first woman to achieve the UEFA Pro Licence—the highest coaching award available.

Nicola Adams became the first ever Olympic boxing champion when she scooped the gold for Team GB in 2012. Proving that boxing is every bit a woman's game, the champion's victory has caused a dramatic surge of interest in female boxing. Sport England figures show that before last summer's Games, where women's boxing was included for the first time, there were 19,600 females boxing once a week, compared with 35,100 now - an increase of 79%.