A food blogger and the owner of a bakery have become embroiled in an online war over a dispute about free macarons.
The saga began when Reshmi Bennet, founder and owner of Anges De Sucre, an artisan patisserie in London, was approached a blogger to write a review in return for free samples.
When blogger Mehreen, from London restaurant website Wrap Your Lips Around This, visited Anges De Sucre she was offered a hot drink and a box of eight macarons.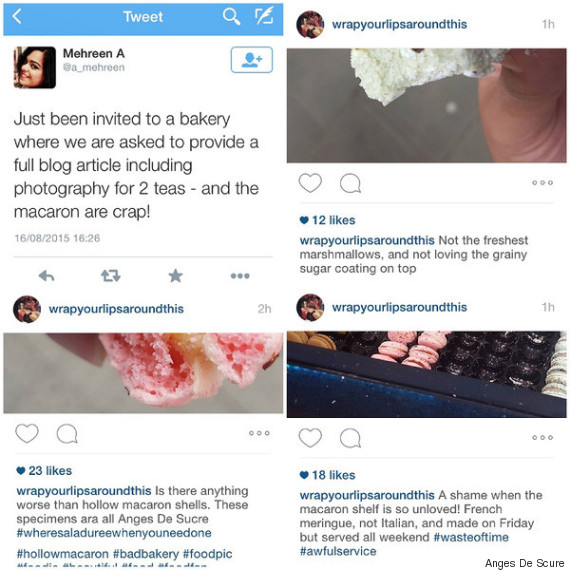 However the exchange quickly turned sour when Mehreen expected more to compensate for her services.
She wrote on her blog: "It went like this – I got to the bakery and introduced myself with the usual 'hey I'm Mehreen, I've been invited to review'. On this occasion the member of staff wasn't aware that I'd been invited in, but offered to give me a tea/coffee and a selection box of eight macarons and marshmallows.
"I have a sweet tooth, but I don't do eight hours of work for an eight piece selection box of macarons and marshmallows. Writing is notoriously badly paid and photography suffers the same, but I value what I produce as worth more than that."
The situation was exasperated when Mehreen suggested that staff gave her a selection of products worth over £100.
Bennett wrote on the Anges De Sucre blog: "It's a lot more than we would deem appropriate to give out for free for review (especially considering how insignificant this particular blog is).
"The blogger seemed shocked that she wasn't getting all of that stuff for free, a real cringe OMG-don't-you-know-who-I-am moment, and told our staff that that regardless of whether she bought anything or not she would be reviewing the shop, further insinuating that if we didn't hand over all that stuff she'd be giving us bad reviews."
Mehreen went on to purchase macarons from the shop, before posting negative comments about them on Twitter and Instagram.
The blogger feud has spurred wide debate on Twitter under the #BloggerBlackmail hashtag.
My main comment on #bloggerblackmail : everything that's wrong with bloggers and freebies is in her justification http://t.co/viqefDoYiS

— Jay Rayner (@jayrayner1) August 17, 2015
But then my view of bloggers who take freebies and claim impartiality is well known.

— Jay Rayner (@jayrayner1) August 17, 2015
If you turned up somewhere and people didn't know who you were, surely you'd leave, not bring out a shopping list? #bloggerblackmail

— Amy London (@youngldnblog) August 17, 2015
... if you're going to work with a brand you need clear working lines all ironed out BEFORE you work together! ##bloggerblackmail

— Victoria India Price (@vipxo) August 17, 2015
Bloggers do get a hard time of it but the correct attitude and communication is key - we're still carving out the rules. #bloggerblackmail

— Maryam Khan (@MazHalima) August 17, 2015
When I heard bloggers get freebies to promote products, I nearly choked on my slim comfortable Tampax. #bloggerblackmail

— Sidney Abbott (@sidneyabbot) August 17, 2015
#bloggerblackmail I'm sorry but what does the blogger expect? If you're reviewing a cafe you will get the service a customer would in order

— Lily Melrose ✌️ (@llymlrs) August 17, 2015
Coming back onto Twitter like: #bloggerblackmail pic.twitter.com/MbF4lnJKJu

— amie gee (@Fashion_IOR) August 17, 2015
#BloggerBlackmail 'Give us all your macaroons else then rudey nudeys of your cat on a marble background with flower props will be released'

— Hello Terri Lowe (@HelloTerriLowe) August 17, 2015
I feel like all that #bloggerblackmail shows is how quick we are to judge. It's a one sided story so far, but I see a lot of judgment.

— Jessica (@spoiltface) August 17, 2015
I don't agree with EITHER side of the #BloggerBlackMail story- as both parties are in the wrong in one way or another.

— Amy Jane (@heyamyjane) August 17, 2015
Lessons to be learned in both sides. Both blogger and Bakery were unprofessional.Could've been avoided with communication! #bloggerblackmail

— Joelle (@Joelle_o) August 17, 2015
Whatever happened to integrity, morals and writing for the passion of writing. #bloggerblackmail - the minority ruining it for the majority.

— JessicaLouise (@JessycaLouise) August 17, 2015
In my 5 years blogging I have never approached a brand to ask for things to review. Never. #bloggerblackmail

— Jai'me Jan (@jaimelondonboy) August 17, 2015
@charlie_cat_esq @PXandTarts Bottom line is if you're invited and you don't like the offer, don't do it. Slinging mud just harms everyone

— Shonette (@Shonette) August 17, 2015
Didn't we say eating on a budget doesn't have to be boring? These Parmesan Garlic Pretzel Bites from Budget Bytes are here to back us up. Budget Bytes is one of the great ones. It's so great, in fact, it's been turned into a cookbook, which, among many recipes, features a great guide for stocking your kitchen -- perhaps the most crucial step of committing to cooking on a budget. Once you're prepared, it'll be easy to follow awesome recipes, like Budget Byte's Parsley Salad With Almonds And Apricots or Easy Sesame Chicken. In addition to a "kitchen basics" guide, Budget Bytes also has a very comprehensive list of principles for eating well on a budget, which explains strategies like "shopping wisely" and the "freezer is your friend." We love this blog because it not only has excellent recipes with great photos, but it's also very methodological. Every recipe includes the price of each ingredient, the price of the recipe as a whole and the price per serving. It's hard to do much better than that.

Broke Ass Gourmet's been around since 2009, for good reason. The recipes are exciting but accessible, and they're all under $20. It's also another blog-turned-cookbook. With collections like "5 Cheap And Easy Ways To Cook Chicken Legs" and individual recipes like Sweet Potato Nachos, Homemade English Muffins and Bangkok Style Deviled Eggs, BrokeAss Gourmet's recipes run the gamut. It also features a good amount of Jewish-inspired recipes, like Honey Whole-Wheat Challah and Salted Matzo Crack. If you're looking for something special and want to keep it under $20, BrokeAss Gourmet is your one stop shop.

Stone Soup offers healthy, affordable recipes that won't leave you feeling like you're making any sacrifices. In addition to recipes like Green Curry Of Broccoli Soup and Kale Carbonara, Stone Soup offers wisdom, like the "three golden rules of do-it-ahead-meals" and the "dos and don'ts of keeping leftovers safe." Even better? According to the woman behind Stone Soup, Jules Clancy, most of the recipes are made with five ingredients, and can be made in mere minutes. (Hence Clancy's book, "5 Ingredients, 10 minutes."

Cathy Erway started her blog Not Eating Out In New York after "going AWOL from eating restaurant, take-out, or street stand food throughout the five boroughs of New York City" from 2006 to 2008. Her blog, which turned into her book, "The Art of Eating In," features recipes that she thinks are worth skipping the NYC restaurant scene and eating in for. In other words, they're pretty darn good. Recipes like Grilled Steak "Shoulder Bites" with Chimichurri and Roasted Eggplant "Salsa" and Curried Carrot Soup with Red Lentils strike a good balance between sophisticated and homey. Erway lists the cost of all ingredients as well as the total price of the recipe. She also rates her recipes based on health and environmental costs. On top of offering all of these guidelines for her recipes, Erway also shares inspirational reasons for not eating out, beyond just budgeting. For example, reason 52 is that you can better enjoy the seasons by cooking at home. She knows her urban audience needs consistent reminders to stay in and cook when it's too easy to just eat out.

The Law Student's Wife offers budget-friendly, straightforward but exciting and often seasonal recipes like Balsamic Brussels Sprouts with Maple, Walnuts and Feta and Maple Roasted Butternut Squash Freekeh Salad With Kale. It's a reliable spot for weeknight dinners, and blogger Erin also makes great desserts too, like Rhubarb Swirl Buttermilk Ice Cream and Brown Butter Churro Crispy Treats.

The 99 Cent Chef may not look as pretty as some of the other blogs, but what it lacks in glossy photos it makes up for in useful GIFs and videos. Blogger Billy Vasquez has a great sense of humor -- he says he "takes the haute out of cuisine" -- and makes eating on a budget fun and entertaining. His recipes consist of ingredients that either cost 99 cents each or 99 cents per pound. They range from spruced up breakfasts like Fried Egg on Breadcrumbs with Asparagus and classics like Patty Melts and Fish and Chips, to homemade versions of store-bought foods like Roasted Creamed Corn and even Egg McMuffins. He's also a big fan of seasonal produce as a means of budgeting as well as adding flavor.

The title of this blog says it all -- and what could be better? $5 Dinners brings you recipes and weekly meal plans for making dinners that cost $5 or less. Blogger Erin Chase doesn't stop at dinner, however. She shares great breakfast recipes, like Blueberry Lemon Pancakes and Berry Quinoa Parfaits, and healthy desserts, like Black Bean Brownies With Shredded Coconut And Chocolate Chips. Chase also offers cooking tutorials that explain techniques like how to shred cabbage, and how to choose and cut and avocado, making her blog great for new cooks.