Cram a dozen or so attractive twenty-somethings in a house full of cameras, and the chances are that sparks are going to fly between at least a couple of them. And that's exactly what we've seen on almost every series of 'Big Brother'.
Last year's couple out-did the rest though, as months after meeting and umm, doing the dirty in the house, Kimberly and Steven got hitched.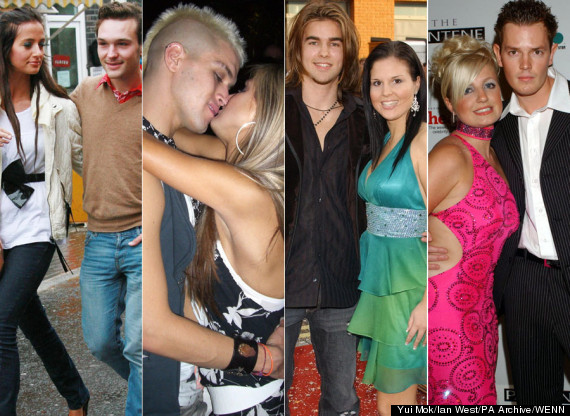 'BB' couples over the years
Sadly, it's since been reported that the pair have called time on their relationship, after just four months of marriage - but whatever happened to some of our other favourite 'BB' pairings?
Ever since Helen Adams first made eyes at Paul Clarke during the second series of 'Big Brother' in 2001, contestants have cottoned on to the fact that a romance - or, more to the point, a showmance - is a good way of sailing through to the end of the series, but while many have eventually fizzled out in the outside world, it might surprise you to hear which ones have managed to stay together.
Here are just some of the romances that have begun in 'Big Brother' over the years- but which 'BB' couple is your favourite..?
'BB' Couples Through The Years
Lee Ryan was embroiled in a love triangle with both Jasmine and glamour model Casey Batchelor during his time in the 'CBB' which made him pretty unpopular with the British public. He and Jasmine went on holiday to Thailand once their time in the house was through, but it ultimately wasn't to be, and she's since branded him a "damaged soul with no money or career".

The pair who have the honour of being the first couple ever to have full sex in the 'BB' house, after Michelle made them a cosy den underneath the dining room table. Romantic, eh?

The original 'BB' love story, Helen and Paul flirted throughout their time in the house but never acted on it because of her boyfriend in the outside world, Big G. However, once they were evicted they stayed together for a number of years.

Bristolian "randy mare" Josie and Australian Beckham-lookalike John James spent most of their final weeks in the 'BB' house laying around with their microphones off. They split once arriving back in the real world, with Josie breaking out of the 'Ultimate Big Brother' house to be with him, though it didn't last as Josie claims he made too many comments about her weight.

Though they kept it low-key inside the house, Mikey and Grace were one of the few couples to last in the outside world, and are still married to this day.

It seemed at some point or another every woman in the 'Big Brother' house wanted to sink their claws into Pete, but it was ultimately Nikki Grahame who snagged the energetic raver... for about five minutes, that is, until the magazine deals dried up and she found herself single again.

Chanetelle and Preston got swept up in a whirlwind romance while shacked up with Michael Barrymore, George Galloway and Pete Burns, but sadly their story ended in divorce. Cruelly, fate thrust them together again as they both wound up in the 'Ultimate Big Brother' house.

Luisa and Dappy claimed to be "in love" despite their blazing rows in the 'CBB' house, though she later revealed it was a purely staged showmance they'd gone through with for money from the inevitable magazine deals that followed.

Maxwell recently revealed that if he'd never started up with Saskia he'd probably have won the series, rather than disco dancing Geordie hairdresser Anthony Hutton. We're less than convinced.

It seemed like these two were really on the verge of something wonderful... that is until Daley was removed from the house for threatening Hazel with physical violence during a task.

Embarrassingly, Ziggy broke it off with Chanelle on national television using the line "it's not you... it's me". We're cringing still to this very day.

This 'BB' pair married not long after their eviction, but less than a year later they'd called time on their relationship as they "didn't get on". Oh dear.

Despite never actually being in the 'BB' house, Kinga and Kemal surprised us all when they revealed they were in a relationship in the outside world. We don't think it had anything at all to do with publicity. Not. At. All.

Sorry, we just had to.