German prosecutors said that the woman, whose named was not disclosed due to the country's privacy laws, is alleged to have served as a radio operator for the camp commandant from April to July 1944.
This makes her an accessory because her work helped ensure the camp functioned properly, prosecutors argue. The woman is alleged to have been a radio operator for the SS at Auschwitz
Schleswig-Holstein prosecutors' spokesman Heinz Doellel said that there are no indications the woman is unfit for trial, though a court likely won't decide on whether to proceed with the case until next year.
Recent years have seen a final push to try to prosecute those involved in Nazi atrocities, since perpetrators are now dying out.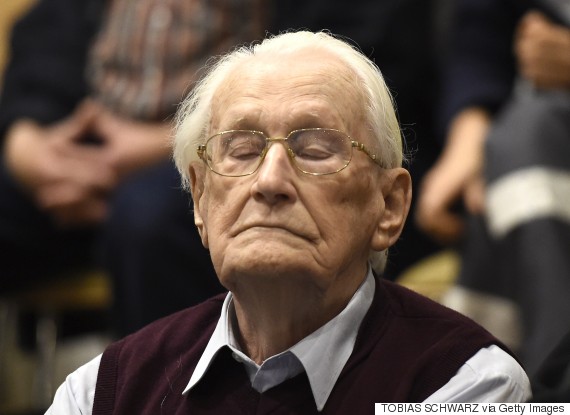 Oskar Groening reacts to the verdict
Oskar Groening was responsible for collecting and examining people's belongings as they arrived at the death camp, as well as removing and documenting any currency found.
Groening said that he admitted "moral guilt" but insisted that he was not personally responsible for any deaths, describing himself as a "small cog in the wheel" of the Nazi regime.
However, prosecutors said that by helping to ensure the smooth running of the camp, he was an accessory to the killings.
Dr Moshe Kantor, President of the EJC, said: "We welcome the announcement that yet another contributor to the Nazi atrocities will be held accountable for their actions. As with all previous trials of this nature, it reminds us of the importance not just of remembering the Nazi horrors but also of taking steps to protect society and our communities from the ever present danger of intolerance, anti-Semitism, racism and hate."
SUBSCRIBE AND FOLLOW
Get top stories and blog posts emailed to me each day. Newsletters may offer personalized content or advertisements.
Learn more