Coming out to your parents as a trans woman or man is always an emotional experience - a mixture of relief but also fear that they might not accept your decision.
But for Tina Healy, who lives in Melbourne Australia and works as an advocate for Gender Diversity Australia, her mother responds with nothing but love.
Talking to ABC, she said: "My Mum has dementia and quite a few of my family were concerned about what would happen if I came out to Mum, whether she might be too stressed to handle it. And anyway, so when I eventually came out to Mum, I did it early in the morning and she listened. I kept it very simple.
"And she said - at the end of it, she said, 'Well,' she said, 'What do you know?' She said, 'I've got a beautiful new daughter.' And she said, 'Come here, love.' And I cried on her shoulder... it was all wonderful."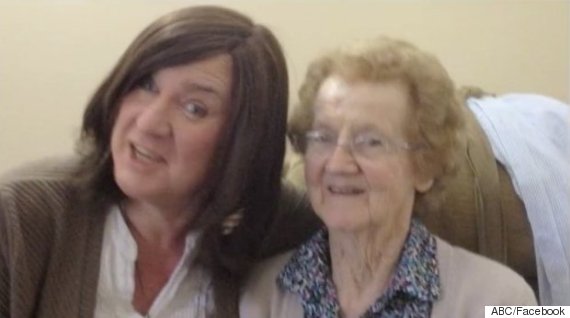 She added: "I go and see Mum every few weeks and she's forgotten each time, and every time I tell her again, she gives me just the same beautiful reaction that she did exactly the same, almost word for word every time. I'm kind of the luckiest one of all because I get to come out to Mum 100 times a year, and every time, she's beautiful."
Three generations of a family respond to a transgender coming out

"I'm the luckiest one of all because I get to come out to Mum a hundred times a year and every time she's beautiful."Tina came out as #transgender three and a half years ago and inspired her daughter to write a children's book at the same time.See her story: http://www.abc.net.au/7.30/content/2015/s4341049.htm

Posted by 7.30 on Tuesday, 27 October 2015
Healy was married, has four adult children and grandchildren, and came out as a trans woman in her 50s. She says that her partner Tess knew she had gender issues before they got married, but Healy thought it was an illness she could overcome.
Talking to ABC, she said: "I think in your 20s, you're idealistic and we thought, "Oh, I can beat this. This is a real illness I've got," and there was something that was wrong with me. But of course it doesn't go away. It always comes back.
"It just got to a point where I think there's a tipping point where you just can't wait anymore. You've waited a long time and it gets to that stage of your life where you need to think of yourself."
SEE ALSO:

Taking Bets on Which England Footballer Might Be Gay Turns My Stomach


Rugby's Only Openly Gay Ref Takes To Social Media After World Cup Final Appointment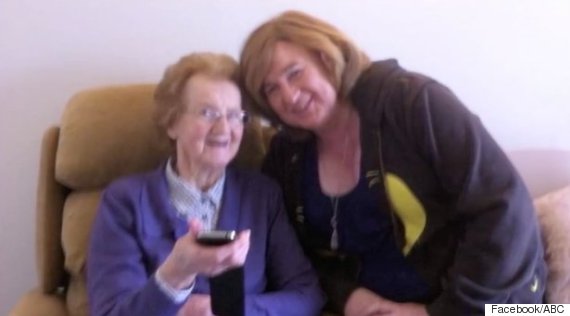 Her daughter Jessica Walton also spoke of her reaction when Healy told her about transitioning.
"I was really worried that I was going to lose my Dad. I think we all did go through that stage of grief, but because there were four of us, we were all able to be there for one another.
"Eventually you come out the other side and realise that you now know your parent better than you ever did."
(H/T: Buzzfeed)
12 Caitlyn Jenner Moments
Shortly after the Vanity Fair cover made its way online, it was confirmed that - after appearing in 'Keeping Up With The Kardashians' for eight years - Caitlyn's journey as a transgender woman would be followed in a new docuseries, 'I Am Cait'. The decision for the show to air on E! was met with a cold reception from some critics, who felt that the sensational nature of the channel might jeopardise the message of the show, but it was met with rave reviews when it debuted.

Even Barack Obama proved to be no match for Caitlyn, after she broke his Twitter record for amassing one million followers in just under four hours. Her first post, which has since been retweeted over 250,000 times, read: "I'm so happy after such a long struggle to be living my true self. Welcome to the world Caitlyn. Can't wait for you to get to know her/me."

Despite admitting that she's still learning how to live as a trans woman, Caitlyn has taken the knowledge she's already accrued and put it to good use, visiting LGBT youth centres in California to offer counsel to young people struggling with gender identity.

With a polarising figure like Kanye, some people do find it harder to love him than others, but few could argue with his comments in 'I Am Cait', where he told the cameras: "I think [Caitlyn's coming out] is one of the strongest things that have happened in our...existence as human beings that are so controlled by perception. "Cause you couldn't have been up against more. Your daughter is a supermodel, you're a celebrity...every type of thing, and it was still like, 'F**k everybody, this is who I am.'"

Caitlyn's first ever LGBT Pride event in New York gave us this incredible photo, which we still look at whenever we're feeling a bit down, to cheer ourselves up.

After being honoured with the Arthur Ashur Courage Award, Caitlyn delivered a moving acceptance speech at this year's ESPYs, where she called to light several problems which are currently affecting the trans community.

Since coming out, Caitlyn has shared a string of pictures where she's been hanging out with her fellow trans women, including performance artist Candice Cayne. However, she made us most jealous when she shared this photo with 'Orange Is The New Black' actress Laverne Cox, who she'd publicly praised on a number of occasions prior to their first meeting.

Giving us Hilary Devey/Samantha Jones realness and we LOVE it.

During the first episode of 'I Am Cait', Caitlyn was shown visiting Katharine Prescott, the mother of transgender teenager Kyler Prescott, who sadly took his own life at the age of 14 earlier this year. Caitlyn has said on several occasions that the suicide rate is one of the problems within the transgender community she wants to help tackle, and at the end of the episode, attended a balloon-releasing ceremony, in Kyler's memory.

On Father's Day, Caitlyn went off-roading with her extended family, which included her step-children, the Kardashians. Even Kanye West couldn't keep the grin off his face - and that's really saying something.

Last month, Caitlyn took to the stage before a performance from Culture Club in California, giving an empowering pro-transgender speech to the audience at the gig.

Sometimes it really is the small things that matter the most. During her Diane Sawyer interview, Caitlyn claimed that one of the things that mattered the most to her was being able to wear nail polish without being judged, and here she is fixing one of her nails on Instagram. It mightn't seem like much, but it warmed our heart to see.