• Two killed in early morning armed raids
• Including female suicide bomber who blew herself up
• Seven people arrested
• Five police officers injured during seven hour operation
A female suicide bomber blew herself up as police hunting the Paris terrorists laid siege to a flat where the mastermind of the attacks was believed to be in hiding.
Sustained gunfire and explosions began at 4am local time at the Saint-Denis suburb in the north of the city, close to the Stade de France national stadium, where three suicide bombers blew themselves up during Friday night's slaughter that killed at least 129 people.
Just before noon, the French government confirmed the raid was over though it was not immediately clear if the alleged target Abdelhamid Abaaoud had been captured or killed. The identity of those killed and arrested has not been confirmed yet.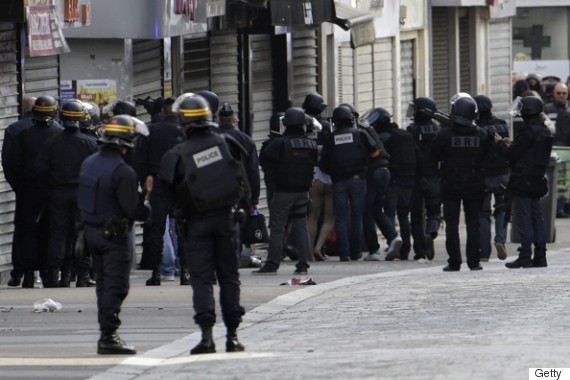 Men are led away after from the scene by police in Saint Denis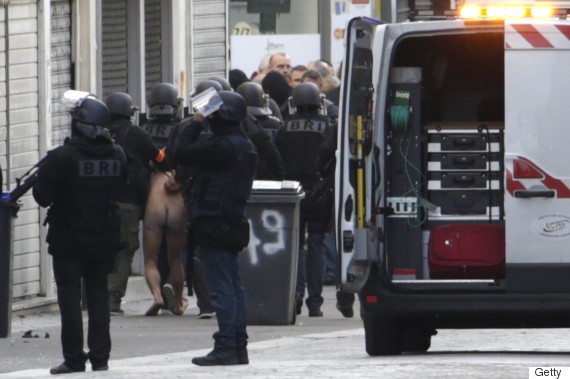 Bon c'est sur c'est une intervention de la police... rue barrée, officiers etc.. #SaintDenis pic.twitter.com/JSARgbaM9w

— Lunaticwolf (@Chelmih) November 18, 2015
Police said a security perimeter around the building remained in place.
The woman wearing the suicide vest detonated the explosives as scores of officers raided the property, officials said. A further suspect was killed after he was hit by a grenade. Five officers were injured, according to reports.
Mobile phone footage shot from the scene revealed police officers shooting from an unmarked car and further clips captured fierce gunfire and the sounds of explosion in the early hours.
Stunned residents were evacuated from the area as scores of heavily armed officers flooded the streets.
Seven people were arrested in the stand-off targeting the mastermind of Friday's terror attacks, prosecutors said. No hostages were being held.
Three were detained by SWAT teams at the property, while another man and woman were held nearby, prosecutors said. The further arrests included the landlord of the property and a friend, Interior Minister Bernard Cazeneuve said.
Residents told to stay indoors as police line Rue de la Republique, St Denis Paris pic.twitter.com/3Yvpc8bWgN

— Jonathan Rugman (@jrug) November 18, 2015
Abaaoud, an Islamic State militant from Belgium, was initially believed to be in Syria.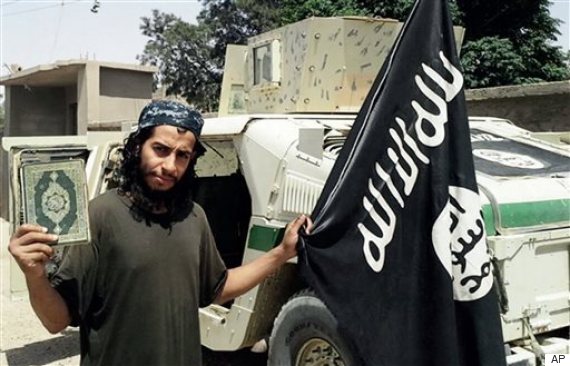 Abdelhamid Abaaoud as he appeared in a propaganda magazine
The whereabouts of Salah Abdeslam, 26, who rented a car used to carry gunmen to the Bataclan music venue in Paris are unclear, though he is actively being sought in Belgium.
Gunfire was intermittent for at least two hours during the early hours of the morning.
"Then there was second big explosion. Then two more explosions. There was an hour of gunfire," said Baptiste Marie, a 26-year-old independent journalist who lives in the neighborhood.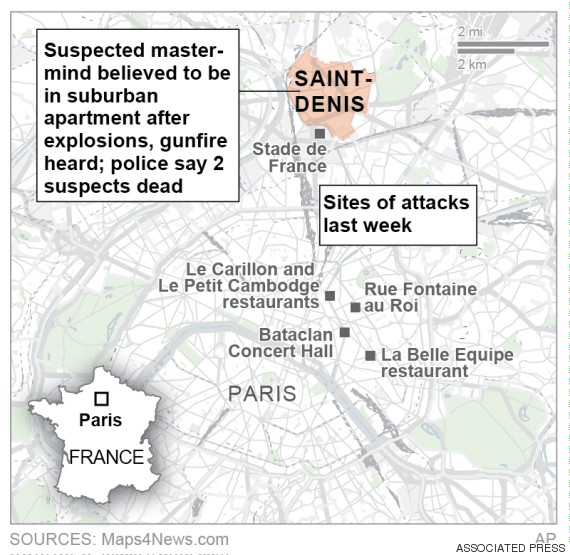 Another witness, Amine Guizani, said he heard the sound of grenades and automatic gunfire.
"They were shooting for an hour. Nonstop. There were grenades. It was going, stopping. Kalashnikovs. Starting again," Guizani said.
At least seven explosions were heard at the scene of today's stand-off in Rue du Cornillon, in the heart of the historic multicultural area north of the city centre.
After the seige was concluded, riot police were seen at a church in Saint Denis. Reports suggested a stash of weapons may have been hidden in the building, though these are unconfirmed.
World's media looks on as riot police bash down door of church here at St-Denis #parisattacks pic.twitter.com/Nt32eWRnLS

— Lisa Millar (@LisaMillar) November 18, 2015
The door of the church the armed police broke down in the hunt for another attacker. Nothing found #ParisAttacks pic.twitter.com/HW8zG3KKvQ

— Ruaridh Arrow (@ArrowontheHill) November 18, 2015
School in Saint-Denis has been canceled for Wednesday, the mayor, Didier Paillard, announced. Transportation to the northern Paris suburb has also been canceled.
The area's deputy mayor, Stephane Peu, told French television it was not a new terrorist attack and warned residents to stay indoors.
French President Francois Hollande held an emergency meeting with senior ministers at the Elysee Palace to monitor the raid.
In a televised address after the raid, Hollande said France is "at war" against terrorism carried out by the Islamic State. Hollande said he wants a "large coalition" working together against IS militants to destroy a group that threatens the whole world and "commits massacres" in the Mideast.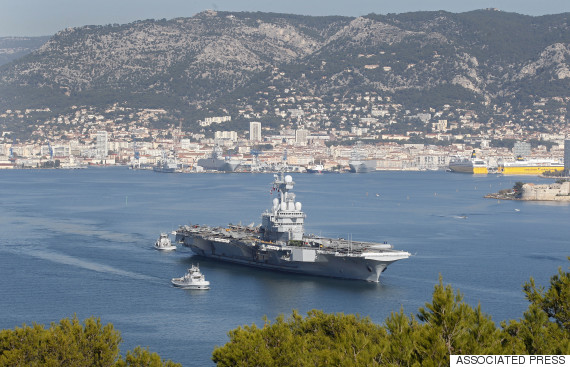 France's nuclear-powered aircraft carrier Charles de Gaulle leaves its home port of Toulon, in southern France on Wednesday
He said the French aircraft carrier Charles de Gaulle just left to help French military operations in Syria against IS.
Stade de France, the national stadium that attackers tried to bomb during a soccer game on Friday, is located in Saint-Denis, just 1.2 miles from the apartment where the raid was focused.
Story continues after slideshow...
The death toll of the attacks would have been even higher if the terrorists had succeeded in their plan to get into the Stade de France where the French national team were playing Germany.
Seven attackers died in Friday's attacks, which targeted several bars and restaurants and the Bataclan concert hall, as well as the national stadium. The Islamic State group has claimed responsibility for the carnage.
Police had said before the raids that they were hunting for two fugitives suspected of taking part as well as any accomplices. That would bring the number of attackers to at least nine.
French authorities had previously said that at least eight people were directly involved in the bloodshed: seven who died in the attacks and one who got away and slipped across the border to Belgium.
However, there have been gaps in officials' public statements, which have never fully disclosed how many attackers took part in the deadly rampage.
On Tuesday, officials told The Associated Press they now believe at least one other attacker was involved and they were working to identify and track down that suspect.
SEE ALSO:
SUBSCRIBE TO & FOLLOW UK DAILY BRIEF