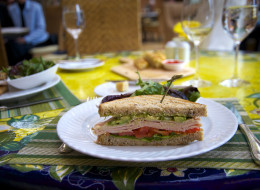 Fed up of turkey sandwiches on Boxing Day? Transform your Christmas dinner leftovers into a veritable feast with these tasty recipe ideas from food blogger, Jassy Davis.
From pear and Christmas pudding crumble to roast stuffing squashes, never was there a better reason to eat less on Christmas Day...
Stir-fry sliced red pepper, spring onions and shredded green cabbage for a couple of minutes, then add strips of skinless roast turkey with a teaspoon of Chinese 5 spice powder, a tablespoon or two of soy sauce and sweet chilli sauce and some cooked noodles. Stir-fry for a couple of minutes to heat through, then add fresh coriander leaves and a splash of toasted sesame oil to serve.

Beat together some eggs and stir in chopped, cooked Brussels sprouts, chopped, cooked ham and some grated Cheddar. Season and pour into a greased ovenproof dish. Bake at gas mark 4/180°C/fan oven 160°C for about 30 minutes or until set.

Sweat an onion, 1-2 garlic cloves and a chopped red chilli in butter over a low heat for 10 minutes or until soft. Add chopped, leftover roast root vegetables, such as potatoes, carrots, swede and parsnips, a teaspoon each of ground coriander and cumin, and enough hot vegetable stock to cover. Simmer for 5-10 minutes, then blitz in a blender or with a stick blender. Stir in a little cream or whole milk and season to serve.

Halve a butternut squash, scoop out the seeds, brush with olive oil and roast at gas mark 6/200°C/fan oven 180°C for 30 minutes. Scoop out most of the tender flesh, leaving a shell around the edge, mash and mix with leftover stuffing. Season and spoon back into the squash shells. Sprinkle with grated Parmesan and bake for a further 20-25 minutes.

Mix chopped Christmas pudding with peeled, cored and chopped pears, chopped pecans and a little sugar. Place in an ovenproof dish and top with a crumble mixture made from plain flour, butter, caster sugar and a pinch of ground ginger. Bake at gas mark 4/180°C/fan oven 160°C for 30 minutes or until golden and bubbling. Serve with brandy butter, custard or cream.
SEE ALSO:

Christmas Cooking Hacks: How To Make The Perfect Roast