Channel 4 show 'The Undateables' was an emotional affair on Monday night as a brave woman named Tammy met a lovely chap called Gary.
Tammy was diagnosed with meningococcal septicaemia two years ago, after she contracted severe blood poisoning following a meningitis infection. This caused part of her face to become disfigured.
The condition has previously knocked Tammy's confidence, but on the show, Gary admitted to feeling more concerned about his own appearance, rather than worrying about Tammy's.
He said: "I'm bald and I wear glasses and I've got a slightly odd-shaped head. Nobody's perfect. We seem to have a lot in common and it hasn't been an issue at all. It's been a pleasure."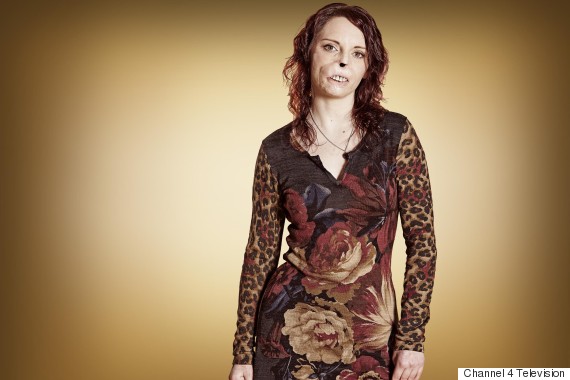 Tammy
Gary's comments left Tammy (and a lot of people on Twitter) feeling overcome with emotion.
So pleased for tammy. Made my tear up seeing her happy when she should be happy. Love seeing a happy outcome #undateables

— Gareth Wilson (@wogazza) January 4, 2016
What a great guy who's with Tammy, genuine, lovely, lovely guy.❤️❤️ She deserves happiness. #undateables

— *Natasha Williams* (@Natasha__Banks) January 4, 2016
Tammy on #undateables is amazing! I'm going to sleep feeling inspired by her! What a girl ⭐️

— Marie Blake (@RealMarieBlake) January 4, 2016
Me and the rest of the country are hoping this works out for Tammy! 😄 #undateables

— Miss Jones (@ItsMissJones) January 4, 2016
What a lovely bloke.. Making tammy feel at ease... 💗 gosh man I'm emosh 🙈🙈🙈 #TheUndateables

— •Cami• (@indiecoco) January 4, 2016
Tammy has previously spoken in defence of the Channel 4 show after it received criticism for being "exploitative".
"I find that notion insulting. What happened to me can happen to anyone," she said, according to The Mirror.
"I applied to be on Undateables because I was trying to hold on to as much of the old me as I could. I don't want to be alone for ever and I want to find someone who loves me for me. I am the same me whether I have 50 operations on my face or none."
Let's hope her and Gary both find love in the future.
SEE ALSO:

Meet The 'Undateables' Star Who Had Twitter Swooning

Man Asks Nightclub To Remove Incriminating Photo Of Him From Facebook, Hilarity Ensues
How To Master The Art Of Online Dating
Like it or not, age is the first thing Match.com users say they notice on a profile, followed by the "About Me" section.

If you're going on a date with someone you've never met before, keeping the venue simple is comforting. About 66 per cent of Canadian singles say they prefer to eat somewhere they've been in the past. Coffee spots are among the most convenient locations.

Dressing to impress your date will boost your own self-confidence. Many singles will buy new clothes or even get a haircut before a first date. If it makes you feel your best, why not?

To avoid awkward silences and prolonged phone checks, plan a few conversation topics. Take a look at their profile to find common interests or unique traits to ask questions about. (And also, leave your phone off the table. Always.)

You don't want to spend too much or too little on a first date. According to Match.com's survey, 34 per cent of people expect to spend between $40-60 on a meal. The bill itself should be paid by the person who initiated the date.

We know you love your French fries, but be kind and offer to share your food with your date. Sixty per cent of singles would share food with their date, reports Match.com. It's an intimate move that can help initiate a bond.

First dates can be scary. To calm their nerves, 70 per cent of singles said they had drinks -- but not too many. We'd suggest a maximum of two.

Don't blow your nose, don't chew with your mouth open or be rude to restaurant employees. And Stay. Off. That. Phone.

Be ready (if you're comfortable) for a kiss at the end of the first date. The vast majority of Canadian singles are open to kissing on a first date.

Also, 35 per cent of singles are willing to have sex on a first date. Communication is key here.

After the date, reach out within the next few days rather than playing the guessing game. Thirty per cent of Canadians surveyed by Match.com said they call within 2-3 days.

And speaking of phones, call, don't text or email. Despite all the technology available, almost sixty per cent of Canadians would like their date to follow up with a call.

Have an open, accepting mind. Everyone has flaws. Try to look past minor details on a first date. If you like the person overall, and had a good time on the date, give them another chance.

Landscape pictures, according to eHarmony's blog, are more likely to be clicked on than up-and-down or extremely close shots, likely because it gives people a better sense of the person's body, as well as their face.

Along with falling into that narrow "up and down" no-no, cropping someone out results in less communication, according to eHarmony. And besides, you really should have at least one good picture of you on your own somewhere.

Give the people what they want! And in this context, that means a variety of pictures, so that prospects can get a good sense of what you look like, what you're into and so on.

Though you don't want to get too close, you also don't want your picture to be taken from far away — that can seem as though you're hiding something about your appearance.

Real scientific research has gone into this one, so why not trust it? Apparently showing the left side of your face in pictures is more aesthetically pleasing, according to PsychCentral, and has the added bonus of showing more emotion.

Even if it's the most platonic of friendships, don't include a picture of yourself with a member of the opposite sex if you're looking for a heterosexual relationship. In general, keep pictures confined to shots of yourself.

According to eHarmony, some studies have shown that women prefer pictures of men who demonstrate pride — whereas the opposite is true for men when it comes to women.

That same study showed that men prefer women who demonstrate happiness in their profile pictures, assumedly because it's associated with femininity and nurturing, and are least attracted to women showing pride.

Taking a picture outside allows for the flattering effect of natural sunlight on skin, notes eHarmony. Just be careful to avoid squinting into the sun, and opt for a sideways glance instead.

As one eHarmony blogger pleads, even if you think it's a hilarious picture, don't put up a shot of your Halloween costume. Sure, you want someone who shares your sense of humour, but let them see what you look like first.

OkCupid found that, to their surprise, when women made a "flirty face" without smiling at the camera, it generated more new contacts in a month than any other expression. Flirting away from the camera, however, was the least favoured expression.

For men on OkCupid, the most favoured expression was an unsmiling face that looked away from the camera — possibly, they theorized, because it gave an air of mystery. Flirting away from the camera, however, was also still a big no-no.

The researchers seemed as surprised by this as us, but apparently, the selfie, duck face or MySpace photo was the biggest hit by OkCupid users in terms of context. Is it possible it is the most flattering angle?

As for men, the favoured context for a headshot was one featuring a guy with an animal, whether a pet or even one at the zoo. Though this may not apply to everyone, as it was followed closely by ...

The second most popular context for men on OkCupid was showing off muscles — though the researchers are quick to point out that (a) obviously it's only guys who have them who would show them off, and (b) this becomes less attractive to women the older the guys are.

This isn't necessarily a surprising finding, but men really do prefer profiles of women who show cleavage. The interesting point? Unlike the muscle men, as women get older, if they show cleavage, they're more likely to be messaged.

OkCupid found that as far as a picture leading to a conversation goes, the most likely ones start with a shot of someone doing something interesting. And it's not hard to figure out why — it gives the messager an easy opening.

Is it because you seem young when you feature booze in your profile picture or that you don't have any other interests? The research didn't specify, but drinking in your shot was the least likely picture to generate an actual conversation.