By now you are probably au fait with the many health benefits of green tea - it has been linked to cutting the risk of stroke, heart disease and diabetes.
So we thought it was about time we got clued up on matcha - the finely ground powder made of whole, high-grade green tea leaves.
One glass of matcha is thought to contain as many antioxidants as 10 glasses of regular green tea, so it must be pretty good, right?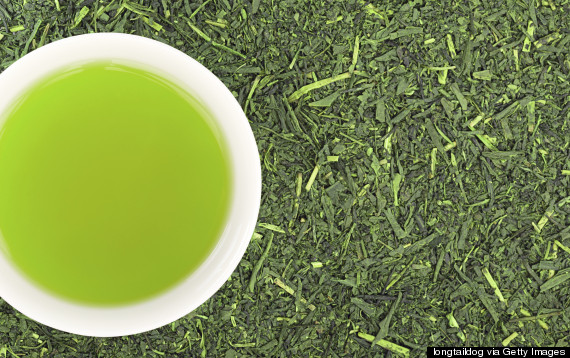 What Is Matcha?
Matcha has been consumed for over a millennium in the Far East, and is now considered to be one of the most powerful superfoods on the market.
"A long standing tradition of Japanese culture, matcha green tea is the highest quality powdered green tea available," explains Tipper Lewis, head herbalist at Neal's Yard Remedies.
"Made from the nutrient-rich young leaves picked from the tips of shade-grown Camellia sinensis plants, matcha green tea is steamed, stemmed, and de-vined before being stone-ground into very fine powder.
"Matcha powder is then stored away from light and oxygen in order to preserve its brilliant green colour and antioxidant properties."
SEE ALSO:

What Are Goji Berries?: Health Benefits, Tips And Recipes
Health Benefits
Think of matcha as "green tea on steroids", the superfood is not only high in antioxidants but its contains almost three times as much caffeine as regular green tea.
While all green tea naturally contains caffeine, the energy boost received from matcha is largely due to its unique combination of other nutrients.
According to Lewis, the increased endurance from a bowl of matcha can last up to six hours and because of the effects of L-Theanine, matcha drinkers experience none of the usual side-effects of stimulants such as nervousness and hypertension. It's good, clean energy.
Matcha also helps to safely cleanse the body of harmful elements, and Lewis adds that the chlorophyll that gives green tea and other plants their signature verdant colour is also a powerful detoxifier, helping to eliminate both chemicals and heavy metals from the body.
"And because matcha is carefully shade-grown, it is substantially richer in chlorophyll than other green teas, making it a superior daily detox."
Matcha green tea is also believed to help boost metabolism, but nutritionist and health editor at About.com Rachel Berman warns against seeing matcha as a miracle weight loss aid.
"Research shows that compounds in green tea, most notably the catechin Epigallocatechin gallate (ECGC), may boost metabolism. However, on its own, remember that one food or drink will not work to keep you healthy or maintain your weight."
How To Use Matcha
Lewis suggests adding ½ teaspoon to your chosen drink - fruit juice, hot/cold water or milk.
Or if you're feeling a little more adventurous, check out the recipes in the slideshow below.
Get the Matcha Tiramisu recipe by Oh, How Civilized

Get the Matcha Yogurt Breakfast Bowl recipe by Food To Glow

Get the Matcha Coconut Latte recipe by Love & Lemons

Get the Matcha Mochi Cupcakes recipe by Tiny Urban Kitchen

Get the Matcha Mochi Yogurt Pops recipe by my name is yeh

Get the Matcha Pancakes recipe by Diane, A Broad

Get the Rich Little Brownies With Matcha Glaze recipe by my name is yeh

Get the Mango Green Tea Pops recipe by Minimalist Baker

Get the Matcha Smoothie With 'Cream Top' Almond Milk recipe from Food52

Get the Matcha Shortbread Cookies recipe by Two Red Bowls

Get the Matcha Green Tea Chia Pudding recipe by Choosing Raw

Get the Matcha Ice Cream With Yuzu Citrus recipe from Food52

Get the Keroppi Matcha Macaron recipe by Bento, Monsters

Get the Green Tea Souffle recipe by Just One Cookbook

Get the Matcha Truffles recipe by Oh, How Civilized
30 Superfoods To Try In 2015
Health benefits: Good for the heart, thanks to omega-3 essential fatty acids and lignans, as well as colon-cleansing fibre (of which it contains soluble and insoluble types), according to WebMD. How to eat them: On top of cereal, in yogurt.

Health benefits: Broccoli contains three nutrients that help neutralize toxins in the body, according to Chatelaine. Broccoli contains sulforaphane, which has been shown to help fight cancer and diabetes, among other issues, says PreventDisease.com. How to eat it: Preferably raw, like in a broccoli slaw.

Health benefits: Consuming broccoli sprouts was found to help the body excrete pollutants, according to NPR. And per a 2009 study quoted on WebMD, broccoli sprouts can help protect the stomach from Helicobacter pylori (H. pylori), a germ that could lead to ulcers, gastritis or stomach cancer. How to eat them: Add some salt to eat them as a snack, or throw them in a stir-fry.

Health benefits: Parsley boasts plenty of beta-carotene and vitamins A, C and K to help protect your kidneys and bladder, two key organs in detoxification. How to eat it: In a smoothie or as a tea.

Health benefits: Beets help support good gallbladder and liver health. And they're full of vitamins B3, B6, C and beta-carotene, and are also a valuable source of iron, magnesium, zinc and calcium. How to eat them: Pickled, roasted, even juiced.

Health benefits: EverydayHealth.com reports one Brazil nut contains an entire day's worth of selenium, which helps break down toxins in the liver and can help fight off bone, prostate or breast cancer. Even though it is identified as a nut, this superfood is actually a seed. How to eat them: They can be enjoyed raw or roasted, but be careful not to overindulge, as eating too many Brazil nuts can result in selenium toxicity.

Health benefits: Another fibre powerhouse, hemp seeds contain every essential amino acid you'll need to make it through the day, reports Shape Magazine. There are several other benefits, too, as they're rich in omega-3 fatty acids, which help protect cell walls against toxins. How to eat them: Try them raw, salted or toss them on your salads or pasta.

Health benefits: Lemongrass is antiseptic properties and can help lower cholesterol, relieve fevers and improve or regulate one's blood sugar, according to SF Gate. How to eat it: Its tangy flavour can be minced into soups, curries or boiled into tea.

Health benefits: The antioxidants in cocoa can help reduce memory loss, and lower the risk of heart attacks or cardiovascular disease. It's also an excellent anti-inflammatory powder. How to eat them: It can be baked into just about any dessert or drink, but why not add it into a brownie to improve your health and satisfy your chocolate fix?

Health benefits: Citrus peels, specifically lime peels, are full of calcium, and Chatelaine magazine reports they can help reduce several different signs of aging. They can also help lower cholesterol, and improve the appearance of your skin. How to eat them: Try adding them to a lentil soup, a spring salad, or even a cocktail.

Health benefits: Last year, the Huffington Post Canada listed 11 healthy reasons to add more garlic to your diet, with one of the benefits being to boost your body's immune system and heart health. Click here for the full list. How to eat them: Crush it, mince it, slice it and dice it into your meats, sandwiches, salads, and soups. It's a handy (and fragrant) all-around seasoning, and helps repel vampires.

Health benefits: Cilantro is a natural cleansing agent, which makes it an excellent source for Vitamin K. According to LiveStrong.com, this helps form strong bones and prevent blood clots. How to eat them: Sprinkle cilantro on a salad or soup, it is best enjoyed as a garnish.

Health benefits: Dandelion greens are effective herbs that assist your digestive system, and promote regular bladder and bowel movements. WebMD says they also relieve stomach cramping, gas and muscle aches. How to eat them: Mix them into your salad greens, or add the powdered root into your soup or tea.

Health benefits: Green tea is chock-full of antioxidants, which support cleansing by fighting damage caused by free radicals in our bodies. It's anti-inflammatory and can help speed up your metabolism and boost your brain cell production, while simultaneously soothing the body. How to eat it: Sip it hot, cold or enjoy it in its many other powdered forms, like green tea ice cream.

Health benefits: Another cruciferous veggie with cleansing benefits similar to broccoli, cauliflower is rich in vitamins and minerals, and boosts the body's supply of Vitamin K. How to eat them: Munch on some raw cauliflower, or boil it to add it to your favourite pasta, chicken or fish dishes.

Health benefits: It's well known that this leafy veg is packed full of colon-friendly fibre, but did you know kale contains more Vitamin C than an orange? Shape Magazine says this means that one cup of chopped kale contains 134 per cent of the daily Vitamin C requirement, and can help improve your cardiovascular health. How to eat them: Have you ever tried kale chips? Kale can be baked (and salted), or enjoyed in stews, sauteed, or raw in salads.

Health benefits: Full of medium-chain fatty acids, olive or coconut oil may be high in calories, but remains a great source of lauric acid, or healthy cholesterol. For cleansing, try oil-pulling with coconut or olive oil. It's also an excellent moisturizer for your skin. How to use it: See above for oil-pulling how-tos. Coconut oil makes for a great cooking aid, and also adds a dash of flavour to your favourite meals.

Health benefits: Apple Cider Vinegar is a Dr. Oz favourite, and can be used to balance your digestive system, remove dandruff or take care of foot odour. How to use it: Try mixing it into teas, soups or salad dressings.

Health benefits: Tumeric can help relieve liver ailments, fight off heart attacks and delay diabetes. How to eat them: Crushed tumeric root is fragrant, and is typically found in curries, soups, salad dressings or sauces.

Health benefits: Lemons (or lemon juice) can help hydrate your body, combat UTIs and relieve constipation. Here are the Huffington Post Canada's 12 reasons to start drinking lemon water. How to eat them: Squeeze some lemon juice into water, or add lemon slices to your favourite drinks. Alternatively, enjoy some lemon peels in salads or sauces. It's very refreshing.

Health benefits: Ginger doesn't just add more flavour to your favourite meals, but aids in the digestive process and also helps alleviate chest or sinus congestion, or stomach inflammation. However, according to LiveStrong.com, it should not be used as liberally by anyone with diabetes, gallstones or gallbladder disease. How to eat them: Use it as a seasoning or garnish in tea, soups, salads or drinks.

Health benefits: Artichokes can help cleanse your liver and prevent stomach ulcers, as per Chatelaine. How to eat them: Steam or boil raw artichokes and enjoy them as a side dish, in a salad or with a main course like chicken, fish or tofu. Alternatively, artichokes can also be candied and served as a dessert with beets.

Health benefits: Cabbage made Men's Health Magazine's list of the 10 Best Foods You Aren't Eating, and for good reason. The vegetable contains a chemical known as sulforaphane, which increases the amount of enzymes in your body that can fight off cancer. How to eat them: Boil it into a soup, or add it to variety of your favourite vegetable dishes or niche salads.

Health benefits: Watercress may be peppery, but its flavonoid antioxidants can help improve your eyesight and maintain cardiovascular health, reports The Guardian. How to eat them: Use watercress to enhance the flavour of your signature fish or chicken dishes, or to create a hearty broth.

Health benefits: Pineapple contains a high amount of sugar (16 grams per cup, but its high amount of Vitamin A helps to replenish the body's damaged cell count, and eyesight. How to eat them: Enjoy raw pineapple in slices, cubes or in a juice.

Health benefits: The Huffington Post has previously written about seaweed, dubbing it the "green superfood you're not eating," as it can help regulate the body's hormone levels of estrogen and estradiol while serving as an anti-inflammatory. How to eat them: Steam it, chop it raw or enjoy it with sauce or dressing in a salad.

Health benefits: An excellent source of chlorophyll, wheatgrass can improve digestive and colon health. LiveStrong.com also reports its replenishing qualities also result in its frequent use to treat irritable bowel syndrome, and acid reflux disease. How to eat them: In a smoothie, in a salad, or in a soup.

Health benefits: Chock-full of nutrients, asparagus is high in the detoxifying compound glutathione, which can help destroy carcinogens, according to Live Science. The vegetable is an excellent source of fibre, vitamins A, C, E and K and more, according to Eating Well Magazine. The vegetable also carries anti-aging qualities. How to eat it: Boil it, slice it and add the sauce of your choice to enjoy it as a delicious side or meal accompaniment.

Health benefits: Basil can help clear your skin, and this iron source contains phytochemicals that can help lower cortisol, a stress-related hormone. How to eat it: An excellent seasoning, use fresh or powdered basil in your kitchen creations, or add the leaves to tea.

Health benefits: Cinnamon can help lower your blood sugar and carries healthy antioxidants. Health.com writes cinnamon also enhances cognitive function and brain health, while increasing your attention span. How to eat them: Cinnamon can be enjoyed in its powder form to sweeten up desserts, hot beverages (lattes, anyone?) or as a seasoning for hearty foods like fish and chicken.