Police also seized documents and CDs during a search of the premises where the suspects were staying, Dogan News Agency said.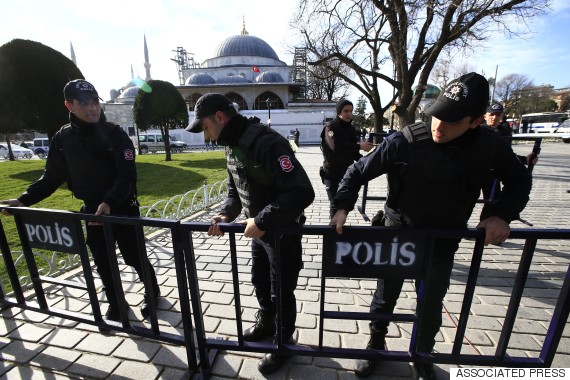 10 people were killed by the suicide bomber attack in Istanbul, Turkey, on Tuesday
A suicide bomber, believed to have travelled from Syria to the Turkish city, killed nine German tourists and one Peruvian on Tuesday.
Istanbul's historic Sultanahmet Square, a major tourist draw, was targeted at 10.30am local time. Fifteen people were also hurt in the attack.
The explosion, which could be heard from several neighbourhoods, was at a park that is home to a landmark obelisk, some 25 meters (yards) from the historic Blue Mosque.
No one is yet to claim responsibility for the attack, although Turkish officials have told reporters that ISIS militants are behind the attack.
Islamist, leftist and Kurdish militants, who are battling Ankara in southeast Turkey, have all carried out attacks in the past.
Speaking at a news conference in Berlin yesterday, German Chancellor Angela Merkel said: "Today Istanbul was hit; Paris has been hit, Tunisia has been hit, Ankara has been hit before.
"International terrorism is once again showing its cruel and inhuman face."
Prime Minister Ahmet Davutoglu said he offered his condolences to Merkel and vowed Turkey's fight against Islamic State - both at home and abroad in coalition with the US - would continue.
Turkey, which borders Syria, has become a target for ISIS. Two bombings last year were blamed on the radical Sunni Muslim group, in the town of Suruc near the Syrian border and in the capital Ankara, the latter killing more than 100 people.
No one is yet to claim responsibility for the attack, though Turkish officials have told reporters that Islamic State militants are behind the attack.
SEE ALSO:
SUBSCRIBE AND FOLLOW
Get top stories and blog posts emailed to me each day. Newsletters may offer personalized content or advertisements.
Learn more