'EastEnders' legend Barbara Windsor has opened up about her upcoming emotional exit from the soap.
MORE 'EASTENDERS':
In Friday night's episode, soap fans were stunned when Peggy Mitchell made an appearance completely out of the blue, to deliver the devastating news to her son, Phil Mitchell (Steve McFadden), that she was dying of cancer.
It has now been confirmed that the iconic former Walford resident's final scenes will air later this year, with Barbara explaining why she decided to bow out as Peggy, explaining she felt it was the right time to "shut the door" on the character.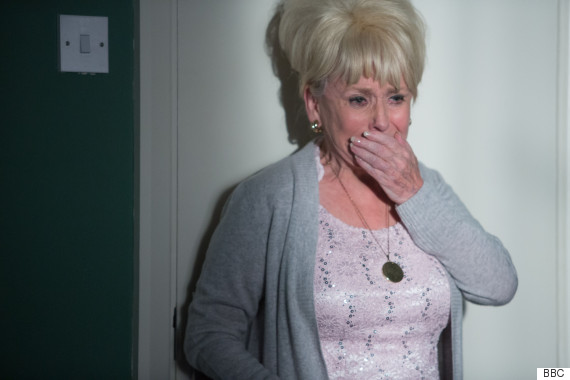 Barbara Windsor as Peggy Mitchell
She has explained: "Everyone knows I love 'EastEnders' and that will never change. Peggy is a character close to my heart but I made the decision a while ago that I need to say goodbye to Peggy once and for all as otherwise she will always be there, urging me to go back and that is something I need to shut the door on.
"After thinking long and hard about it, I realised that it is time for me and the audience to say our final farewells to the lady who I have loved for many years and I thought that whilst the guvnor [executive producer Dominic Treadwell-Collins], who I adore, is still in charge, I want him to be the one to oversee it.
"I am grateful that Dominic has accepted my decision and together, since late last summer, we have been secretly plotting Peggy's last scenes."
Her final scenes as Peggy will be aired in late spring 2016.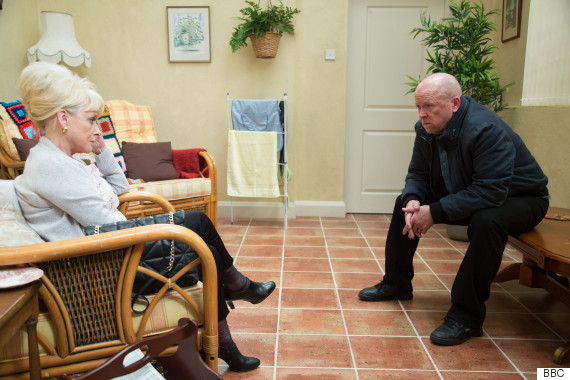 Peggy delivers the shocking news
Barbara's return to Albert Square had been kept secret from soap fans ahead of transmission, with the character being given a visit from her son, who learned she was back from abroad.
Producer Dominic Treadwell-Collins has also said: "In Peggy Mitchell, Barbara has created one of the greatest ever characters on British television, someone who has become as synonymous with 'EastEnders' as The Queen Vic itself.
"So this is the end of an 'EastEnders' era. But it is also an opportunity to send Peggy Mitchell out in style in what will be one of the most heartbreaking, uplifting and epic exits an 'EastEnders' character has ever had."
Since leaving the soap in 2010, Barbara has made several guest appearances in the soap, most recently last year, when she starred in scenes opposite new Queen Vic landlord, Mick Carter, played by Danny Dyer.
Away from the soap, Barbara was honoured with a damehood in the Queen's New Year's Honours List, at the tail-end of 2015, for her charity work.
'EastEnders': The Women Of Albert Square
Not a day goes by where we don't miss Pat and her wonderful, wonderful earrings.

"RICCCCCCKKKKKKAAAAAAAAAY!"

Living legend Barbara Windsor has made numerous visits to Albert Square since officially leaving. She'll be back for live week, and fingers crossed there'll be a chance for the Queen Vic's most memorable landlady to yell that line again: "Get outta ma pub!"

After years of bullying Angie, Den Watts finally met his match in Chrissie, who gave as good as she got. Until murdering him, obviously. Sadly, she coudn't plan a good enough getaway, and was stopped by police as she prepared to board a flight.

Janine terrorised everyone from Billy Mitchell and Ian Beale, to Alice Branning, during her time in Walford. After inheriting millions, Janine became even more infuriatingly smug, but karma hit back and when she finally fell for Michael Moon, things didn't end well.

She may be the newest of the bunch, but Kellie's character hasn't had it easy since moving into The Vic. While Linda has done her best to hold together the Carters, she's had a rough time, suffering a horrific assault at the hands of her brother-in-law, and acting as peacekeeper during the family's many feuds. Can she hold things together?

Pauline was the original 'EastEnders' matriach, and there wasn't a problem she couldn't fix. Sadly, actress Wendy died in 2009, following a battle with breast cancer.

Cora's dry sense of humour and witty putdowns manage to inspire giggles during even the most torturous scenes. As mother to Tanya and Rainie, she certainly has more than her fair shares of problems.

Where would we be without Dot's wise words? The laundrette worker has been on hand to offer advice to anyone who needs it, since the show first aired in 1985.

If she's good enough for ummm, Phil Mitchell, then she's good enough for us.

Kat's the only Slater sister who's stuck around following the family's 2000 arrival.

Jane is the longest-serving member of the cast, y'know. Bravo to Tracey for managing not to chip in during all those rows...