Mott The Hoople drummer Dale Griffin has died, at the age of 67.
The musician was a founding member of the group and Peter Purnell, from their record label Angel Air records has confirmed the sad news.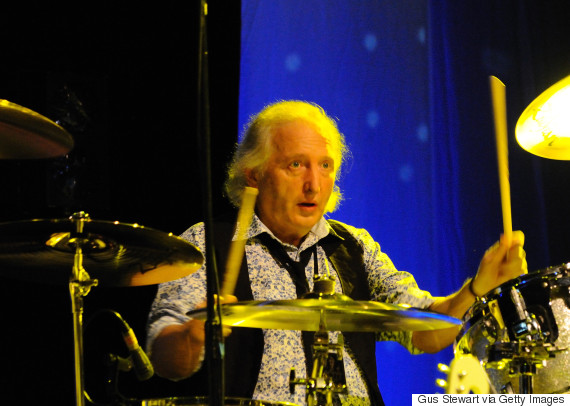 Dale performing in 2009
The BBC quotes him as describing Dale as "one of the nicest, friendly and talented men I have ever known."
"All he ever wanted was for his beloved Mott The Hoople to reform and it was his determination that achieved that very feat in 2009 but sadly by then he was too ill to perform at the five sold-out dates - though he did join the band for encores," he said.
He adds that Dale died in his sleep on Sunday night.
Mott The Hoople had a number of hits during their career and are well-known for the tracks 'Roll Away The Stone' and 'All The Young Dudes', which was written and produced by David Bowie.
The band originally formed in 1969, and made six studio albums together before disbanding in 1980 and later reuniting in 2009.

Dale is survived by his long-term partner Jean Smith.
Jackie, who sold more than 500 million novels in more than 40 countries in her four decades-long career as a writer in raunchy female fiction, died of breast cancer in September. She was 77 years old.

The 'Coronation Street' legend played Deirdre Barlow on the cobbles for over 40 years. She died in January at the age of 60.

The bestselling 'Discworld' author died in March at the age of 66.

Pop singer Lil' Chris - real name Christopher Hardman - died at the age of 24 in March. An inquest later revealed he had killed himself after battling depression.

Ventriloquist Keith Harris was best known for his double-act with Orville the Duck. He died of cancer, at the age of 67, in April.

The 'Blind Date' and 'Surprise Surprise' star passed away following a fall at her Spanish villa in August at the age of 72.

Actor Leonard Nimoy, who was best-known for his role as Mr. Spock in the 'Star Trek' franchise, died on Feb. 27, 2015. He was 83.

The veteran actor made his name in a long list of 'Hammer House of Horror' films, from which he will forever be celebrated for his role as Count Dracula. He passed away in June at London's Chelsea and Westminster Hospital aged 93.

Legendary blues star B.B. King died at the age of 89 in May.

Anne Meara, star of 'Sex And The City' and mother to Ben Stiller, died at the age of 85 in May.

A.J. Pero, the drummer for the heavy metal band Twisted Sister, died on March 20, 2015. He was 55.

Robert Lewis Burns Jr., the original drummer for rock band Lynyrd Skynyrd, died in a car accident on April 4, 2015. He was 64.

Richard Glatzer, who wrote and directed the film 'Still Alice' while battling ALS, died on March 10, 2015. He was 63

Nine-time Emmy winner Sam Simon, who wrote episodes of "Taxi," "Cheers" and "It's Garry Shandling's Show" before co-creating "The Simpsons," died on March 9. He was 59.

Legendary jazz musician Clark Terry, who mentored Miles Davis and Quincy Jones and played in the orchestras of both Count Basie and Duke Ellington and on "The Tonight Show," died on Feb. 21, 2015. He was 94.

Singer-songwriter Lesley Gore, who topped the charts in 1963 at age 16 with her epic song of teenage angst, "It's My Party," and followed it up with the hits "Judy's Turn to Cry," and the feminist anthem "You Don't Own Me," died on Feb. 16, 2015. She was 68.

Actress Geraldine McEwan, known for playing Agatha Christie sleuth Miss Marple on television, died on Jan. 30, 2015 at age 82.

Pioneering radio and TV host Joe Franklin, who gave breaks to the likes of Al Pacino and Bill Cosby on his variety show long before they became famous and who boasted he never missed a broadcast in decades, died on Jan. 24, 2015 at age 88.

Taylor Negron, a comedian and actor who described his style as "California Gothic" and who brought a funereal, straight-faced sensibility to a career's worth of character roles in cult comedies like "Fast Times at Ridgemont High" and "One Crazy Summer," died on Jan. 10, 2015. He was 57.

Samuel Goldwyn Jr., the son of a fiercely independent-minded Hollywood mogul and the producer of many independent films in his own right including "Mystic Pizza" and studio hits including "Master and Commander," died on Jan. 9, 2015 . He was 88.

Andrae Crouch, a Grammy Award-winning gospel performer, songwriter and choir director, died on Jan. 8, 2015. He was 72.

Actress Donna Douglas, who played the buxom tomboy Elly May Clampett on the hit 1960s sitcom "The Beverly Hillbillies," died on Jan. 1, 2015. She was 82.

Little Jimmy Dickens, a diminutive singer-songwriter known for his sense of humor and as the oldest cast member of the Grand Ole Opry, died on Jan. 2, 2015. He was 94.

Ron Moody, famous for playing Fagin in the musical version of 'Oliver!', died in June aged 91. The sprightly British stage and screen veteran found worldwide acclaim when he instructed all his young street urchins how to 'pick a pocket or two' in 1968, and was Oscar-nominated for his role in the hit film in 1968, when he starred alongside Mark Lester, Harry Secombe, Jack Wild, Leonard Rossiter and Shani Wallis.

The two-time Oscar-winning film composer was killed in a plane crash when the aircraft he was piloting came down in Santa Barbara, California. He was 61.

The famed horror film director of 'Nightmare On Elm Street' fame passed away age at 76 in August. He was battling brain cancer at the time.

The 'Lawrence of Arabia' actor died on July 10 at the age of 83. He suffered a heart attack after being diagnosed with Alzheimer's disease earlier this year.

Bobbi Kristina, the daughter of Whitney Houston and Bobby Brown passed away on July 26. She was 22. Her death came nearly six months after she was found unconscious in her bathtub in her Roswell, Georgia home.

The actor, who played Sheriff Rosco P Coltrane in the US TV show 'Dukes Of Hazzard', died in a hospice in Hickory, North Carolina after a brief illness and battle with pneumonia. He was 88.

The legendary R&B singer, best known for his 1966 hit 'When a Man Loves a Woman' died at his Baton Rouge, Louisiana home after a long battle with cancer in April. He was 73.

The Hot Chocolate singer died in his home in The Bahamas after losing his battle to liver cancer at the age of 71. His hits included 'So You Win Again' and 'You Sexy Thing'.

The Motörhead frontman died on 29 December, just three days after being diagnosed with an aggressive form of cancer. He was 70.

'The Only Way Is Essex' star died at the age of 80 following a short illness just a week before Christmas.

The Specials' drummer John Bradbury died at the age of 62 at the end of December. The sad news was shared via the band's Twitter account, with a simple post that read: "It is with deep regret that we say goodbye to our great friend, the world's greatest drummer, our beloved Brad. RIP."