Much like smear tests, when women reach a certain age, mammograms become a regular part of their life.
But for someone who has never been for a breast screening before, the lead up to the examination can be a fraught time - and the fear of not knowing what happens might even be enough to put some women off.
To help put your mind at ease, Sue Oliver, Nuffield Health's head of mammography and laser safety, has explained the entire process and answered all of your burning questions including whether it hurts and how long the screening lasts.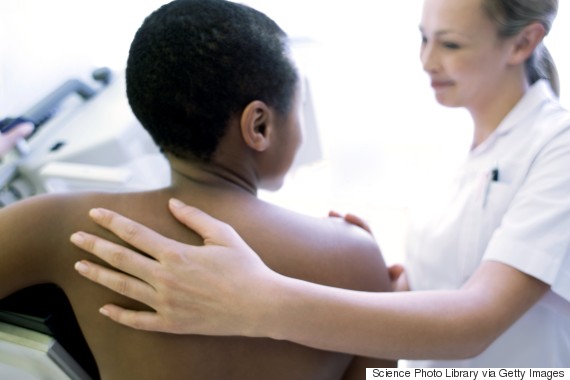 The NHS breast screening programme uses breast X-rays (mammograms) to screen all women in the UK aged 50 to 70 who are registered with a GP. They are sent an invitation to go for screening every 3 years.
Mammograms are often associated with breast cancer diagnosis, but they can also be used to detect and diagnose breast disease, a benign condition in which a woman has painful lumps in her breasts.
Oliver told HuffPost UK Lifestyle that most women, and even some men, will have many mammograms during their lifetime.
"Over time, people get more comfortable with breast screening, but your first one may invoke embarrassment, anxiety or even fear," she explained.
"Like so many medical investigations, mammography pushes the boundaries of what many people are comfortable with. But the reality is likely to be far less confronting than you might imagine."
Will I have to take my bra off?
"You will have to allow your breasts to be seen and even handled by a relative stranger. Take comfort from the fact that your mammographer is a professional, here to help and always female," explained Oliver.
Undressing to the waist is an essential step to getting a clear scan.
Any material other than breast tissue in the scan would obscure details and render the image useless.
"The mammographer will help position your breast correctly on the plate. This is essential to get the best quality image to help diagnose any issues," she added.
Will I be exposed to dangerous radiation?
Mammograms use X-rays to take detailed images of the breast tissue, which exposes the patient to a very low dose of radiation.
"Every exposure to radiation comes with a small risk, but it is much lower than the risk of not having the exam," explained Oliver.
"In a mammogram, the dose is roughly equal to the amount you'd be exposed to on a return flight from the UK to Australia - a journey many happily take with little concern about radiation."
SEE ALSO:

Graphic Images: Brutal Reality Of Breast Cancer Shown In Woman's Post-Radiation Therapy Photos
Will it hurt?
To get a clear scan, each breast needs to be held in place between two plates.
"The grip needs to be firm so there is no blurring of the image through movement," explained Oliver. "It may be uncomfortable and very rarely it may be painful."
She advised that if you do experience discomfort or pain, you should tell your mammographer right away and they'll do what they can to make you more comfortable.
What does the scan entail?
During a mammogram, each breast needs to be scanned twice, once from top to bottom and again from side to side.
"Each scan takes about one minute," said Oliver. "Once the scan is taken, the compression will automatically release and you'll be free to move away from the machine."
What happens next?
"Most women who come for a screening don't have cancer. Around 96 in every 100 women tested will get a normal result," explained Oliver.
"About four women will require extra tests but three of them will be given the all-clear. So chances are, even if something is discovered in the exam, it's not breast cancer after all."
She added: "Being aware of your own breasts and self-checking regularly is still the best defence against breast cancer.
"It can be a shock to discover a lump and it's natural for your mind to turn immediately to cancer.
"Any discovery should prompt a visit to your GP, but jumping to conclusions will only cause unnecessary concern."
Breast Cancer Signs And Treatment
"A new painless, firm breast lump with irregular margins is a potential symptom of breast cancer," says Dr. Sandhya Pruthi, a breast cancer researcher at the Mayo Clinic. "The cancer diagnosis is confirmed following a biopsy of the lump." She notes that usually, women who are newly diagnosed with breast cancer are healthy and don't feel sick at all.

Another potential symptom/sign of breast cancer, Pruthi notes, is a new onset of persistent redness on the skin overtop the breast with an orange peel appearance. This would also need a biopsy to confirm a diagnosis of breast cancer.

"If the cancer is very advanced (metastatic) then the symptoms may also include weight loss, bone pain, headaches, nausea and persistent cough," Pruthi says.

Some commonly associated risk factors, Pruthi says, are menstruation before age 11, menstruation after age 54, a first pregnancy after age 35 and a family history of relatives diagnosed with breast or ovarian cancer.

"There is evidence in the literature that obesity after menopause, lack of regular exercise, consuming greater than more or more alcoholic beverages daily, and a high fat diet can all be associated with a higher breast cancer risk," Pruthi notes. But, she points out, "women need to know that any woman can get breast cancer even in the absence of any of these risk factors."

There are no specific types of diets, Pruthi says, but rather women are encouraged to eat fruits, vegetables, fibre, and minimize their alcohol and fat intake, as well as get regular exercise.

"The most current treatment of breast cancer has taken on a individualized approach and is dependent on the biology or aggressive features of the breast cancer," Pruthi explains. "Breast cancer is a heterogeneous disease and this means that are many sub-types and different degrees of aggressiveness. So staging, which typically takes into account common prognostic features such as tumour size and if lymph nodes are involved, are no longer the only factors doctors use to determine treatment options."

"Today the biology of the tumour is also characterized by molecular markers (also known as predictive markers) such as if the estrogen or progesterone receptor is positive or negative and if the HER 2 protein is positive or negative," she says. "This helps decide who will benefit from a specific chemotherapy regimen, hormonal medications known as antiestrogens or who may need both chemotherapy and hormonal treatment."

"Preventive mastectomy is an option for women at very high risk for developing breast cancer because they are BRCA 1 or 2 gene positive or if someone has hereditary predisposition to getting breast cancer but chooses not to have the genetic testing done," Pruthi says. "It is prudent that women who are considering this surgery know their family history in detail. Based on the moderate or strong family history, your doctor would recommend you meet with a genetic counselor to go over the family pedigree and help decide who should test for the breast cancer gene, when to test and how to interpret the genetic test results before proceeding with this preventive surgery."

"High risk women who have had precancerous breast biopsies or strong family history may also be eligible to take preventive medications such as tamoxifen, raloxifene or exemestane to reduce breast cancer risk," Pruthi adds.