Travel firms should take "more responsibility" for ensuring that customers know whether holiday destinations are safe for the LGBT community, a leading campaign group has said.
Stonewall said that tour operators should make sure that holidaymakers have as much information as possible before booking a trip abroad.
The LGBT group's comments come after holiday company Kuoni announced it has recruited 10 LGBT experts to give advice on the tolerance levels and cultural attitudes of destinations following a spike in bookings for same-sex honeymoons.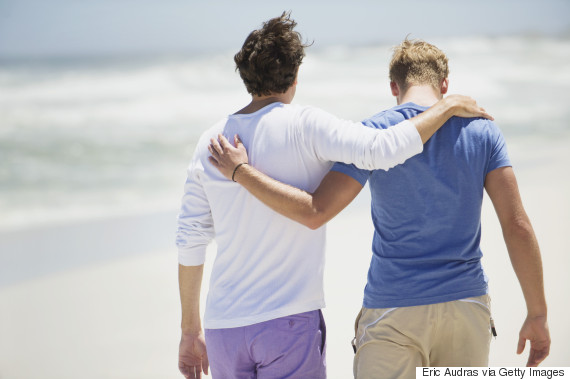 Stonewall has urged travel firms to help LGBT tourists 'travel safely'
Vicky Constance of Stonewall said: "We are really pleased to see travel companies like Kuoni take clear steps to recognise and act upon the needs of their diverse customer base.
"LGBT customers have an equal right to travel safely and enjoy their holiday, and we would welcome further action from the travel industry to take more responsibility in communicating these key messages to their staff and customers."
Kuoni has seen a 76% rise in same-sex honeymoons since March 2014 when gay and lesbian weddings became legal in England and Wales, the Press Association reports.
Previously couples of the same gender could only form civil partnerships, which were introduced in December 2005.
Mark Duguid of Kuoni said: "There is a difference between exploring a sought-after destination where some discretion is required and a progressive destination where LGBT travellers are truly welcome.
"Increasingly parts of the world are embracing LGBT rights so the situation is evolving."
SEE ALSO:
Also on the Huffington Post UK:
Reasons Why It Wasnt The Year For LGBT Rights
When Vladimir Putin signed the ban on "gay propaganda" into law on June 30, 2013, it was only a glimpse of what was to come. The law criminalised LGBT-friendly public acts and demonstrations, which in turn set off a firestorm of events including arrests, international protests, boycotts, and outrage from public figures and celebrities alike. Which brings us to 2015. With the "gay propaganda" law still in place many events have occurred within the year and without the media attention of the Sochi Olympics, many activists have been left to fight the battles alone. In July, Putin's party unveiled a "straight flag" which one of its politicians described as "Our answer to same sex marriages, this mockery of the very concept of family. We must prevent gay fever in our country and support traditional values." By November it became clear that a law could be passed in the state that would make the act of coming out illegal. The proposal was made in an attempt to expand upon the 2013 propaganda ban. Two elected officials made the announcement that they are seeking to criminalise the act of coming out. The proposed amendment to the Russian Administrative Code would make "public expression of non-traditional sexual relations" a violation punishable by a fine. But the the penalty is more severe--up to 15 days in jail--if the "offence" takes place in an educational or governmental setting. The future for LGBT in Russia is uncertain, and there has been small victories. In March the Dzerzhinsky District Court of Nizhny Tagil overturned the January 23rd conviction of an activist, Elena Klimova, for "promotion of homosexuality," in what could be described as a landmark ruling. A spokesperson from Russian LGBT Network told the Huffington Post UK about the feeling on the ground in Russia in 2015. "Right now, the situation with LGBT rights in Russia is quite complicated. The consequences of the so-called "propaganda law" itself are numerous. "One the one hand, now everyone in Russia know who are gays and lesbians - before we had to explain just the fact that we exist. We got a lot of new allies and supporters. On the other hand, the hate crimes against LGBT became numerous. "Moreover, now the perpetuators know that the state supports them. In mass media, LGBT portrayed almost exclusively as perverts, sick people or "agents of West." "Indeed, the Olympic Games attended a load of attention to the violation of LGBT rights in Russia worldwide, but unfortunately, it had very small impact on the situation in the country,".

Arguably the biggest LGBT crime of our time is happening under the brutal rule of the so-called Islamic State. Notorious for their gruesome methods of killing, Islamic State, also known as Isis, Isil and Daesh, reserves one of its most brutal for suspected homosexuals. Videos it has released have shown masked militants dangling men over the edge of buildings by their legs to drop them head-first or tossing them over the edge. At least 36 men in Syria and Iraq have been killed by IS militants on charges of sodomy, according to the New York-based OutRight Action International. Gays often fear they could be turned over to the militants by friends or family because of the stigma against homosexuality. Islamic State's own announcements are the main source of information, but the group often does not name the victims, perhaps in deference to their families, who could lash out in anger at having their names publicly linked to homosexuals.

Here is Saudi Arabia's Foreign Minister Prince Saud al-Faisal (R) holding a joint press conference with his German counterpart Guido Westerwelle. Westerwelle, Europe's first openly gay top diplomat, said human rights issues were fully aired during a visit to Saudi Arabia. Prince Saud told the same news conference that during their discussion, he had made it clear to Westerwelle that regional, cultural and religious traditions must be respected. Fast forward five years later and the country's stance on LGBT rights has not changed. In September the country insisted that the UN remove its gay rights from the organisation's Global Goals, saying it is "counter to Islamic law". Homosexuality is illegal under Sharia law in Saudi Arabia and punishments for those engaging in same-sex relationships include execution, chemical castration and imprisonment.

In 2014, a tough anti-gay law was reintroduced by Uganda's President Yoweri Museveni, threatening anyone convicted of homosexuality with a life sentence, and banning the promotion of gay rights. Two years prior the country had gained international notoriety when the original version of the anti-gay bill came to light, involving references to a severe death penalty for "numerous offenses". In September this year Ugandan President Yoweri Museveni said he would not pursue further anti-gay legislation in the country, because of the country's existing laws that punish gays. "That law was not necessary, because we already have a law which was left by the British which deals with this issue," Museveni told reporters. Uganda's existing homophobic legislation already punishes gay sex with up to life imprisonment under a colonial-era anti-sodomy law, and same-sex marriage is also banned as part of the country's constitution. In addition to the laws, most recently the country has passed a bill that allows repression of activist groups. The Ugandan parliament unanimously passed the legislation on 26 November that would give the government broad powers to disband any nongovernmental organization that it considered contrary to the public interest or "contrary to the dignity of the people of Uganda." Leaders of any organisation operating without government approval could be imprisoned for up to eight years, according to the original text of the bill. The specific language of the bill, as passed, was not immediately available, but its original text was condemned by a wide range of organisations, including groups seeking recognition of the human rights of LGBT Ugandans.

When beleaguered former prime minister Tony Abbott refused to advocate marriage equality he might not have realised just how popular such a measure would be. Just months before he was ousted as leader, a poll showed a record 70% of Australians and many senior figures in his cabinet supported the move towards marriage equality. In August he acknowledged it was "OK to be gay" while still advocating "the traditional position that marriage is between a man and a woman". The major competitor in resistance against same sex marriage has been the Australian Christian Lobby (ACL) - a grass roots movement of people who want to inject Christian ethics into national politics. Managing director of the lobby Lyle Shelton, claims that the views of traditional marriage supporters have been drowned out by gay lobbyists and the media. The Australian struggle for LGBT rights hit an important point at 2008, when 84 laws were amended that discriminated against same-sex couples. The future of its progress could be held back by such lobbyists, and by conservative powers.

Meanwhile in the UK - although death sentences and chemical castrations are not in the picture for LGBT people, there are still advancements to be made. Long since the days of Section 28, an act that banned local authorities from "promoting" homosexuality or gay "pretended family relationships", some activists are still calling for changes. In December a protest was held at the BBC Sports Personality of the Year awards taking place at the SSE Arena in Belfast. Grassroots LGBT activists protested in opposition to the addition of Heavyweight champion Tyson Fury to the short list of BBC Sports Personality of the Year 2015 following his comments regarding homosexuality. Elsewhere in Northern Ireland the fight for same-sex marriage rages on. Pressure is mounting after its southern state passed a referendum for the act earlier this year. Not just a fight for LGB issues, Transgender rights are coming to the forefront of debate in Britain. The right for transgender prisoners to be held in the correct gender prison to which they define is one of the talking points. This comes after a number of female inmates took their lives when they were moved to male prisons this year. Statistics exclusive to the Huffington Post UK revealed that 62% of trans people have experienced transphobic harassment from strangers in public places, and 81% have had to avoid public situations out of fear.