Comedian Romesh Ranganathan has criticised politicians for "scaremongering" and "cultivating a mistrust in immigrants" as they fight over whether the UK should leave the European Union.
Appearing on the BBC's Question Time, the funnyman cooly accused both those campaigning to leave and stay in the EU in the upcoming in-out referendum of failing to provide "proper economic arguments".
Instead, debate had been reduced to suggesting "oh Kent's going to look a bit dodgy".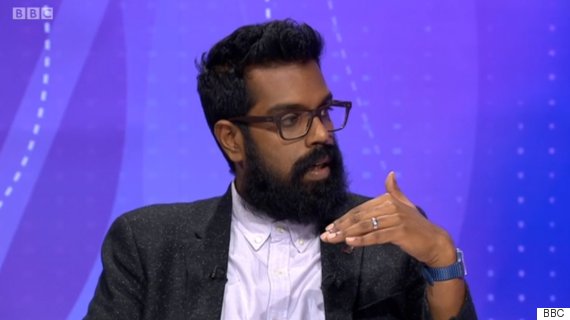 Romesh Ranganathan: "Ukip accused David Cameron of scaremongering - and that's their territory."
And faced with Nigel Farage on the panel, he took apart the UKIP leader - a key player calling to leave - for suggesting that without quitting the EU then Britain would be more vulnerable to terrorist attacks.
But he also turn his measured fury on David Cameron, who wants the UK to remain in the union if he can claw back power from Brussels, for being just as guilty of propagating fear.
This week, the Prime Minister suggested the "Jungle" refugee camp in Calais may have to shift across the channel to Calais under "Brexit" - even though the deal with France has nothing to do with EU membership.
And on Wednesday, Nigel Farage claimed the Cologne sex attacks were a "bloody powerful" argument for leaving the EU.
Ranganathan made the point that "all of the sides in this argument seem to be using scaremongering tactics".
He said: "Mr Farage said we need to get control of our borders because if we don't there'll be an increase in terrorism. That's exactly the kind of scaremongering that worries me. Those kinds of sentiments I find frightening.
"Look at the terrorist atrocities that happened in England - the 7/7 bombers, three of four of those were British-born. The people who murdered Lee Rigby - both of those were British-born.
"You're looking at a situation here where people are cultivating a feeling of distrust of immigrants and immigration, and ignoring what they've contributed to the UK in order to create this sense of fear that we don't want immigration to happen."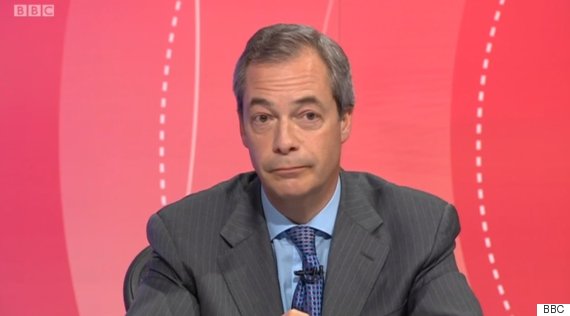 "'Brexit' is the only way we can control immigration," said Nigel Farage
Ranganathan continued: "It's not just (the leave campaign). David Cameron is guilty of it as well. I saw a speech where (addressing Tory Welsh Secretary Stephen Crabb, who was also on the panel) said the fear factor shouldn't come into it. But David Cameron made unacceptable comments about this 'jungle' moving from Calais to the south coast, should we go ahead with exiting Europe. It is absolutely ridiculous. I want to hear proper economic arguments. I don't want to hear 'oh Kent's going to look a bit dodgy' if this happens.
"If that's not scaremongering I don't know what is. In fact, Ukip accused David Cameron of scaremongering - and that's their territory."
In response, Farage said there were "pros and cons" of immigration, but that "public services cannot cope with a British population rising by half a million people a year".
"'Brexit' is the only way we can control immigration," he said, renewing his call for an Australian-style points system to curb "uncontrolled immigration".
Best Question Time Interjections
SUBSCRIBE AND FOLLOW
Get top stories and blog posts emailed to me each day. Newsletters may offer personalized content or advertisements.
Learn more