'Are You Being Served?' is set to be rebooted, with a remake of the classic sitcom to air on BBC One later this year.
The hit comedy series, which is set in a department store, will be brought back with a new cast to celebrate 60 years of comedy at the BBC.
However, it is seemingly just for a one-off special, rather than a full series.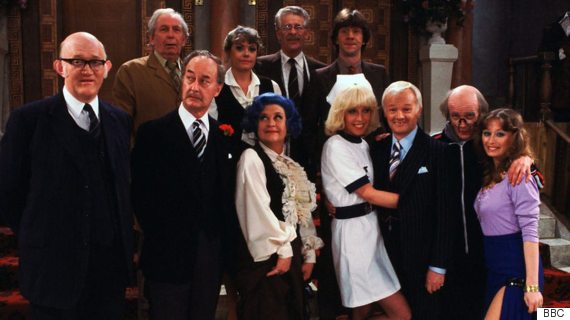 The original cast of 'Are You Being Served?'
Iconic characters such as Mrs Slocombe and Mr Humphries will all feature in the remake, despite only four of the show's original cast still being alive.
A statement released by the BBC read: "Picking up where Jeremy Lloyd and David Croft's much loved comedy left off, the show will bring Grace Brothers and some of the nation's all-time favourite sitcom characters including Mrs Slocombe, Captain Peacock, Miss Brahms, and Mr Humphries back to life with an all star cast."
Filming of the special takes place in Salford, Manchester on 5 March.
'Are You Being Served?' focused on the staff working at the Grace Brothers store, and starred the likes of Mollie Sugden, John Inman, Nicholas Smith, and Wendy Richard.
The original series ran for a total 69 episodes between 1972 and 1985 on BBC One.
The BBC has previously announced plans to remake other classic sitcoms, including 'Porridge', 'The Good Life' and 'Keeping Up Appearances'.
Watch a classic episode of 'Are You Being Served?' below...
SUBSCRIBE TO & FOLLOW UK ENTERTAINMENT