Young Minds Matter is a new series to lead the conversation with children about mental and emotional health, so youngsters feel loved, valued and listened to. Launched with Her Royal Highness, The Duchess of Cambridge, as guest editor, we will discuss problems, causes and most importantly solutions to the stigma surrounding the UK's mental health crisis among children.
"I felt like there was something actually telling me, I'm not worth it, I'm not good enough," Sai tells the Huffington Post UK.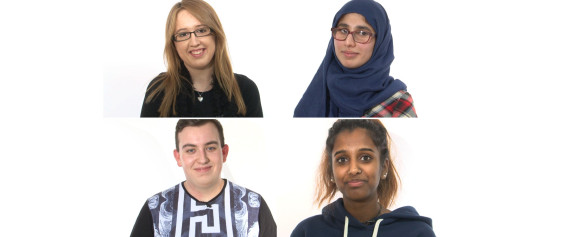 From the top left: Rebecca, Aaliyah, Jack and Sai
She was diagnosed with anorexia and depression at age 10, forcing her into intensive care a year later.
Helped by YoungMinds, a charity that focuses on children and young people's wellbeing and mental health, the 17-year-old student has come a long way, sharing her story with others to help empower those who may be facing the same battles.
YoungMinds has helped a number of teenagers who have overcome difficult experiences.
Aaliyah, 18, was diagnosed with anxiety disorder at the age of seven.
More From Young Minds Matter:
The Duchess of Cambridge: Let's Make a Real Difference for an Entire Generation of Young Children

Early Intervention Can Change Lives, Just Ask Adults With Mental Health Issues

Stranger On The Bridge: What The Man Behind #FindMike Did Next
A Paintbrush Can Be All It Takes To Help A Troubled Child

Science's Magic Solution To Children's Mental Health Is Missing One Simple Ingredient

We're Failing Children's Mental Health And It's Costing Us Billions

Heroic Activists As Young As 8 May Have The Answers To Our Kids Mental Health Crisis

Parents' Fears Of Being Judged Could Damage A Generation's Mental Health

Teaching Children Mindfulness Can Change Their Entire Future

"I'd see a knife or scissors, I was so scared that something would happen and that I would do something," she tell HuffPost UK.
In this video Sai and Aaliyah join forces with Jack and Rebecca, who underwent horrendous bullying during primary school, to share their personal story of struggle and survival.
Young Minds Matter is a new series designed to lead the conversation with children about mental and emotional health, so youngsters feel loved, valued and understood. Launched with Her Royal Highness, The Duchess of Cambridge, as guest editor, we will discuss problems, causes and most importantly solutions to the stigma surrounding the UK's mental health crisis among children. To blog on the site as part of Young Minds Matter email ukblogteam@huffingtonpost.com
SUBSCRIBE TO & FOLLOW UK DAILY BRIEF