For the majority of families, the school run involves a short drive, walk or cycle in the morning.
But a group of children in Nepal have to use a hand-operated cable crossing over the Trishuli River to get to school every single day.
The kids, who live in the Dhaing district in central Nepal, also have to use the cable crossing if they want to go shopping or meet friends and family members.
The cable requires children to sit in a basic loop or wooden crate and move themselves along by hand.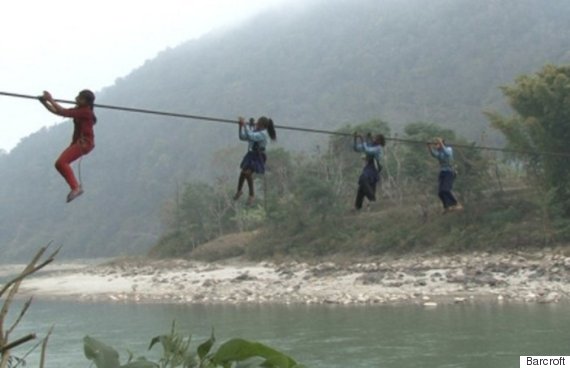 Children have to use the cable crossing twice a day to get to school and back
According to Barcroft, crossers have lost fingers operating the cables.
In 2010 there was an incident where five people fell into the Trishuli River. According to Nepali Times, villagers fell after the cable snapped mid-way.
Following the incident, the high wires have been improved with the addition of supporting pillars or by upgrading the boxes.

An investigation committee was also formed, which submitted a report outlining the dangers of cable crossings for children and identifying places to construct suspension footbridges.
Since the investigation, one suspension footbridge has been built in the area in January 2016, but children still opt for the cable crossing because it takes much less time.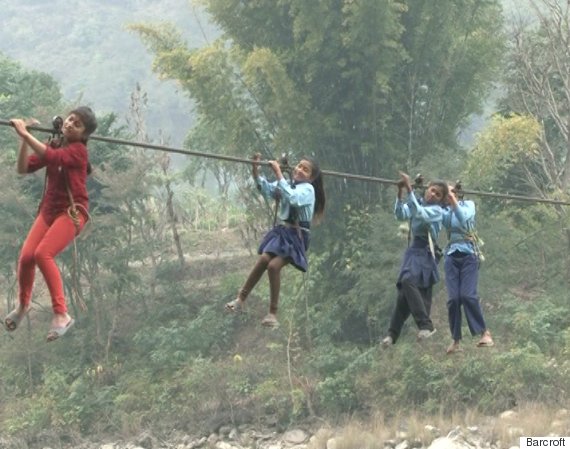 A new bridge has been built, but children still opt to use the cable crossing
One of the locals, Shreyasa Kumar, said when the river is flooded, she and her children avoid the cable and take the suspension bridge.
"My family is scared, because five people lost their lives in an accident that occurred in late 2010. I have children. If something happens to me they will be orphaned," she told Barcroft.
Nepal's Prime Minister K. P. Oli announced in January a two-year plan to replace these dangerous cable crossings with 366 suspension bridges in the surrounding area.
And you think YOU struggle with the school run!
Children climb tall unsecured ladders to scale a mountain to get to school in Sangzhi County, Hunan province, China

Pupils with their donkeys after a day of lessons at a Palestinian Bedouin of Jahaline tribe school in the area of E1, not far from the settlement of Maale Adumim, in Wadi Abu Hindi, West Bank. The school, the largest for Bedouins in the area of E1 teaches 190 children from tribes around the area. Some of the pupils are unable to walk to school because of the long distances involved and no road infrastructure, and are forced to use donkeys.

Children navigate dangerous mountain footpath to get to school, Bijie, Guizhou Province, China

Afghan children walk to school in Kabul. Afghanistan has had only rare moments of peace over the past 30 years, its education system being undermined by the Soviet invasion of 1979, a civil war in the 1990s and five years of Taliban rule.

Children wearing masks walk home after school in Beijing, China. Air pollution kills about 7 million people worldwide every year according to a new report from the World Health Organization. The agency said air pollution triggers about 1 in 8 deaths and has now become the single biggest environmental health risk, ahead of other dangers like second-hand smoke.

School children walk past a cucumber seller's push cart as it rains in Hyderabad, India. Heavy rainfall hit the city, leading to water logging in the streets.

Syrian refugee children walk between their tents on their way to a makeshift school at their refugee encampment in the Lebanese-Syrian border town of Majdal Anjar, eastern Bekaa valley, Lebanon. More than 2 million of those who should be in school remain in Syria, where classrooms have been bombed, used as shelters or turned into military barracks. Another 300,000 Syrian children don'€™t attend school in Lebanon, along with some 93,000 in Jordan, 78,000 in Turkey, 26,000 in Iraq and 4,000 in Egypt, UNICEF officials in Geneva said. Those numbers likely are higher, as UNICEF can't count the children whose parents didn'€™t register with the United Nations refugee agency.

School children walk in the street in the Obalende area of Lagos, Nigeria. About 30 million primary school-aged children in sub-Saharan Africa are not in class, partially because of conflict and poverty, and progress to get them back to school has stalled, two U.N. agencies said. The situation is especially dire in West and Central Africa, which has the largest proportion of children out of school of any region in the world, said a pair of reports published by UNICEF, the U.N. children's agency, and the statistics arm of UNESCO, the U.N. cultural and education agency.

Students walk under the rain after school, at the community of San Jose Las Flores, in the northern Cuchumatanes mountains of Guatemala. In this small community Gilberto Francisco Ramos Juarez was born, a Guatemalan boy whose decomposed body was found in the Rio Grande Valley of South Texas. The number of unaccompanied immigrant children picked up along the border has been rising for three years as they flee pervasive gang violence in Honduras, Guatemala and El Salvador. More recently, children and parents have said they heard children traveling alone and parents traveling with young kids would be released by authorities and allowed to continue to their destination.

Shamika Bennett and her daughter Dasia Bennett walk a safe passage route along 63rd Street on Dasia's first day of kindergarten Tuesday, Sept. 2, 2014, in Chicago. Chicago children returned to school Tuesday walking past even more guards than last year, when concerns about safety prompted the city to line the streets with 1,200 adults every day.

Indian student Aruna Bariya, 14, centre, and her friends walk to cross the Heran River to get to their school located on the other side, at Sajanpura village in Chhota Udepur district of Gujarat state, India. The absence of a bridge over the Heran River leaves Aruna and 60 other children with no choice but to swim about 15 meters (50 feet) across the shoulder-deep waters to reach the other side of the river in the district, where their high school is located. The students say the swim is worth it for an education that can help lift them out of poverty in India, where at least 700 million people are living on less than $1.25 a day.

A displaced Palestinian woman carries her child as she walks in the yard of the U.N. school where her family sought refuge during the war, in Beit Lahiya, in the northern Gaza Strip. Tens of thousands of Palestinians have been displaced in the Israel-Hamas war that began July 8, at least 10,000 housing units have been destroyed and many have found refuge at U.N. schools turned into shelters.

Children walk back home after school on a severely polluted day in Shijiazhuang, in northern China's Hebei province. Global warming is triggered by heat-trapping gases, such as carbon dioxide, that stay in the atmosphere for a century. Much of the gases still in the air and trapping heat came from the United States and other industrial nations. China is now by far the No. 1 carbon dioxide polluter.

Children walk back from school as they pass a police car parked under the tree outside the Lonmin's platinum mine in Marikana near Rustenburg, South Africa.

A woman and child walk together in the snow in Morrisville, Pa. The winter storm hitting Pennsylvania has prompted school closures, lower speed limits and airport delays.

Masked Palestinian members of the Ezz Al-Din Al Qassam militia, the military wing of Hamas, walk past school children as they march along a street of Gaza City.

Muslim children of Lay Maing village carrying donated blue school bags walk to school in Maungdaw, Rakhine state, Myanmar. In this one corner of the country that is Muslim majority, they are among the lucky ones. Tens of thousands born out of wedlock are not recognized by Buddhist authorities and don't have access to education at all.

A school girl wears a helmet as she walks home with her friend in Vorsar village, some 40 kilometers (25 miles) west of Phnom Penh, Cambodia. Teachers said more than 600 school children of Vorsar primary school wear helmets to protect themselves from road accidents. According to an official report by Interior Ministry, road accidents have killed at least 540 people in Cambodia in the first three months of 2013.

A women walks past a make-shift fire while taking her son to school in the early hours of the morning on June 5, 2014 in Alexandra Township, in Johannesburg, South Africa. Residents, including women and children, in 1st Avenue, Alexandra were evicted on June 4, 2014 from industrial stands and spent the night in the street, taverns and neighbouring shacks with their belongings as a cold front approaches Gauteng. Accusations were levelled that the eviction was a 2011 eviction order for an individual and executed without notice and despite a magistrate's court order ruling a stay of eviction for 30 days. Residents accused a court official of using DA connections involving the eviction and also complained of theft, vandalism and intimidation from members of the red ants.