We'll admit we had our doubts, but Rihanna absolutely smashed her performance at the Brit Awards on Wednesday night (24 February), shutting us up good and proper.
MORE BRITS:
Rihanna kicked off her performance with a blast of 'Consideration', the opening track on her most recent album, and was even joined by SZA, who provides vocals on the song's chorus.
She then launched into a version of the album's lead single 'Work', accompanied by lines of female dancers who put on a raunchy show in keeping with the song's dancehall vibes.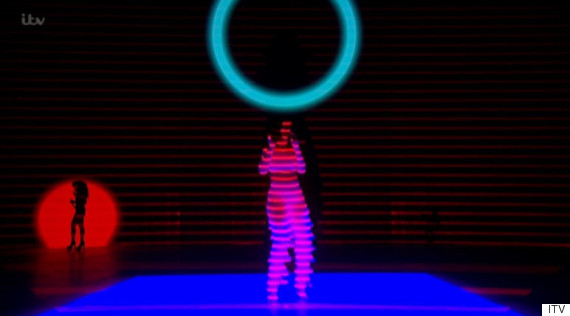 Rihanna kicked it off with a rendition of 'Consideration'
The performance had it all - a lights show, booty-shaking choreography, not to mention RiRi herself, who looked like she was thoroughly enjoying herself.
And then, when we were already loving it, out strutted Drake, performing his verse on the track.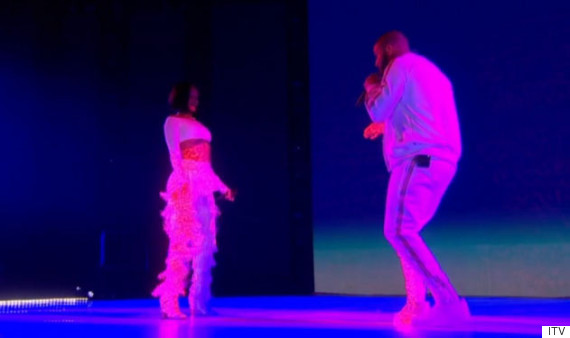 Well, fancy seeing you here!
He and Rihanna were clearly loving being on stage together - at one point she even let out a little giggle when she should have been singing one of her lines - before they got up close and personal with some serious gyrating, as previously seen in the track's music video, unveiled earlier this week.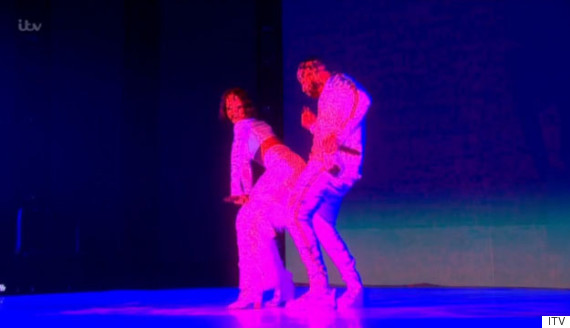 Good grief
It's been a difficult couple of weeks to be a Rihanna fan, so we're especially pleased to see she pulled off her performance.
Last Sunday, she pulled out of a performance at the Grammys at the very last minute, and then days later pushed back the launch of her 'Anti' world tour, eventually cancelling two of her UK live dates in Cardiff and Sunderland.
MORE FROM THE BRIT AWARDS:
18 Best Brit Awards Performances EVER
Adele's sophomore album, '21', had already been a massive success, but it was this performance at the Brit Awards that catapulted her to the position of mega-star. Proving you don't always need to pull huge stunts for a performance to be memorable, she performed the emotional track accompanied by just a piano, and by the time the glitter rain started falling, there wasn't a dry eye in the house.

That said, there's nothing wrong with an act who wants to chuck everything and the kitchen sink at their performance, as the Scissor Sisters did when they kicked off the show in 2005, with a rendition of 'Take Your Mama' involving Jim Henson puppets, leather lederhosen and, of course, a singing barn. Because why not?

Kanye chose the Brit Awards to debut his then-new track, 'All Day', although viewers at home didn't get to enjoy much of it, because his copious use of the n-word meant the majority of the song was heavily censored. Still, by shining a light on a host of UK grime acts, he gave us one of our favourite Brits performances of recent years.

So often, acts use their Outstanding Contribution prize as a way to lazily perform their best-loved tracks, plug a new greatest hits collection and then take themselves off home for the night. Not Pet Shop Boys, though, who provided a full multimedia experience for their performance, whizzing through their decades' worth of hits and even welcoming a little-known singer named Lady Gaga to fill in for Dusty Springfield. Interesting choice of wig from Chris Lowe too.

And speaking of Lady Gaga and interesting wigs... One year she's singing backing vocals for Pet Shop Boys, and the next she's the biggest star in the world. What a difference 12 months makes, eh? This performance, where Gaga paid her respects to fashion designer Alexander McQueen, divided opinion, with some loving the fact she'd decided to think outside the box, and others hoping for something a little more traditional.

Has anyone seen Tina Cousins lately?

Fortunately, Nadine remembered her passport this time...

Yes, it was technically Mark Ronson's moment - but let's be honest, it was all about Amy Winehouse, wasn't it? Reports in the press suggested that, due to problems in her tumultuous personal life, she may not have been able to perform, but she showed up on the night, turned it out and garnered critical acclaim, shutting everyone up as only she really could.

Whitney brought the sass when she closed the show with this performance, swishing her leather dress about and really letting her man have it.

As if this medley of Justin's biggest hits wasn't perfection already, out strutted Kylie Minogue to cap things off with a rendition of Blondie's 'Rapture', providing the Brit Awards with one of its most memorable collaborations ever.

Given this performance came just days after the breakdown of her marriage to Ashley Cole, Cheryl would have been forgiven if her Brits appearance wasn't exactly her best work. But frankly, she slayed. From the moment she jumped onto the stage in her MJ-esque sunglasses, Cheryl proved herself as so much more than magazine fodder, she was a bona fide popstar. If only she'd take more of an approach like this with her singing career nowadays...

Yes, fine, Leona Lewis isn't exactly the most jaw-dropping or outrageous pop singer of our time - but there's no denying the power of 'Bleeding Love', and in those pre-One Direction days it felt amazing to see an act come from 'X Factor' and go on to amazing things.

Rihanna was enjoying such critical success at the time of the 2011 Brits, it'd have been impossible for her to choose just one track to sing - so she chose all three of her most recent singles, giving an energetic and memorable performance. Oh, and please do ignore James Corden's outright sexist intro, there...

File this under: guilty pleasure.

In a word: 'YAAAAAAAAAAAAAASS'.

Yes, we've all seen this a million times - but when was the last time you sat down and properly watched it? We urge you to do it now. There's a reason this is was voted the best ever Brits performance (not to mention frequently being named the moment that put the girl group on the map) and it's not just because of Geri's Union Jack dress.

As if she hadn't commanded enough attention when she was still in the Spice Girls, Geri made sure all eyes were on her with her solo Brits performance. Emerging from a giant pair of legs, she performed this Girl Power anthem... and pretty much overshadowed her former bandmates, who were collecting an Outstanding Contribution award later that night.

Aaand there she is. True, this will always be remembered as the performance Madonna fell down the stairs... but you can't take away from her that she got up and finished her performance, like the true pro she's proved herself to be time and time again.