A young woman stunned the Question Time panel on Thursday by embarking on a passionate, coherent case for Britain leaving the European Union.
Responding to minister Liz Truss's claim that the Conservative government was reducing the "pull factors" encouraging EU migrants to come to Britain, the woman laid out a clear argument as to why this might not work - and why Brexit is the solution.
She said: "I'm sorry but I can't accept Liz (Truss's) argument that they're trying to reduce the pull factors because what is increasing the living wage to £9 in 2020 going to do?" Watch video of the exchange, above.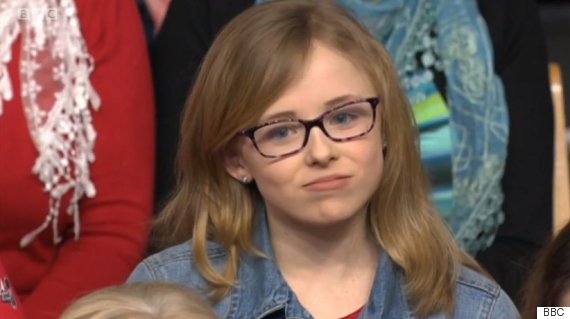 The young woman embarked on a passionate case for Brexit
She continued: "Eastern Europeans who have a minimum wage which is already one tenth of what ours is, surely that's going to increase net migration?"
Presenter David Dimbleby then asked her: "So what would you do: not touch the minimum wage or get out of the EU?
"I would get out of the EU so we could have a fair points-based system so we don't favour people from the EU over people (outside) of the EU.
"We can have someone unskilled within Europe coming in without any questions, but a really talented doctor from India has to go through an intensive process
"I doesn't make sense."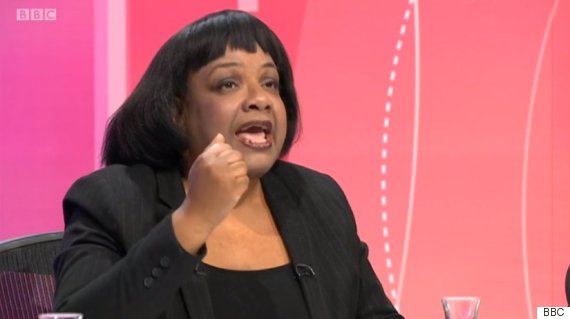 Diane Abbott responded to the young woman's comments
Rather than denounce the young woman's comments, Abbott chose to make a passionate defence of migration.
She said: "My parents were immigration so the audience will forgive me when I say that I worry about a narrative on immigration that only stresses the negative.
"Which is riddled with myths, that immigrants only come here to sit and live on benefits."
She then rounded on David Cameron, saying: "I was in the House of Commons this week and one of his own Conservative MPs asked David Cameron, with his fiddling around with benefits will reduce immigration.
"He didn't answer.
"Cameron's renegotiation is a sham, it is about internal management of the Tory party."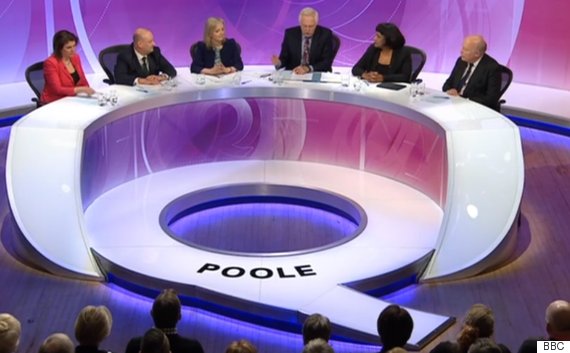 Thursday's BBC Question was filmed in Poole
Thursday's BBC Question Time came from Poole, Dorset with panelists including Conservative environment secretary Elizabeth Truss, Labour's shadow international development secretary Diane Abbott, and broadcaster Julia Hartley-Brewer.
They appeared alongside parish priest and Guardian columnist Giles Fraser and the creator of 'Downton Abbey' Julian Fellowes.
Tap to begin the slideshow
The Ukip leader and MEP is the most famous 'outer'. After his party took over a 100 council seats in May's local election's Nigel Farage is hoping to win the 2014 European elections and then gain MPs in Westminster in 2015. He has confirmed he will seek a parliamentary seat himself.

Margaret Thatcher's former chancellor and a true 'Tory grandee' revealed in The Times that if and when there is a referendum "I shall be voting out". He also stuck the boot into the David Cameron by saying the prime minister's attempts to renegotiate the terms of the UK's relationship with the EU would be "inconsequential".

There are quite a few Conservative MPs who would like to wave goodbye to Brussels. Ken Clarke has said the figure is as low as 30 despite the strong eurosceptic feeling on the backbenches. However the exact number is not clear. Mid-Bedforshire MP Nadine Dorries, who remains suspended from the Conservative Party, is currently talk tof the eurosceptic town amid rumours she may defect to Ukip. Other backbench Brexiters include Bill Cash, Douglas Carswell, Peter Bone and Philip Davies and former defence minister Sir Gerald Howarth.

Most of the anti-EU focus is on the Tory benches. But there are more than a handful of Labour MPs would would like to quit Brussels as well. Eurosceptics include Frank Field, Kate Hoey, Austin Mitchell, and Gisela Stuart. Stuart has argued the status quo is "not sustainable" and Britain should leave.

Rupert Murdoch has warned that the EU will "sink" the UK. The News International and boss caused a stir when he met Nigel Farage for dinner in London recently and said the Ukip leader was "reflecting opinion" with his anti-EU views. In November 2010 Richard Desmond's Daily Express became the first UK newspaper actively to call for Britain to leave the EU, launching a 'Get Britain Out' campaign

Of course no campaign is complete without a bit of star power. The pro-EU camp have Eddie Izzard, who do the Brexiters have? Joan Collins, a 'patron' of Ukip, wants the UK to leave. "The EU, controlled from Brussels, cares only about itself," she said in March.

Most business leaders do indeed seem content with what Lawson called the "warm embrace of the European single market", but there are a few dissenters. Private equity guys Jon Moulton and Edmund Truell are two and Next boss and Tory peer Simon Wolfson has said: "Britain should stay in Europe, but only on the right terms".

There are a number of loud voices whinnying on the sidelines to say "neigh" to the EU notably Melanie Phillips, Richard Littlejohn, Tom Utley, Simon Heffer. Basically the Daily Mail stable.

Several high-profile politicians appear to be on the verge of calling for the UK to exit the EU - but just are not there yet. Former defence secretary Liam Fox - pictured here with a big gun - has said "life outside the EU holds no terror" should David Cameron's hopes of negotiating a new treaty fail. Education secretary Michael Gove is said to have told friends the UK has "nothing to be scared of" by leaving Europe. And many other eurosceptic cabinet ministers, including Iain Duncan Smith and Owen Paterson are likely to share that view.