A Scottish MP who was detained by security forces in Turkey has described the experience as "terrifying".
Natalie McGarry, who represents the Glasgow East constituency, was briefly held by authorities near a security checkpoint in the south-east of the country on Thursday.
Her lawyer later confirmed she was questioned after using her mobile phone to "record the sound of bombs" falling on the Kurdish area of Sur in the city of Diyarbakir, a flashpoint in the conflict between the Turkish government and the country's Kurdish population.
McGarry, who was visiting Turkey as part of a delegation to the country, revealed she was "very pleased" to have landed at Heathrow airport, the Press Association reported.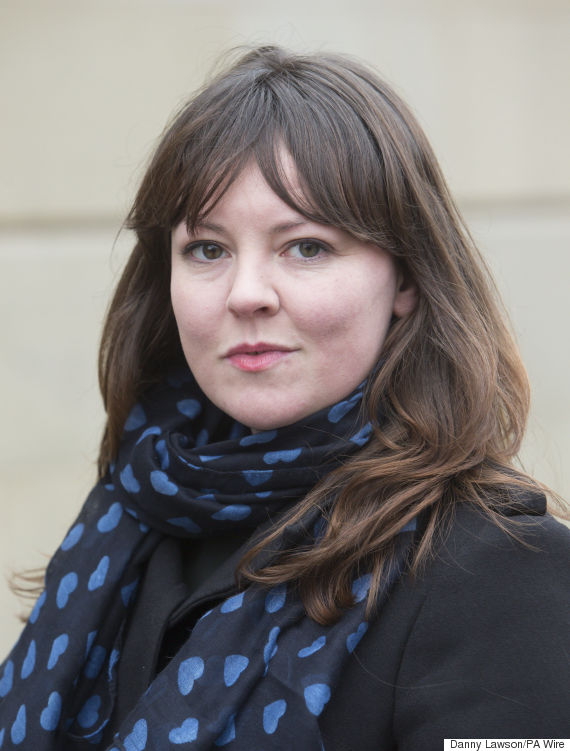 Natalie McGarry described her experience as 'terrifying'
Writing on Twitter on Saturday, she said: "I was forcibly removed from the street by a man who pushed me repeatedly and would've hit me but for intervention of younger colleagues.
"I was denied access to an interpreter and taken into a shack behind the demarcation line which was filled with guns."
She said she was "relieved" after an interpreter was allowed in after 45 minutes.
"My absolute admiration to fellow delegates who stayed to support me & were increasingly worried by the shouting & swearing," she continued.
"Thank you also to the British Embassy who acted so swiftly to help secure my release. And everyone locally who was contacted & put pressure.
SEE ALSO:
"Thanks also to the Kurdish population of Sur who came to welcome me out and hugged me when I cried. And they brought me chai and thanks."
McGarry added: "I freely admit to crying when I was released. It was a terrifying experience albeit it only lasted a couple of hours.
"I cannot imagine if life was a constant struggle of fear like that everyday which is why Turkey's Nato partners need to demand it stop."
McGarry sits as an independent MP after resigning the SNP whip in the wake of an ongoing police investigation into missing donations from Women for Independence, the pro-Scottish independence group she founded. She denies any wrongdoing.
SNP cause a stir at Westminster
While clapping is not banned, it is traditionally something members do not do, and are scolded by the Speaker for. But that certainly hasn't deterred MPs from north of the border. All 56 of them broke into "rapturous applause" after one session, according to Glasgow North West's Carol Monaghan. Simon Burns, a Tory MP, said of one recent culprit clapper that their actions had been "totally unacceptable". Oo-er!

The Commons chamber played host to a smattering of selfies after the arrival of #Team56 (SNP MPs self-identifying twitter handle) but managed to cause quite a stir in the process. In between Roger Mullin posing for a photo "pretending to be prime minister" and snapping a quick shot with Kirsty Blackman and Neil Gray, he and other Scottish parliamentarians managed to upset a fair few of their fellow members. The picture perpetrators were allegedly told off for behaving like children. Oh dear!

While these sorts of graphics are not always the best representation of how active or involved an MP is in fulfilling public office, you certainly can't criticise the SNP for their time given to scrutinising proposed bills. Those who decried the party for not having a mandate in Westminster should take heed of the fact that they seem the only large party left in Parliament up for a good old-fashioned verbal jousting.

One of Labour's longest serving MPs had a face-off with a rogue Scottish newbie and it certainly wasn't pretty... The SNP member Pete Wishart ousted Dennis Skinner from his space on the far-right of the so-called 'Rebels Bench', the closest an opposition MP can be to the Prime Minister without being in the shadow cabinet. But conniving Labourite Kevan Jones outflanked the Scot, RE-reserving Skinner's place during the daily evacuation for a police sniffer dog search at 1pm. "Wishart was furious," he claimed.

Some media went into meltdown when Anne McLaughlin posted a picture of her rookie colleague, Mhairi Black, about to tuck into a hearty meal - none other than one of the nation's favourites, a chip butty. The Westminster and media establishments were well and truly shaken by the revelation that somebody in Westminster could be eating such a carb-heavy meal, it seems. Even the notion...

In a bid to 'photobomb' acting leader of the opposition, Harriet Harman - and only on their first day - Mhairi Black and her party's colleagues took over Labour's usual places on the second row of benches. It caused quite a stir among indignant MPs, that opposition members were sitting - er... - on the opposition benches. So having ousted Labour from tens of seats in Scotland, the SNP added insult to injury by then expelling their rivals from the benches in Westminster. Oh dear...