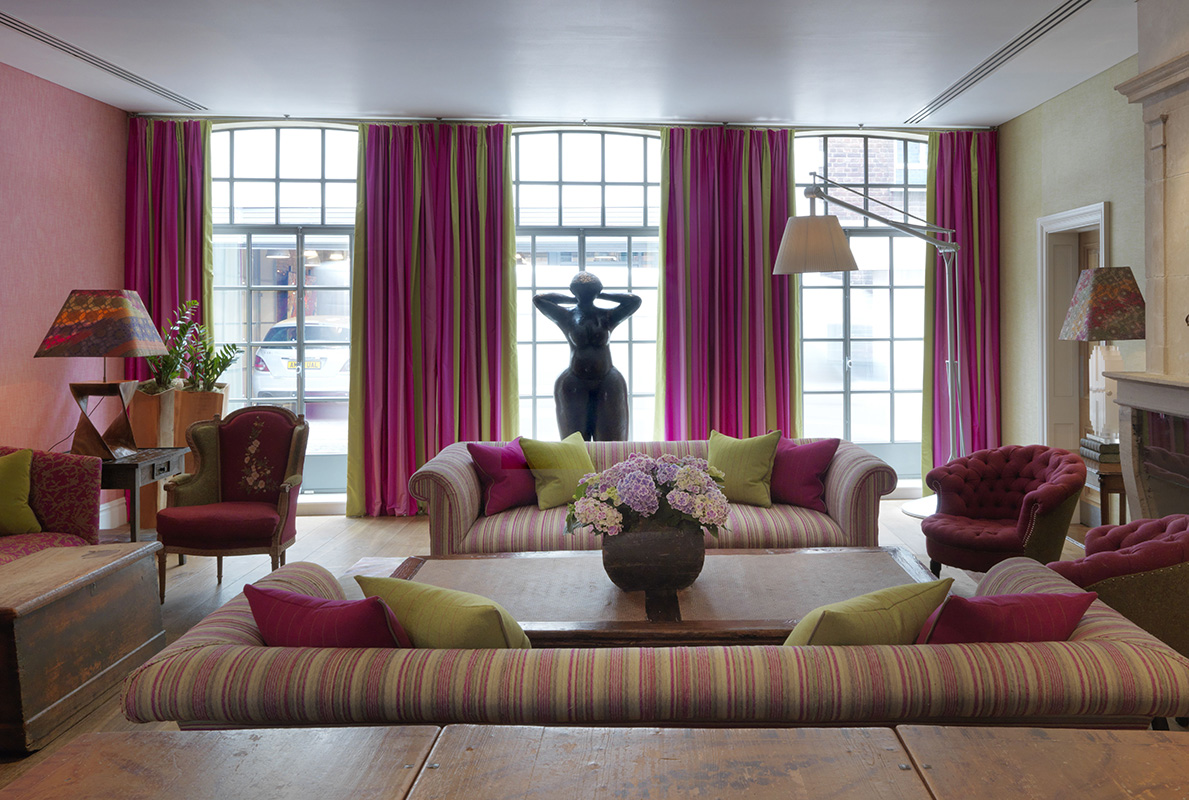 The Drawing Room at The Soho Hotel - image courtesy of Design Hotels
As afternoon teas go, I've had some truly horrendous experiences, some especially wonderful experiences and some in between; afternoon tea at The Soho Hotel, was charmingly decadent and very much a wonderful experience.
It had been six years since I'd seen my friend and super talented actor and singer Karen David; we had scheduled to meet up many times in between, but with Karen's soaring career in L.A as well as London, time, place and convenience was rarely on our side. So when we serendipitously found ourselves to be in the same country and the very same city and indeed on the same day and the same time, nothing less than an ambrosial afternoon tea would suffice for a long awaited catch up.
With afternoon tea being a regularly pursued and enjoyed pleasure here in the UK but especially London, it's not easy finding a venue that does a fabulous afternoon tea in a sumptuous setting and also has a feeling of calm and privacy; The Soho Hotel however, delivers all that and more.
Upon arrival at the hotel, I was escorted through the plush and dynamic Refuel Bar & Restaurant to the more composed Drawing Room where the environment offered an entirely different ambience, sanguine and cool calm. The Drawing Room at The Soho Hotel is exactly as you might imagine, with its obligatory fireplace and high ceilings, its polished wood floors, beautiful rustic furniture and delicious raspberry and kiwi coloured upholstery adorning comfy sofas and chairs.
Karen had yet to arrive, but the friendly and observant waiter was quick to offer me a drink while I waited, a password to access the in-house Wi-Fi and an offer of a choice of newspaper. I must confess, I was very tempted at this point to take off my shoes and curl up all nice and cozy on the sofa; with the furniture set to give each individual group the feeling that they are sitting within the confines of their own private living room, I probably could have napped with little curiosity from the other guests.
Buoyant greetings and animated discussions ensued when Karen arrived, but we were soon placated by the perusal of the indulgent afternoon tea menus. We decided on the Jubilee Champagne Afternoon Tea (the new Summer Afternoon Tea menu can be found here) , excluding the Champagne, which included smoked salmon blinis, Welsh rarebit, a selection of meat, seafood and vegetarian sandwiches, fruit and plain scones with clotted cream and fruit preserves and a selection of delectable cakes and pastries; Victoria sponge, lemon fondant fancies, strawberry tartlets and the classic trifle. With a shared preference for strong black teas, we both chose Assam.
Tea was presented in a beautiful Wedgwood china tea service and the three courses of decadence arrived on a lovely three-tiered cake stand. The salmon blinis and selection of sandwiches were flavoursome and ample, but the Welsh rarebit was exceptional. Just baked and still warm, the scones were devoured next and I am glad to say they were just as I like them, soft and light on the inside and almost crunchy on the outside and lathered with clotted cream and jam, they were especially delicious. My tummy was beyond appeased by now, but I couldn't offend the choice of desserts by only gazing upon them, could I? Our lovely waiter insisted we try the incredible trifle and though I'm really not a fan of trifle, I very much enjoyed the concoction here. The Victoria sponge was soft, fluffy and melt in your mouth buttery, but the remaining cakes and pastries sadly had to be set aside in case of falling into a deep afternoon tea coma.
Had we not had to rush off to our next meetings or events, Karen and I could have happily remained, chatting over our seemingly never-ending afternoon tea in the Drawing Room at The Soho Hotel; it's that kind of place - there's no feeling of being rushed, the staff are attentive and the perfect setting encourages you to relax and truly enjoy the very British ceremony of taking afternoon tea.
If you're in London for the Olympics and want to enjoy a quintessentially British ritual, Afternoon Tea at The Soho Hotel is the way to go.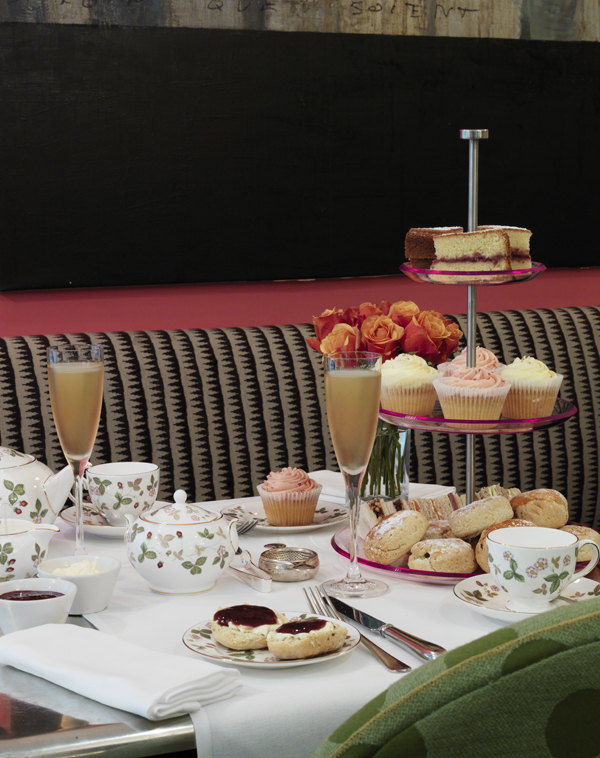 Image courtesy of The Soho Hotel
Afternoon Tea at The Soho Hotel can be taken at Refuel Bar & Restaurant, the Drawing Room or the Library and is served all day long. Prices start at £25pp
The Soho Hotel is aptly located in the vibrant West End of London at 4 Richmond Mews, London W1D 3DH.