Passing A Milestone In The Vendee Globe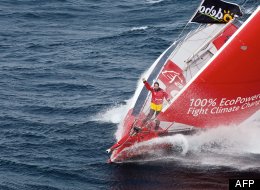 It was really tough last night, gusting up to 40 knots and big seas. 40 knots down here feels like 50 knots in the high latitudes you have to continually ease the sheets in the gust making it impossible to get any decent rest. Despite the tough night I'm pleased to be making ground on the leading pair, I think I've gained around 150 miles on them in the past 24 hours, but with the forecast for the next day and a half I'm really going to be survival mode. Down in these Southerly latitudes anything above 30 knots puts you into survival mode, so when it gets up to 40 knots you really are living on the edge and objectives are to keep the boat in one piece.
At the moment it looks as though it's going to be a bit like this until we reach Cape Horn, which should be around the evening of the 3rd January, which while being tough on me also makes it difficult to find a good time to do any more work on my Hydro repairs.
On such a long race, alone, it is good to have key milestones to tick off along the way, however small they might seem. Passing my furthest point in this race off the Cape of Good Hope was a big psychological tick for me and now having taken the boat further around the world it has ever been is another boost on my way to the finish.

Follow me in the Vendee Globe here:
www.facebook.com/AlexThomsonRacing
www.alexthomsonracing.com
Follow Alex Thomson on Twitter: www.twitter.com/AlexThomson99