Over a hundred students and Shakespeare lovers posted their burning questions to Facebook and Twitter using the hashtag #DearShakespeare. All the questions were recorded by the Creativity team prior to the performance and were conflated into a powerfully evocative audio trailer.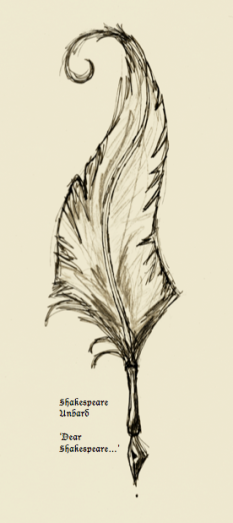 Indeed, if you perchance could ask Shakespeare one question - what would it be? The wish to engage in a conversation with Shakespeare, travel back in time or bring him forth to earth has been cherished and fantasised by many. This desire has triggered all sorts of creative responses through ages. Imagination and curiosity have led to innumerable adaptations, creative recreations and innovative approaches to achieve better intimation with the most elusive genius of all time.
Shakespeare UnBard was one such creative response. It started with the Fairy Queen inviting forth her eager audience gathered in the foyer of the Royal Shakespeare Theatre to join her rapturous tales of Shakespeare. Sweet and ethereal, almost dropped off from a midsummer fairy tale, she instantly arrested everyone's attention to her bid.
The Fairy Queen and the tuneful Minstrel were soon interrupted by young Jack Falstaff. Witty and whimsical, he challenged his audiences with his unconventional and funny responses to how we perceive and understand Shakespeare.
- Why did Shakespeare leave Stratford?
- Because he lived opposite the Christmas Shop.
With coarse straightforwardness, youthful Falstaff went on to elicit a groan from the auditors as he violently dropped a Shakespeare Complete Works on the floor and started to tear out the pages and throw them into the air. This physical and visual demonstration of a possible Shakespeareless world was highly dramatic. Whilst the Fairy Queen was squeaking in dismay orchestrated by the more astounded audience, Falstaff started to glue the torn pieces onto random pages in the book.
Hardly had everyone recovered from the shock of seeing a book - Shakespeare's book! - physically distorted when Romeo rushed in, with his famous lines at the ready. ...But the pacified audience would not turn to see Juliet appearing on the "balcony". It was Richard III who came to the call... Grumpy and loud, he straightaway thrust into a confusing conversation with our no less confused Romeo.
ROMEO: But, soft! What light through yonder window breaks?
Enter Richard III on the balcony
The amount of knowledge and information that the students had managed to skilfully embed into this theatrical performance was immense. The show went on in a creative beat to show us Bottom, Flute, David Garrick, Gwen Lally and a most mind-boggling image of Hamlet with Bottom's ass head and a skull mug in his hand.
Within half an hour, Shakespeare was shuffled and recycled before our eyes, opening up fresh challenging chasms into our understanding of his genius. The Shakespeare UnBard performance ended with the unveiling of an iconic mulberry tree made up entirely from memorabilia and questions to Shakespeare which had been collected throughout the project. The symbolic tree is still exhibited in the colonnade between the Royal Shakespeare Theatre and Swan Theatre in Stratford-upon-Avon.
... As I walked out of the Royal Shakespeare Theatre, the music of the Shakespeare song from the performance was still in my ears, rudely clashing with the cringing image of torn out pages from Shakespeare's plays in the air and the shudder of an existence without him.
SUBSCRIBE AND FOLLOW
Get top stories and blog posts emailed to me each day. Newsletters may offer personalized content or advertisements.
Learn more