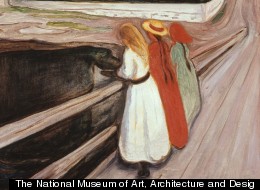 If you want to get your fix of art before the whole of Britain is descended upon by Olympic-goers, this is a brief round-up of what there is to see in London and across the UK during July:
This month's blockbuster has got to be Edvard Munch's show at Tate Modern, London. Contrary to tradition, the exhibition assesses the Norwegian's interest in modern representational forms including photography, film and the rebirth of stage-production at the time. Curated in cooperation with the Centre Pompidou, Paris, it features around sixty paintings, fifty photographs and some of the artist's lesser-known filmic works. Edvard Munch: The Modern Eye runs 28 June - 14 October 2012, £14, concessions available. IMAGE: The National Museum of Art, Architecture and Design

If you're near the south coast, you can see Tracy Emin's first major retrospective She Lay Down Deep Beneath the Sea at Turner Contemporary, Margate. Open until 3 September, this show surveys Emin's predominant themes of love, sensuality and romanticism, and features both new and existing works including drawings, monoprints, sculptures and neons. She Lay Down Deep Beneath the Sea runs until 3 September, admission is free. IMAGE: the artist. Courtesy White Cube. Photo Ben Westoby

Back to the capital and the annual BP Portrait Award is now in its thirty-third year at the National Portrait Gallery. This year's exhibition features fifty-five contemporary portraits selected from 2, 187 international entries. Among the shortlisted are Aleah Chapin for Auntie, Alan Coulson for Richie Culver and Ignacio Estudillo for El abuelo, along with BP Travel Award 2011 winner Jo Fraser. BP Portrait Award runs until 23 September, admission is free. IMAGE: Alan Coulson

If you're in Scotland you can see Expanding Horizons: Giovanni Battista Lusieri and the Panoramic Landscape at the National Gallery Scotland, Edinburgh. This is the first exhibition exclusively devoted to the little-known watercolourist, who specialised in broad panoramas and cityscapes of ancient buildings and monuments. Admired by contemporaries for his breathtaking ability to render light, texture and mood of ancient sites across the Mediterranean, Lusieri's masterful topographical works are having a renaissance. Expanding Horizons... is on until 28 October, admission is £7 (£5 concession). IMAGE: nationalgalleries.org
For more preview highlights of what's on in London and across the UK check out our collection, or see previews, insights and buy tickets at artfinder.com.
Follow Artfinder on Twitter: www.twitter.com/@artfinder