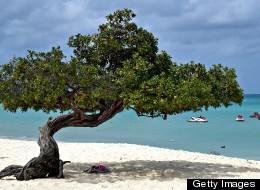 Here at Black Tomato , it doesn't take much to sell us on a Caribbean island - mention clear blue seas and white sands and we're there. It's just the cherry on top when there's even more to do on the occasions when we drag ourselves away from the coastline, which is why Aruba is the consummate island getaway in our books.
To the daydream-worthy perfect beaches stretching the whole island round, add in beautiful desert landscapes, abandoned gold mines begging exploration, colourful Dutch architecture in the capital Oranjestad and a presiding laidback Caribbean vibe.
Here are our favourite ways to pass the time on the happy little island of Aruba..
Aruba is thankfully not lacking in the beach department but this is our pick for best of the bunch. Hidden away at the north-western corner of the island, this little treasure – a favourite with the locals – has ideal turquoise waters for snorkelers, home to tropical fish and turtles, and velvety white sand for parking beach bums.

Occupying almost a fifth of the island is this epic nature reserve with twenty-one miles of trails to hike, sand dunes and limestone cliffs aplenty and flora and fauna unique to Aruba. Arikok is also home to Mount Jamanota, the island's highest peak, which is worth climbing if only for the amazing views of the trademark rocky terrain and both coasts – fear not, a well-earned cocktail will await you in the evening.

There's something about Caribbean sunsets and cocktails that just go hand-in-hand and we, for one, do not object – ours is the fruity native Aruba Ariba, a blend of vodka, rum and the island's own coecoei liquor with orange, cranberry and pineapple juices (surely a good percentage of your five a day). Squeeze in some local tumba music and shake.

We are always fans of the road not taken but in Aruba we're all about not taking the road at all and hopping on a quad bike or Jeep to see the off-the-beaten-track parts of the island. Hold onto your hat and get ready to see ancient painted caves, natural bridges and the beautiful rugged eastern coastline.
Follow Black Tomato on Twitter: www.twitter.com/Black_Tomato