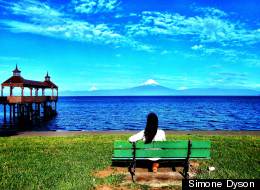 It's hard to pick a destination spot in a country that claims over a million square kilometres of Antarctica. With such a vast selection of climates and cultures, Chile offers a slice of South America that is infinitely varied. So here at Black Tomato we suggest taking a look at what's on the inside, as well as what's on the outside. Alongside a rich cultural heritage, dazzling landscapes, effervescent urban metropolises and rich cuisine, Chile lays claim to some of the world's most unique hotels. And after a day of mountain hiking or desert sand-boarding, browsing authentic foods at city markets or exploring the some of America's most exquisite flora and fauna, any ardent traveller is going to need somewhere special to rest their head.
Whether it's a guest room designed on locally grown, world-renowned wine, or cocktails served at a Jacuzzi hidden within the depths of Santiago's artistic quarter, here are Chile's most niche hotels lined up. This summer, it's all about the great indoors...
Chile's best boutique abodes
Wine connoisseurs, or simply enthusiastic drinkers, prepare to be dazzled by Lapostelle Residence, which takes 'local wine' to an entirely new level. Situated in the centre of Chile's Colchagua Valley, home to the vineyards of various world renowned wines, the hotel boasts dazzling views. Making the most of its unique location, each guest room is named and designed on a local wine. Meanwhile every dish on the restaurant's menu is made and matched with a bespoke Colchagua wine. Step outside and you can pick up a mountain bike and tour the vineyards, or make like Chilean cowboys, Huegas, and travel on horseback.

Rusticity is taken to a new level with Awasi Lodge. Situated in the heart of the Atacama Desert this intimate hotel provides both a relaxing and exciting stay for its guests. With interior design emulating the character of the desert, each of the hotel's eight rooms is designed with traditional materials, and feature outdoor showers and private open air patios. A dazzling location, you can find within the Atacama Desert geothermal pools, salt flats, valleys and active volcanoes. Meanwhile those in need of a town buzz can head to local town San Pedro de Atacama. For fabulous cuisine full of authentic flavour Awasi Lodge comes up top too, with traditional dishes cooked daily and served with a delicious array of wines.

Having sneaked into a perfect urban location,The Aubrey offers its guests a luxurious moment of calm before a day spent in Chile's vibrant capital city. A restored mansion with an interior design that marries classic and modern styles, the hotel offers 15 guest rooms, each individually designed and most coming with a balcony. You can sip cocktails in their Jacuzzi pool or dine lavishly in their famous restaurant, known as one of Santiago's best eateries. Outside The Aubrey lives The Bellavista neighbourhood, the capital's artistic quarter, filled with bars, restaurants and nightlife that never sleeps, however much you may.

Ever wanted to live at the end of the earth? Explora stands within the encapsulating Torres del Paine National Park in central Patagonia, Chile's southernmost region. Each of Explora's beautiful 49 guest rooms are designed to imitate the form of the surrounding park. The rooms come with spectacular views of a rugged, sublime landscape, some of the parts remaining untouched, some offering renowned hiking trails. Explora's bath-house, with a swimming pool, sauna and four open-air Jacuzzis, offers the perfect setting to unwind in after a day of outdoor discovery. Pure air and pure relaxation, Explora is a dream.

Find yourself in Hotel Refugia, located on the coast of Chiloé - an island awash with serenity. Spacious and secluded, this hotel brings more than just fabulous views and inspired architecture to the table. From massage rooms to sea views, exquisite indigenous cuisine to boat rides taking you from neighbouring islands to national parks, there is a limitless feeling about the Hotel Refugia. The hotel has 12 guest rooms designed to a minimalist effect, imitating the surrounding outdoors and using time-honoured Chiloé craftsmanship. Whether choosing to visit other islands or stay local and horse ride about the island's natural beauty, this is the perfect refuge.
Follow Black Tomato on Twitter: www.twitter.com/Black_Tomato