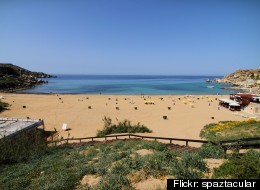 The trio of tiny islands that make up the Maltese Archipelago of Malta, Gozo and Comino lie in the middle of the Mediterranean ocean, just south of Sicily and above North Africa, drawing inspiration from all sides. The sun drenched islands are renowned for their colourful harbours, beautiful sandstone architecture, rich culture and history, Italian and Arabic influenced cuisine and of course their friendly residents that give the islands much of their character. It goes without saying that we at Black Tomato are major fans of the Maltese islands and can't wait to show you some of the best it has to offer.
Malta's beautiful old city lies atop the ancient bastions on Malta's hills and its breath-taking views across the coastline and landscape are well worth the detour. Its narrow sandstone streets are home to countless grand palaces showcasing splendid feats of architecture that have given the capital its name as 'The Noble City'. Steeped in history, its maze of streets and alleys make for a fascinating stroll whereby you are guaranteed to stumble across a Cathedral or Museum worth exploring. The Domus Romana is particularly noteworthy, with its magnificent mosaics and impressive collection of Roman artefacts. A harbour cruise is a great way of seeing the island, whilst the city's streets are literally paved with traditional bakeries, restaurants and cafes that won't need much to tempt you in.

Valletta is Malta's modern capital city, colloquially known by its residents as Il-Belt, meaning 'The City' in Maltese. Valletta was recently named European City of Culture 2018, and wandering its streets, one can see why- the city is most definitely not short of beautiful churches, palaces, delightful harbours and museums, and the balmy Mediterranean climate completes this perfect picture. The mythical St John's Cathedral, formerly the Conventual Church of the 'Knights of Malta' is particularly striking, and it is worth stopping by the National Museum of Fine Arts as much for its impressive collection of art as for the fabulous Rococo Palace in which it is housed.

The beautiful people of Malta are to be found in Sliema- the islands most popular and modern shopping district. Here you'll find well known high street brands as well as designer labels and smaller, unique boutiques. You are never far from the coast here, and cafes and restaurants line the streets, offering a chance to recharge your batteries while you shop. Speaking of which, shopping can be a tiring business, which is why we've sought out the island's best spa, perfect for reviving, rejuvenating and relaxing your shopped out muscles. We love the MyoKa Spa at Le Méridien St Julians Hotel, which offers various treatments inspired from all over the world in a peaceful, totally Zen atmosphere.

Regular ferries are available from Malta to its smaller, more rugged sister island of Gozo, located just north of Malta. Demonstrably less built up than Malta, be ready to get back to nature amidst bucolic landscapes, spectacular sunsets and secluded beaches. Nature is really what this island does best, as its pristine, untouched environment goes to show. The Maltese Archipelago boasts some of the best diving in Europe, and what better place from which to dive than Gozo? We recommend the launch pad of Dwejra, one of the prettiest spots on the island. Whatever you do, don't miss Dwejra's surprising and beautiful 'azure window', a natural rock arch that reaches out into the ocean. The Citadella, a fortified town located atop Gozo's highest hill in the Gozitan capital of Victoria (also known as Rabat), is worth the climb and looks spectacular at sunset. Later, have dinner at Mgarr Harbour, where you can choose from a plethora of Maltese restaurants in a picturesque and relaxing environment.
Follow Black Tomato on Twitter: www.twitter.com/Black_Tomato