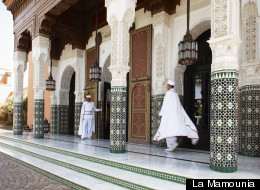 From long stretches of stunning coastline to rolling dunes of the Sahara desert and snow-capped Atlas Mountains - there's something for everyone on a trip to Morocco. We fell in love with the country's diversity a while ago and have been busy honing our bartering skills in the medina ever since.
This is a place where the air is rich with spices and the vibrant colours and architecture really make you look twice. Here at Black Tomato we wholeheartedly recommend adding it to your 2013 bucket list and so to give you a head start we've got the low-down on some of the country's best places to bed down.
<
Catching some sumptuous zzz's in Morocco
If you're after some serious you-time and an escape from the daily grind then Palais Namaskar is the place for you. Set in the picturesque Palmeraie yet just a short drive from the bustle of Marrakech you'll be perfectly situated to explore the Atlas Mountains or get a retail therapy injection in the labyrinth-like souks, but what we really love about this place is the opulent glamour and five-star spa indulgence that it offers. Each room is beautifully adorned in rich earthy fabrics and designed using Feng shui principles so you can be guaranteed the rest that you deserve in a sensuous space. Palais Namaskar is the perfect antidote to city living. Black Tomato is offering a three-night Winter Detox at Palais Namaskar starting from £1,675pp (from the UK) / $3,275pp (from the US) available from January 19th – 28th 2013

Riad Farnatchi is a peaceful haven in the heart of Marrakech. Exquisite interiors have been carefully crafted with a balance of traditional Moroccan design and chic modern touches like a large granite sunken bath just begging for you to join it with a candle or two and some bubbles. A short stroll from the hectic medina, this boutique hideaway feels like a large private house where your every whim will be met. It's the perfect place to relax after a day spent pounding the lanes of souks exercising your bartering skills.

For buzzing and vibrant souks without the sometimes overwhelming nature of Marrakech, Fes is our go-to destination. But we reckon that what makes a trip to Fes really special is the place you lay your head at night, and we've got just the ticket. Dar Roumana is a traditional Fassi guesthouse where views of the Atlas Mountains come as standard. Set in the medina, the dar offers authentic Moroccan style complimented by flashes of boutique luxury; Think intricate mosaic floors, finely carved shutters over stained glass windows, high panelled cedar ceilings, and hand-crafted furnishings, all oozing Moroccan style and finesse. It's intimate and elegant with an exotic attention to detail.

Essaouira is worlds away from Morocco's inland towns and cities. Ticking over at a more leisurely pace than its inland cousins, the city revolves largely around the fishing industry – something that we wholeheartedly approve of, given the quality of fish cooked to order on the dock. Our coastal bolt hole is a real gem tucked away in the medina. Villa de l'Ô exudes colonial spirit but still captures touches of Moroccan charm in each of the 12 unique rooms. Views from the roof terrace give sweeping vistas of sea, sand and the tiny island of Mogador, perfect for an invigorating breakfast or an afternoon siesta.

Dar Gabriel is a beautifully restored delight of traditional Moroccan design in the small mountain village of Chefchaouen. Lime washed walls and blue doors are the prominent feature in the medina and a wander through its alleyways and arches is a magical experience. The boutique hotel mirrors the charm and secrecy of the village with alcoves and terraces making it feel cosy and welcoming. Views over terracotta roof tops stretch to the magnificent Rif Mountains – it's the perfect place to unwind.

There is no better place to combat the stress of city living than the desert. Beautiful rolling sand dunes and vast open skies are the setting of Atta Sahara Camp where Berber style meets luxury camping. Your own tented suite will keep you warm at night with its thick canvas walls and colourful rugs and throws. Spend your days trekking with camels or learning the tricks of Moroccan cuisine and your nights marvelling at the immense starscape; you will never have felt so close to the stars.
>
Follow Black Tomato on Twitter: www.twitter.com/Black_Tomato