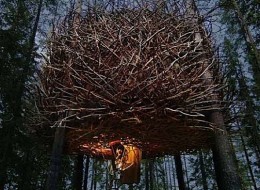 Last weekend was Earth Day; a globally acknowledged day on which events are held all over the world to increase awareness and appreciation of the Earth's natural resources and the beauty of it all in general. With this in mind we've searched high and low for hotels and accommodation that combine an eco-conscience with impeccable style that most definitely get's the Black Tomato stamp of approval. A night at any of these intuitive hotels will see you combining a good night's sleep with helping out the world... all in a day's work.
This sylvan retreat is as eco-friendly as it is beautiful; rustic yet modern, the newest technologies of indoor and outdoor living have been utilized throughout the camp, including a stacked wood facade built from fallen trees on site. Situated on the eastern shore of Flathead Lake, Montana, the camp boasts 717 feet of gorgeous shoreline, a large dock and two creeks, while the living quarters consist of a master residence, guest quarters and entertainment facilities.

The first and only place of its kind in the Himalayas, the Shakti 360 Leti consists of four luxury cabins built with age-old techniques and local materials with innovative contemporary design which embraces the natural surroundings. Set in a breathtaking mountain wilderness at 8,000 feet in northern Uttaranchal, the Shakti 360 Leti is as close to sleeping in the clouds as you're ever likely to get.

'Luxury that treads lightly' is the motto at the exo-luxe Song SAA Resort in Cambodia, Southeast Asia's first over-water stilted villa resort. The majority of the surrounding islands are completely deserted and this ground-breaking luxury resort is dogged in its environmentally friendly beliefs; concerned with protecting the virgin rainforests, tropical reefs and the glistening white beaches which abound on this beautiful private island.

Located in Valle de Guadalupe, Ensenada, México, Hotel Endemico is a small village consisting of 20 ecolofts, each offering stunning views of the landscape of vineyards which surround the hotel. The design aims to minimize the hotel's impact upon the land and to respect nature in every possible way, with this in mind the designers decided to build the cabins up on stilts to minimize their impact on the land. Steel and wood were used to build the cabins, and as these materials weather they will blend in with the landscape over time.

The proud winner of the "Five Sustainability Leaf Award", Arenas Del Mar in Costa Rica was designed and built with the utmost importance on sustainability. This new Pacific coast resort uses solar power to heat water; recycles its waste water for use in irrigation; and employs recycled-plastic roof tiles made from discarded bags used in the banana industry. All in the name of saving the planet, while all the time providing a luxury experience for its guests.
Follow Black Tomato on Twitter: www.twitter.com/Black_Tomato