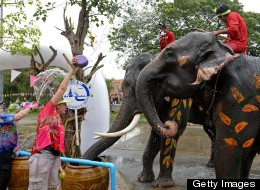 A rite of passage for any intrepid traveller, Thailand ticks just about every box in the 'holiday needs' category, from fascinating rainforests and sacred temples to stunning scenery and sublime sandy beaches - and that's before we even get to the incredible food or welcoming people. Needless to say, we at Black Tomato are fans.
So in dedication to all things Thai, we've created a newspaper called The Thaimes (we can't resist a good pun), an all-encompassing guide to everything you need to know about Thailand, from which cookery schools are worth their salt to what time to set sail for our favourite floating markets; we've even thrown in some of the vital vocabulary to help you along your way.
To give you a Thaimes teaser, we've reluctantly whittled the long list down to a few of our very favourite things about Thailand to tingle your travel taste buds.
After a stop off in buzzing Bangkok or a trek through Chiang Mai's jungles, the perfect come-down is to come down south to one of Thailand's myriad of tropical islands, kitted out with idyllic beaches and chilled-out vibes that banish thoughts of a return to the mainland to the very back of your mind. True to Black Tomato form, we're partial to the lesser known islands , tucked away from the mainstream and cloaking untouched sands under thickets of lush palm trees where we'd happily stow away with nothing but some sunscreen, a good book and possibly a Thai massage to put the icing on the cake.

Rainbow selections of tropical fruit and exotic vegetables, puffs of steam from overflowing pots of bubbling curries, friendly shouts from cheerful vendors – Thai markets are a sure-fire way to propel your senses into total overdrive, and an unmissable way to pass a few hours wandering amongst the stalls. From photo-worthy floating markets to after-dark stalls laden with local crafts and souvenirs, don your haggling hat and dive in.

Mealtimes in Thailand are invariably something to look forward to – pad thai cooked up in front of you amid the steam and sizzle of a street stall or an Asian fusion dish boasting the latest in molecular gastronomy with a view over the sprawling night-time Bangkok? Your call. Thailand has earned itself a worthy place as a top destination for its mouth-watering cuisine alone, with fantastic food for the taking at every corner. Be it fresh mango from a morning market or a meal at one of the many world-class restaurants bolstering its soaring dining-out scene, you're in for a treat.

As colourful, fascinating and full of life below water level as it is on dry land, Thailand is the prime diving destination for everyone, from newbie novices to seasoned experts. Both the eastern and western stretches of coastline promise amazing underwater views year-round and thousands of visitors choose Thailand as the spot to get their wings (or should that be flippers?) by doing a diving course in its perfect blue clear waters.

Nowhere else on the planet can you gaze at thousands of candlelit lanterns float up to the stars, witness hundreds of monkeys go to town on a buffet laid out especially for them or partake in a street water fight on a national scale, all in one country. Every month of the year brings something to celebrate for the fun-loving Thais and inevitably there stands an open invitation for we fortunate farangs to get involved. Sometimes peacefully spiritual, sometimes crazy and colourful but always uniquely and endearingly trademark Thai, a visit to a local festival should be top of your itinerary no matter the time of year.
Follow Black Tomato on Twitter: www.twitter.com/Black_Tomato